Mitch Clark – Deck of DT 2015
It's New Years Eve and to finish the year with a bang, Warnie brings us one of the forward bargains of the year, new Cat Mitch Clark.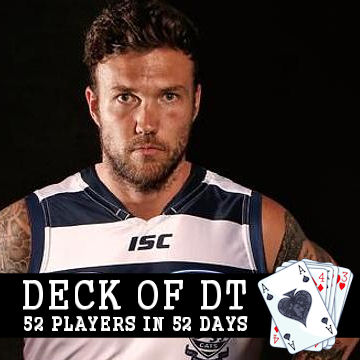 Name: Mitch Clark
Club: Geelong
Position: Forward
AFL Fantasy: $160,000*
AFL Dream Team: $162,600
Bye Round: 13
2014 Average: DNP (48 in 2013)
2014 Games Played: DNP (4 in 2013)
Predicted Average: 70
Click here for DT Live Profile.
Why should I pick him?
As most people (over the age of 18) are thinking more about the beers they'll be drinking to see the New Year in, I'll keep this relatively simple. Mitch Clark is too cheap to ignore.
After missing all of 2014 and 'retiring' from the Demons part-way through, Clark has been given a hefty discount after just managing four games for an average of 48 the previous season.
In 2012, his first year at Melbourne, Clark played forward kicking 29 goals from his 11 games for an average of 74.5 which included three fantasy tons (and two red-vests). His three previous years saw him average 70.5 (14 games) in 2011, 75.5 (19 games) in 2010 and his personal best 94.4 (22 games) in 2009. His career high season was when the big man played through the ruck as I, like many others, got on board for one of the best breakouts ever – doubling in price over the course of the season. This included an average of 107.5 from round 8 onwards. A beast of a year.
While we're not going to see a season like his massive one up in Brisbane in 2009, the 27-year-old is basically a rookie priced player under $200K. Playing with the magic number, his breakeven is under 30 points, so we're going to see some cash being made from the forward. My estimation of a 70 average is probably a little high as he'll most likely be playing as a deep forward, allowing Hawkins to run up the ground, but it is achievable with the stars around him and the supply that he didn't have at his previous two clubs.
Clark is enjoying an injury-free pre-season where he says he isn't quite where he wants to be just yet fitness-wise, but has his sights set on round one. We'll have to monitor his NAB Challenge, but all looks like they're planning their team around having Clark as a key forward in 2015.
Why shouldn't I pick him?
Durability.
We were looking at locking him in during the 2014 pre-season, coming in at just a smidgen over $200K. All was looking positive during January/February to work towards a round one start, but is wasn't to be. Monitoring his progress is key.
Going back over those numbers mentioned earlier, Clark hasn't played a full season since 2009. In fact, he has played just 29 matches out of a possible 88 in the last four years. He suffered a foot injury and surgery in his time at Melbourne that restricted him to just four games in his second season. Injury, and ultimately his depression, ended his time at the Dees. His foot injury is behind him and mentally, he is feeling good at his new home.
Basically it's just the durability issues for me in why you shouldn't pick him. That and being ready for round one. All looks good at this stage, but there's plenty of time left in the pre-season for things to go belly up.
Deck of DT Rating.
JACK – Mitch Clark is a perfect F6 or bench forward, depending on your team structure, if fit. It sucks a little that the Cats play the Hawks on Easter Monday as we'll only have a squad of 25 to look at when picking our initial teams. But if fit, Clark should be a member of Geelong's 22 regardless. As nice as it would be to select someone under $200K to average 90+ like he did in 2009, don't expect too much. With Clark having the third bye, if he can play the first 12 games then his price should increase well enough to off-load him for one of those big gun FWD/MID types who you don't have – and that are coming off their byes. Final word? Well… sorry that this was a boring Deck of DT article, but sometimes on a day filled with beer we need something simple for us. Pick Mitch Clark if the Cats pick him!
Loading ...
FOLLOW ME ON TWITTER: @WarnieDT for all thing AFL Fantasy (and more). Got something to say about the deck? Use the hashtag… #DeckofDT.