Robbie Gray – Deck of DT 2015
In 2014 Robbie Gray finally delivered, averaging over 90 points per game for the first time in his career. Dunny looks at him in today's Deck of DT.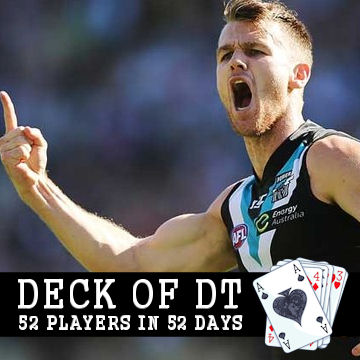 Name: Robbie Gray
Club: Port Adelaide
Position: Forward/Midfielder
AFL Fantasy: $545,000
AFL Dream Team: $543,900
Bye Round: 13
2014 Average: 94.6
2014 Games Played: 22
Predicted Average: 97
Click here for DT Live Profile.
Why should I pick him?
Robbie Gray has been someone that we have expected big things from now for a long time and in 2014 he finally delivered for us.  He had only his second year where he had played every game (his last one was in 2011).  That year also saw his previous best average of 81.2, so he bested that by 13.4 points.
Robbie has the ability to go big and turn a game on its head and he proved that last year with 7 games that were over 110 including a 137 v Carlton, 121 v Sydney, 120 v Brisbane and 124 v St Kilda.  Yes I know, three of these teams were out side the 8, but the significant thing is that ALL of these game were at the Adelaide Oval where he has 12 games a year.  He averaged 101 for the year at Adelaide Oval.  Always a positive when your players love playing at the grounds they play at most!
One thing that did worry a lot of people last year was whether he would get a tag, I guess this is why his ownership was so low.  However, when you look at the Power midfield there are others that usually cop a tag before Robbie will, there is Boak and Ebert who will normally get the tag first.  With Port Adelaide making their way up the ladder in the last couple of years means that there are a few players that need to be watched by the opposition and this means that Robbie along with Boak, Ebert and about two or three others will get the attention so he should be able to get off the leash at some stage during each game.
1.7 is the key stat here.  1.7 goals a game from a guy that predominantly plays through the midfield is what we are looking for, it would have also been the key thing that led to him keeping that Forward eligibility.  That along with 12 kicks, 12 handballs and nearly 3 tackles a game is what made his score what it is.  One of the things I like here is that Kick to Handball ratio, he likes to throw it on the boot.
I have predicted him to have only a slightly higher average than last year, but I won't be surprised to see it slide just over the 100 mark.  My concern is that he will get a bit more work put into him, but if he can be crumbing the packs to not only Schulz but also Ryder up forward there could be more goal scoring opportunities as the defense is more concerned with those big marking guys than players like Gray and Wingard.
And if you are really on the fence, then surely that haircut gets you across the line!  Only the second best manicured hair in the Power team (behind Wingard) but he certainly puts a lot of time into it!  And by the look of that photo below he spends his spare time working in the factories!
Why shouldn't I pick him?
Now I did mention that he likes to go big, however, he can go missing at times too.  Last year saw a 45, 61 and a 70 from him.  Certainly not what we want when a guy is costing us this much cash!  Those games came against Collingwood, Adelaide and North Melbourne.  Interestingly in each of those his kick to handball ratio was 3:11, 6:7 and 8:16.  Clearly more pressure not allowing those kicks.
Being the 6th highest priced forward means he may be difficult to fit in your starting squad, and this isn't a bad thing.  Port have a very tough start to the year.  They face Fre0 (PS), Sydney (AO), North (ES), Hawthorn (AO) and Adelaide (AO) in his first 5 games.  He scored well against Freo and Sydney with 106 and 108 averages against both of them, but against the next three he had 70, 78 and 72.5.  This leads me to expect a fairly big price drop early on so if you are really set on getting him but you don't have the cash then you may want to look at waiting til your first upgrade.  Just the one concern on the upgrade is that he is a R13 bye, so that doesn't make him the easiest to upgrade as to go to him you will be without a player for a week (if he was R11 or R12 you could take an R13 rookie and upgrade to a R11 or R12 player and not miss a player for a week).
Whilst we are looking at Strength of Schedule let's look at the finals.  Port have GWS (AO), Hawthorn (ES), Gold Coast (MS) and Fremantle (AO) in the Fantasy Finals.  To me that just doesn't look good.  Obviously we will get a much better read on what this will mean as the season progresses, but on paper right now that doesn't look like a very easy run.  The only potential positive will be if Fremantle have wrapped up their spot in the 8 and can't move, then Ross may rest a few stars which could help Gray and the Power.
Injuries.  We can't write about Robbie without mentioning them.  I know this put a lot of people off last season, but given he played all 22 plus all 3 finals for the Power he showed me enough to say he is over the soft tissue injuries he was having.  The knee injury was one of those things and his agility last year showed it wasn't bothering him at all.
Deck of DT Rating.
King – When he's good he's really good, but it is just those games where he goes missing that really concern me (as a fantasy player and a Power supporter).  I think for the price you may struggle to fit Robbie into your starting line up, but he is an absolute must for your watchlist and he will certainly be one of my first upgrades if that price does exactly what I think it will do.
Loading ...
FOLLOW ME ON TWITTER: @pkd73 for all thing AFL Fantasy (and more). Got something to say about the deck? Use the hashtag… #DeckofDT.