Drawing Board 2015 Popularity: December
Prices are being leaked and with almost 2000 teams in the Drawing Board, let's look at the numbers.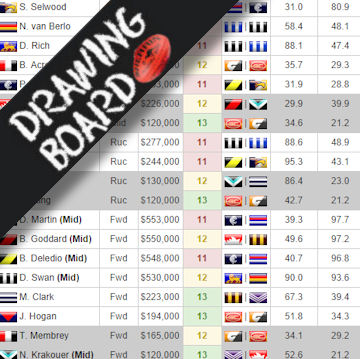 Since our last update, DT Live's Drawing Board is closing in on 2000 teams entered. During this time all positions have been revealed and the magic number has been calculated with half of the prices released in AFL Fantasy.
Although all prices aren't known, Chad has pumped in the ones that are released and updated others accordingly. It is worth noting that not all prices will be 100% accurate as there seem to be a few anomalies with discounting. SuperCoach and Real Dream Team have announced their prices and subsequently, the positions. AFL Fantasy positions will be the same as these are supplied by Champion Data.
Click here to create your own teams with DT Live.
As we say goodbye to 2014, let's have a look at the Drawing Board teams and what's happened over the last month or so.
SWAN'S DPP MAKES HIM THE BIGGEST MOVER
Last time I had a look at the Drawing Board numbers, the original Fantasy Pig, Dane Swan, appeared in 26% of teams. That was when we assumed he would be classified as a MID only. That all changed from December 12 when Swanny was announced to be a FWD/MID in 2015.
Over the course of a couple of days his ownership doubled and now he is the second most popular player on the Drawing Board behind bargain ruckman Matthew Kreuzer.
Firstly, I was surprised he didn't have as much love – even just as a MID – due to a shocking 2014. He was locked and loaded in my team regardless. The DPP now has made him a no-brainer. On DT Live's Drawing Board users are able to put in projected scores for their selected players. Swan is projected to average 104.1 from the 89.9% of users who have selected him thus far.
OTHER DPPs HAVE CHANGED THINGS
When we heard of Swanny's FWD status added, we saw some other movement that has both increased and decreased player ownership.
Brendon Goddard and Brett Deledio are also named up as FWD/MIDs now. They now appear in 49.7% and 41% of teams respectively. On the flipside, Patrick Dangerfield went from being in over 50% of teams to now appear in just 8.2% of Drawing Board sides. Dangerfield is a MID only in 2015. Other players who lost their DPP eligibility also saw a big drop in ownership – which makes perfect sense!
We've been blessed up forward with these new DPPs which may make it quite a unique line. There will be a lot of teams that look towards these gifts, but guys like Lance Franklin (see Rainman's awesome Deck of DT on him) are now looking quite unique. He started in around 30% of teams in November but now appears in less than 15%.
The backline lost a lot of premium DEF/MIDs such as Sam Mitchell, Jarrad McVeigh and Pearce Hanley. This in turn raised the value of my boy, Michael Hibberd. Before the announcement he was in around 35% of teams. Now he hovers around 55% ownership. I reckon I'll be writing about Hibbo in the Deck of DT before the end of the series.
THE COOKIE CUTTER TEAM OF POPULARITY
Going through the most popular list (see table below), I've put together a cookie cutter team. That is, a team that is made up of the most popular players in the Drawing Board. The way it worked out, the last player selected for it was the 26.7% owned Heritier Lumumba… the 33rd most popular player on the list. Only Nat Fyfe, Robbie Gray and Ben Reid who were slightly more popular missed out as their respective lines were full when I filled the team.
Anyway, here's what the team looks like. Not too bad to be honest! It has uses $9,585,000 of the $10,000,000 salary cap. The bye structure is 8/13/9. Not awful considering that zero thought went into it. Using the projected averages by DT Live users, the team would score 2031 in round one.
Please discuss this team in the comments!
THE TOP 50 MOST POPULAR PLAYERS… SO FAR
Here's a look at the 50 most popular players selected by DT Live users so far. Starting with Kreuzer at 95.2% ownership through to Barlow at 20.8%, we get a good look at which players coaches are keen on as we head into the new year. The projected average comes from the data that DT Live users have input when plugging their teams in.
First Name
Surname
Position
Price
Projected
Average
Ownership %
Matthew
Kreuzer
RUC
$244000
82.4
95.2
Dane
Swan
FWD/MID
$530000
104.1
89.9
Matthew
Leuenberger
RUC
$277000
81.9
88.5
Daniel
Rich
MID
$268000
81
87.9
Jonathon
Griffin
RUC
$130000
60.5
86
Gary
Ablett
MID
$675000
119.6
75.6
Beau
Waters
DEF
$341000
81.3
74.7
Mitchell
Clark
FWD
$223000
68.8
67.7
Nathan
J. Brown
DEF
$120000
46
66.9
Nathan
van Berlo
MID
$272000
81.5
57.6
Brendan
Whitecross
DEF
$259000
71.7
56.7
Michael
Hibberd
DEF
$506000
93.5
54.8
Nathan
Krakouer
FWD/MID
$120000
59.8
52.2
Jesse
Hogan
FWD
$194000
63.6
52
Brendon
Goddard
FWD/MID
$550000
100.3
49.7
Garrick
Ibbotson
DEF
$336000
79.6
48.9
Max
King
RUC
$120000
40.2
43
Brett
Deledio
FWD/MID
$548000
100.1
41
Dustin
Martin
FWD/MID
$553000
100.8
39.6
Blake
Acres
MID
$166000
62.5
35.1
Aaron
Vandenberg
MID
$120000
57.2
34.6
Tim
Membrey
FWD
$165000
61.1
34
Patrick
Cripps
MID
$163000
66.7
31.7
Zak
Jones
DEF
$157000
56.3
31.7
Isaac
Heeney
MID
$226000
70.8
30.9
Scott
Selwood
MID
$458000
97.9
30.3
Ben
Reid
FWD
$178000
64
30.1
Ryan
Griffen
MID
$485000
99.3
29.8
Robbie
Gray
FWD/MID
$545000
100.7
29.5
Scott
Pendlebury
MID
$614000
111.3
29.2
Paul
Seedsman
DEF
$363000
81.7
28.1
Nathan
Fyfe
MID
$579000
111.4
27.8
Heritier
Lumumba
DEF/MID
$402000
83.1
26.7
Mason
Cox
FWD/RUC
$120000
53.5
26.7
Tom
Rockliff
MID
$763000
126.9
26.4
Joel
Hamling
DEF
$120000
43.6
26.4
Luke
Hodge
DEF/MID
$550000
97.5
26.1
Jack
Martin
FWD
$285000
77.5
25.3
Christian
Petracca
FWD/MID
$297000
73
25.3
Daniel
Markworth
FWD
$120000
53.3
24.7
Matthew
Dick
DEF/MID
$120000
47.6
24.2
Robbie
Tarrant
FWD
$120000
49
22.8
Josh
McGuinness
DEF
$142000
53.1
22.8
Kane
Lambert
FWD/MID
$120000
56
21.9
Nick
Malceski
DEF
$521000
93.8
21.9
Kade
Simpson
DEF
$521000
93.8
21.6
Dayne
Beams
MID
$609000
111.6
21.6
Brodie
Smith
DEF
$465000
88.4
21.3
Ben
Newton
MID
$192000
66.7
20.8
Michael
Barlow
MID
$627000
112.2
20.8
PLEASE NOTE: If viewing on a mobile device, turn it to 'landscape' mode to view all contents of the table.
Make your own AFL Fantasy teams now over at www.dtlive.com.au. Prices will be updated as the AFL release them, but most are looking pretty good at this stage. The Drawing Board is an awesome resource and Chad is always willing to hear feedback to make the product better. As well as AFL Fantasy Classic, you can create SuperCoach and Real Dream Team squads. Don't forget that DT Live will have live fantasy scores during the NAB Challenge and throughout the season. Click here to start creating your teams.
Also – don't forget the best place to discuss YOUR team is over in the My Team post.