NBL Dream Team: Round 13 Preview
A swathe of injuries plagued round 12 leaving us with lots of conundrums ahead of the NYE games bonanza.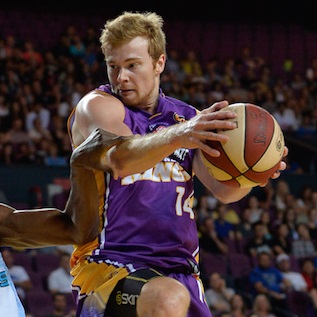 A swathe of injuries plagued round 12 leaving us with lots of conundrums ahead of the NYE games bonanza.
Wrapping Up Round 12
It's almost a certainty that your team was affected by injuries this round with Josh Childress, Jordan McRae, Cedric Jackson, Jamar Wilson, Mika Vukona, Alex Pledger and David Barlow (plus a few others) all having injury concerns that caused them to miss their game or score below expectations. When combined with the fact that it was the only round of the year with no double matches, it's no surprise that most people had their lowest round score for the year. 19 teams still managed to score 300+ though.
The were a few shining lights worth mentioning as honours for top score of the round was shared between Tom Garlepp and Tai Wesley who both scored 68. The only other players to achieve 50+ though were Cameron Gliddon (52), Ekene Ibekwe (50), and Adam Gibson (50). At the other end of the scale Mark Worthington had a shocker and only got 4 after missing nearly all his shots, while Corey Webster got 0 despite spending over 30 minutes on court.
Round 13 – Trade Targets
Deciding who trade this week is highly dependent on injuries. Jamar Wilson looks like missing a few more games so trade him out and invest in Adam Gibson who steps up magnificently when Wilson is absent. Similarly Tom Garlepp played like a star in Josh Childress' absence although he is worth grabbing even if Childress does return. Darryl Corletto could be a great cheap option if Jordan McRae ends up spending time on the sidelines. This would also boost the output of Stephen Dennis and Daniel Kickert. However note that Melbourne only has one double in the next six rounds, which makes trading McRae out a real option if his injury is even slightly serious.
Players that have doubles this week who would be good additions to your squad include all the potential captain choices below, plus Brock Motum, Scottie Wilbekin or Mickell Gladness. If you're after some cheaper options then Mitch Creek, Clint Steindl, Steven Markovic, Kendrick Perry and Alex Loughton all have potential to score nicely over the double but have been less than reliable of late.
Round 13 – On Court Selections
Adelaide, Cairns, Sydney and Townsville play the double match round this week and who we put on court is going to be highly influenced by injuries. Of course we probably won't know for a lot of them prior, so take the conservative approach and go for guaranteed points over the speculative big score (unless you feel like gambling).
Captain choice is a bit tougher this week as again Josh Childress would have been first choice but with his injury cloud it might be prudent to select someone else. Brian Conklin and Cameron Gliddon are looking in great form and are the most solid choices. Tom Garlepp is likely to go big again if Childress is out and similarly Adam Gibson is a solid contender while Wilson is still out. Other options could be Anthony Petrie, Ben Madgen, Cameron Tragardh or Todd Blanchfield.
Take note – Lockout is WEDNESDAY 5:30pm AEDT, so get yourself sorted before you head out for your New Years Eve partying.
As always you can follow the live dream team scores for the games at dtlive.com.au/nbl
Cheers
Tristan
Coach of the Statismathgicians