BBL Fantasy 2014/15 – Trade Period 2
Despite Christmas rudely getting in the way of round 2 of the BBL, it is now completed and there are a lot of lessons to take out of the round.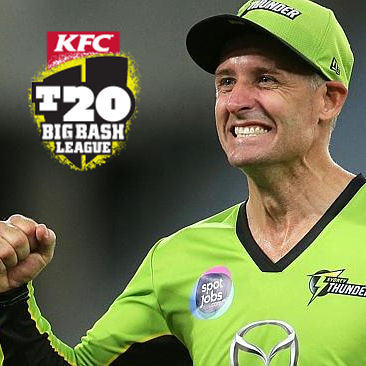 Despite Christmas rudely getting in the way of round 2 of the BBL, it is now completed and there are a lot of lessons to take out of the round.
Sideways trades based off one game are not smart!
Put your hand up if you traded in Kallis and/or Hussey this round. Now, this is quite hypocritical of me because I also brought in Hussey this week for Brad Hodge. But it shows that it is incredibly risky to trade out a player without a legitimate reason to do so. Hodge went on to score a decent 42 and Hussey was removed for a poor 17. Now, this isn't to say that Hussey won't average more than Hodge over the course of the tournament but it highlights the fact that you have to be incredibly sure of yourself if you're trading out players.
In saying that, you have three trades per round and 21 in total. You're allowed to take risks and able to correct mistakes. Just don't fall into the habit of chasing scores.
Get in before the prices change:
With the exception of the undefeated Sydney Sixers players who have played three games, the remaining teams (except Brisbane) will change price this round after playing three games. This means that it is your last chance to downgrade to a Marcus Harris or a Callum Ferguson before their price rises. I recommend using this week to make some cash. If you've got an underperforming player, downgrade them and save the money for use in later rounds. There are no byes this week so you can afford to use your trades with a more long term mindset.
Marcus Harris, Callum Ferguson, Ashton Turner, Andrew McDonald, Joe Mennie, Adam Zampa, Jordan Silk, Aiden Blizzard – there are plenty of options to downgrade to.
Looking to round 3:
Pick players who are in form. For example, don't bench Nic Maddinson and play someone like Adam Voges just because the latter is more expensive. Having said that, don't bench someone like Aaron Finch, if this is the round he gets going, you don't want that score on your bench.
Without byes, this round is going to be far more even. If you've managed your team well, this should be the round where you climb up in the rankings.
Look for the Sydney Thunder batsmen to score big this week. If the Melbourne Renegades bowling attack doesn't include any of Peter Siddle, James Pattinson, Jayde Herrick or Nathan Rimmington again, they're in a lot of trouble.
Nic's Captains:
This round will be the trickiest to pick a captain. Every team plays once this round which means you can't just set it on your best double game player. This means you have to take into account things like home ground advantage, the opposition and the form of the player.
My top 5 for this round:
Michael Hussey – The Renegades bowling attack isn't potent enough for mine to stop Mr Cricket from dominating and Etihad Stadium is small enough to allow for plenty of boundaries.
Luke Wright – Once again, I don't think the Brisbane Heat have the firepower to stop the Stars batsmen and Wright is probably the safest bet out of them.
Dwayne Bravo – With his time in the BBL running out, this could be the game where he explodes. He's a consistent performer with bat and ball and i'd almost lock him in IF the Renegades bat first and have to set a total. He seems to play quite differently when chasing and it doesn't make for a reliable captain.
Glenn Maxwell – Probably the next best captain option after Wright from the Stars. If he bowls a few overs, that helps too.
Brett Lee – He has a great record against the Scorchers and while he might not score as high as the guys above him here, he's probably in for a 50+ score.
Smokie: Moises Henriques – The Sixers captain is in great form and also has good history against the Scorchers.
Smokie: Craig Simmons – We all saw what he and Tim Ludeman did in round one at the Adelaide Oval. If they can replicate that, it will be well worth the captaincy.
Good luck this round, odds are you're probably doing better than me so don't forget to check your teams on New Years Eve!
Nic Negrepontis
Twitter: @FeathertopDT