Gary Ablett – Deck of DT 2015
Calvin turns over the next card in the deck and it's the little master, Gary Ablett. What can he say? You've gotta pick him! Right?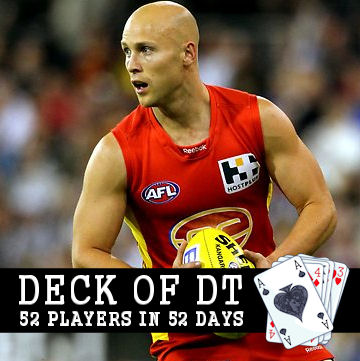 Name: Gary Ablett
Club: Gold Coast
Position:  Midfielder
AFL Fantasy: $675,000
AFL Dream Team: $672,400
Bye Round: 12
2014 Average: 119.1
2014 Games Played: 15
Predicted Average: 121
Why should I pick him?
It's such a simple question that I can answer in so many ways.
Firstly, Ablett dominated 2014 and was on track for another Brownlow medal before his season sadly ended after smashing his shoulder from a tackle from Macaffer. He scored over 125+ points in nearly half of his games and finished with a very impressive average of 119. If we discount his injured game where he only scored 67, Ablett would have averaged 123.
Ablett has been a Fantasy god for the last 7 years, averaging over 110 every year. He racked up a personal best season (avg. 125) in 2012 and is reported to be fully fit this year carving up the training track (but who isn't?).
Gold Coast have a very nice draw in 2015. They only meet one top 6 team once (Sydney) and in that game last year, Ablett smashed them for a huge 146pts. He also doubles up on West Coast (118 in 2014), Adelaide (98), GWS (122) and Brisbane (146). Juicy as!
Unless you are like Roy and are obliged to start with Rocky this year (it's in his contract), you will save around $100,000 which can be spent in more useful places in your team. C'mon? Do we honestly think Rocky can reach the heights of 2014 where he averaged 135? Ahhh, who knows, but my point here is very simply. It's all about the savings and after all… today is just after Boxing Day, so grab a bargain like many others.
Why shouldn't I pick him?
Maybe you are like Roy and have an extra $44.5 million in your salary cap compared to others and will go with Rocky over the bald little master. But if I was to scrap the 'negative barrel' I would say the following.
He can be soft. He hasn't played a full season of football since 2007 and turns 31 years old this year. He will spend more time forward as time goes on and as the Suns midfield develop into premium stars.
He also shares the round 12 bye along with other players we will be targeting across our lines (FWD/MID) such as Swan, Pendlebury, Fyfe, Barlow, Goddard, Watson, Stanton, Buddy and JPK.
Management will of course be a huge issue heading into this round, along with dealing with the lies and trickery as to if Ablett is fit or not fit from their medical staff who can be very misleading.
Deck of DT Rating.
ACE – The positives here clearly out weight the negatives. Value for money and a future Fantasy hall of famer and … a potential pig nomination for 2015. That says it all, starting without Ablett in 2015 could put you well behind your mates, before you even really get going. He meets Melbourne in round one. A team that he has scored 119 and 134 on in his last two and then St Kilda in his first home game for the year. Following that he'll meet Geelong where he has scored 137 and 140 in his last two games and might just be carrying a season average of 135+ after three rounds. Get on!
Loading ...
FOLLOW ME ON TWITTER: @CalvinDT for all thing AFL Fantasy. Use the hashtag… #DeckofDT and get chatting!