Tom Rockliff – Deck of DT 2015
My Boy, Tom Rockliff comes in at a world record price after his phenomenal 2014 season. The two questions I pose are, Can you afford to have him? Can you afford not to have him? Let the Deck Of DT begin!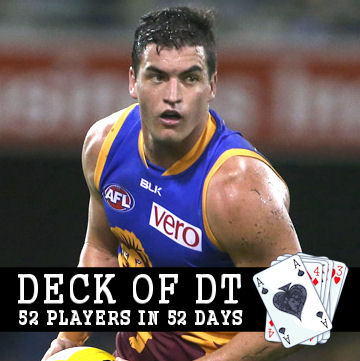 Name: Tom (Pig) Rockliff
Club: Brisbane
Position: Midfielder
AFL Fantasy: $763,000
AFL Dream Team: $760,700
Bye Round: 11
2014 Average: 134.8
2014 Games Played: 18
Predicted Average: 132
Why should I pick him?
The biggest question of the pre-season will be whether to start with 'My Boy' – The GOAT – Tom Rockliff.
Since his price was released, there has been a lot of discussion with coaches either putting a line straight through him due to the hefty price tag, or on the flipside, of the opinion you cannot afford to start without him, there has been very little indecision. Either way, this will be a season defining move from round one.
I am not sure of the going price of an arm and a leg at the moment, but I am pretty sure you could create a human centipede for Rocky's price this year, but having said that it still leaves me asking if you can afford not to have him?
We have known for years that Rocky is an absolute Fantasy superstar, especially when he is given a predominantly midfield role and doesn't spend extended periods playing out of the goal square like he did on occasions for Michael Voss. When in the middle, the guy fills the stat line like Lebron James which ensures he has an avenue to huge scores on a weekly basis (Eg. He recorded double figure tackles on 10 occasions and never dropped under 5 in 2014).
Sometimes a player can struggle to find the footy in a losing team, but Rocky's ball winning ability became almost embarrassingly good (win or loss) for the rest of the competition as he racked up the pill with ease registering possession counts like 47, 40, 43 and 45 during the last 5 rounds of the Fantasy season, and piled up massive scores in these round losses: 3-157, 7-141, 8-147, 14-172, 20-180 and 22-154 which were unprecedented.
Of course, when he is leading the Lions to victory, his numbers are equally impressive with off the chart scores like 165 against the Pies in round 21 and his phenomenal round 18 clash with the Suns where he had 47 touches, 5 marks, 10 tackles and a goal for a lazy 190.
If the thought of a tag is a worry, rest easy knowing Rocky registered 122 and 172 against the hardest tags he received, making a mockery of his competition, not to mention the likelihood of receiving a tag has decreased with the arrival of Dayne Beams, the return of Daniel Rich and the emergence of Pearce Hanley as a midfielder.
If you are finding it hard to justify the hefty price tag, make it easy on yourself by thinking of him as $381,500, because remember, you don't get one Rocky, you get 2 after you put the C on him, and let's face it, it will be pretty hard to get early wins if you come up against the little pig times 2 as a unique.
Why shouldn't I pick him?
If you enjoy that sick feeling of locking in a questionable captain, don't mind losing sleep on a weekend or you enjoy experiencing hindsight rage and cold sweats of a Sunday night, definitely steer clear of the Rockwizz.
But on a serious note, the Lions required a lot out of Rocky last year, but in 2015 he will have significant additional help through the middle from Beams, Rich, Redden, Christensen, not to mention an emerging young brigade and the continuing improvement of Hanley. This could go either way for Rocky, where worst case scenario could see him experience a drop in possessions and tackles due to a lessened load.
Rocky missed 4 games last season due to minor injury, illness and suspension and that is a lot of cash to have on the bench but with an improved side and a Brownlow within his grasp (Yep, you heard it first here), hopefully we can say goodbye to the suspensions.
Realistically, he 'should' experience a number of price drops over the first few weeks, potentially saving you some much needed cash before bringing him in.
Deck of DT Rating.
ACE – The guy is a bloody jet and I would hate to start the season without him as he comes up against the Pies, Roos, Tigers, Eagles (DNP 2014) and Suns in the first 5 rounds where last season he generated scores of 165, 122, 116, 137, 157 and 190, and the Lions play 3 out of the first 4 games at the Pig pen (GABBA). Although he might not reach his World Record heights again in 2015, he will once again be the leading scorer on the competition.
I asked Rocky himself a few of the burning questions and I will give a Rockability (lockability) rating out of 5 pigs based on each response:
ROY: Will the inclusion of Beams, return of Reddo, Rich etc. cause a drop in your possession count?
ROCKY: I think we will all complement each other well and might all increase our counts!
Pigs: 5/5
ROY: Now you are a Fantasy world record holder, All Australian and finals contender, will you get lazy and take it easy with grunt work like tackles? Leaving the sh*t jobs for players like Robbo?
ROCKY: Mitch thinks he is hard but he really isn't so I say it will be left to me and Reddo to do all the tackling!
Pigs: 5/5
ROY: Where will you spend time when not in the midfield and can you score from there?
ROCKY: I think I will rest forward instead of off the ground this year with so many more to rotate through the middle of the ground.
Pigs: 4.5/5
ROY: Your price tag is the highest in history, can you live up to it?
ROCKY: Yeah I think so, just continue on from our form late in the year and I/we will be fine.
Pigs: 5/5
ROY: My balls are on the line as one of the Faces of Fantasy footy, picking you will make or break me and I know you have been sh*tty in the past when I didn't start with you. Do I pick you round 1?
ROCKY: Up to you mate! Haha has to be your call!
Pigs: 2.5/5
In summary, 22 pigs out of 25 has given me enough confidence to pay the big bucks. To finish, I will leave you with this 'famous' quote:
"The creatures outside looked from pig to man, and from man to pig, and from pig to man again; but already it was impossible to say which was which" – George pseudonym of  Eric Arthur Blair Orwell: 1945  Animal Farm, ch.10.
Loading ...
FOLLOW ME ON TWITTER: @RoyDT for all thing AFL Fantasy (and more). Got something to say about the deck? Use the hashtag… #DeckofDT.