BBL Fantasy 2014/15 – Trade Period 1
T20 cricket is unpredictable at the best of times and the first round of the BBL has certainly showed that. Let's assess what we learned from a Fantasy point of view.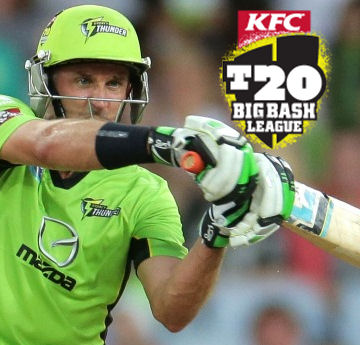 T20 cricket is unpredictable at the best of times and the first round of the BBL has certainly showed that. Let's assess what we learned from a Fantasy point of view.
Player pricing doesn't mean as much as you'd think:
You may have been reluctant to fill your bowlers with players under $60,000 at the start of the season because mid-priced players are typically unreliable or don't average as much as the more expensive players. However, round one has shown that the cheaper guys are capable of some massive scores. Joe Mennie and Ben Hilfenhaus from the Hurricanes both scored 92 points in their smashing of the Melbourne Stars. Kane Richardson, Brett Lee and Pat Cummins also scored above 60 which is excellent. On the flip side, expensive bowlers like Cameron Gannon and Peter Siddle scored next to nothing.
Obviously, the reverse could happen next round. Siddle could be the highest scorer for all we know. But that is my point. You can't rely on 'premiums' in BBL Fantasy as much as you can in other leagues.
Par Score?
This is not AFL Fantasy, a par score is not 80 odd. On top of that, par varies depending on the position. I would want at least 40 points from your bowlers and batsmen. Obviously, if your whole team scores 40 you're going to end up with a poor score but it is also probably the score you're going to see most commonly from your players. If you got the average score from this round you'd probably see that it is roughly 40. Obviously, you're going to want 80 from your double game players but I'd also expect at least 52 from all-rounders.
Don't force double game players into your team:
Just because a player is playing twice, does not mean they are going to score higher. Don't believe me? Stars players averaged 46 points this round while both the Sydney Thunder and Hobart Hurricanes players averaged 49 and yes, that includes both Stars games. All you're doing is unbalancing your team and spending money that could cost you other players. I know many people who chose guys like David Hussey and Tom Triffitt simply because they played twice. Yes, you can trade them out and bring in the guys you missed out on like Mike Hussey and Tim Ludeman but that is another massive gamble. All it takes is an injury or an unexpected omission and your team is in disarray.
Looking to next week:
First of all, you have three trades up your sleeve to use. Use them wisely. If you don't have Michael Hussey, bring him in because despite not playing cricket for a full year, Mr Cricket is still hitting the ball better than… everyone. However, I don't recommend any panicky sideways trades just yet. Don't offload someone like Dan Christian just because he had a bad game while other all-rounders had massive scores. Look at the bigger picture. Christian opened the bowling AND the batting. He will make you points. You might not have Christian but take that approach with all your players. Unless you loaded up on Stars players for the double game and now have to deal with them having the bye, I recommend holding off on too many unnecessary team changes. Don't trade for the sake of trading, in T20 that will backfire. EG: Don't trade Matthew Wade to Tim Ludeman.
Nic's Captain's
I'm no Calvin so this could go horribly wrong but let's give this a shot.
Michael Carberry – all reports are that he is hitting the ball incredibly well and he will be opening the batting for the Scorchers in both their games this round. If you have Pieterson, I recommend trading him to Carberry as KP will not be playing for two weeks due to the bye and spending Christmas at home.
Yasir Arafat – Arafat bowled incredibly well at the WACA last season, the Scorchers play there twice this round.
Aaron Finch – Because he's Aaron Finch
Michael Hussey – Because he's Michael Hussey
Adam Voges – Voges could very easily knock up 30 to 40 runs in both games and you wouldn't even notice. Meanwhile, he walks away with 80+ points.
Smokie: Matthew Wade – He'll open the batting again and you'd assume he'll get a few catches behind the stumps with the pace and bounce of the wicket.
Smokie: Nic Maddinson – Based on his form last round and the fact that the Sixers play twice.
Remember that the Brisbane Heat and the Melbourne Stars have the bye this round.
Good luck!
Nic Negrepontis
Twitter: @FeathertopDT