BBL Fantasy 2014/15 – Copes' Tips
Sydney Sixers bowler Trent Copeland is pretty good at all forms of Fantasy, but his best effort came last year with a top 10 finish. Here are some of his tips! FIRST LOCKOUT TONIGHT!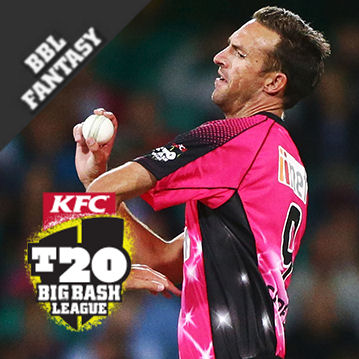 Trent Copeland from the Sydney Sixers loves all forms of Fantasy sport. He is a big AFL fan and exchanges plenty of messages with us here at DT Talk as he finds the edge over his mates as the commissioner of his league in the winter. During the summer, Copes takes part in the BBL Fantasy competition and last year experienced some success with a top 10 finish out of the 37,000 entrants.
As we approach the lockout tonight, Copes has posted his tips to help you finalise your team.
Overarching Tactics – look for players who are ready to step up on last year's performance 
The simple fact of any sport based on a salary cap is that nothing beats value for money. Pricing is done according to their performance in last year's competition, so if there are guys who will have a more prominent role this season based on form or opportunity, then they'll present great value, and they're guys who you should look to get into your side.
If you can find those diamonds in the rough that are underpriced due to lack of game time last year, or change of team, or even just guys who are already in red hot form so far this summer, they'll help you go far in BBL fantasy.
Picking Batsman – Openers are your best value for money
Points are assigned based on the amount of runs scored, and then after that, it is based on strike rate and getting over little milestones on where you score your runs. Any opening batsman in this competition will be worth their price as they have the most opportunity in T20 cricket to score runs.
Anyone who is batting at position four through six needs to strike at around 150+ in order to make up for their lack of balls faced. Guys like Glenn Maxwell, Kieron Pollard, and Dwayne Bravo can fill that role, but otherwise most middle order batsmen simply don't have the opportunities to make the runs needed to contribute strongly in fantasy.
Guys like Aaron Finch, Alex Hales, Cameron White, Dwayne Smith, Michael Lumb, Nic Maddinson; guys who open for their respective teams are going to be very good. Those guys who have the most opportunities but still strike at a good rate, that are playing in successful teams will be your best pick-ups.
Picking Bowlers – keep an eye out for bowlers who close out an innings 
Economy rate plays a big part in fantasy points for bowlers – it's not all about taking wickets. In previous years I have incorporated a lot of spinners, guys like Brad Hogg, Stephen O'Keefe who have played a big role for their teams. It's unclear on if that will change this year, but my tip is to look out for guys who bowl the last few overs.
They can go for more runs, but generally the batsman is less careful and more wickets fall in that time, which is when bowlers can really rack up the points.
Picking all-rounders – Batting All-Rounders are a safer option 
I generally favour batting all-rounders, mainly due to the amount of points you get through scoring runs. For example, if Henriques bats in the top three, he can get 20 runs and take no wickets and still get 20 points. If you go with a bowling all-rounder that bats down the order, if they don't take wickets and doesn't get a bat you will end up with zero.
The all-rounders spots are so crucial when you spend so much cash on them, you really need to prioritise guys who can get points. A player like Luke Wright, who doesn't really bowl that much, is still a good player simply due to his batting prowess.
Picking Keepers – look for a top order batsman
For me, most of the keepers available are all going to play. Ben Dunk was an absolute steal last year given that the year previously he didn't play, then went on to become player of the tournament. If you can find a diamond in the rough like that, and especially a player who bats near the top of the order then you'll do well.
Trades – have a plan 
The double round is the key for me. In the first round the Stars have two games, so make sure you've got plenty of them in your team, but given there is only three trades per round, you need to make sure that enough variety and contingency to make sure you maximize your selection each round.
The Scorchers and Sixers both have two games in round 2 so a few of them on your bench would be smart.
Which players are a steal?
There's always a couple. In the batting department Nic Maddinson is hard to go past. He's a current T20 International player who will bat in the top order for the Sixers. He's priced at $49,700 – I don't think there's too much better value out there.
Matthew Wade, having changed from the Stars which has a long list of batters, to the Renegades where he'll bat somewhere near the top, he'll have a big role to play for them.
Copes' Must have selection for Round 1 
Must have for round 1 is Luke Wright. He bats, he could bowl, and with the Stars having two games in the first round, he could score a lot of Fantasy points.
CATCH UP ON BBL FANTASY ARTICLES