BBL Fantasy 2014/15 – Premiums Guide
The BBL is nearly upon us. Today, Zeus reviews the so-called 'premium' players in the game, telling you once again who to KEEP, WATCH and AVOID.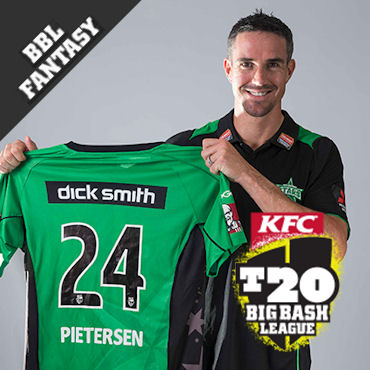 Hey guys,
The BBL is nearly upon us. The time has come to finally decide the composition of your team. Last time, I went through the players under $55k. Today, I'll review the so-called 'premium' players in the game, telling you once again who to KEEP, WATCH and AVOID. Let's get started!
Batsmen (> $80,000)
Keep
Finch ($102,500) – The most expensive bat in the game – and rightly so. His breathtaking knock of 156 off 63 deliveries against England blew the cricketing world apart. He's explosive, but he does have a documented weakness just outside his off-stump that opposition bowlers will look to exploit. I won't be starting with him due to the DGW but I'll look to  get him in shortly afterwards. I won't be starting with hi due to the DGW, but I'll look to get him in shortly afterwards. I wouldn't say must-have, but he's pretty damn close. 
Khawaja ($91,100) – Wow. Professional sport can be cruel. I was going to predict that he would be raking in the runs this season, but a reported ACL injury has pretty much ended that. My condolences.
S. Marsh ($85,900) – Arguably Perth's best batsman in the first two seasons, Marsh is a brilliant t20 player. He makes his runs in a similar way to Khawaja (exquisitely-placed shots and well-run singles) but he brings experience and a bit more power to the table. I'm hoping he plays as many games for the Scorchers as possible.
Bailey ($82,200) – One of my favorite cricketers. Always has a smile on his face and has one of the best straight-drives going around. Literally. He murders those drives. George is guaranteed a spot in the Hurricanes line-up (most probably at four) and while I normally don't advocate buying players lower than three, Bailey doesn't need a long time to make an impact. Great fielder too. He's also at a decent price. I'll look to get him in.
Watch
Pietersen ($93,500) – He stirs the pot more than most professional chefs, but that's why I love him. Belligerent, confident, arrogant – all words that describe his stroke play and attitude to the game. Most Aussies like him because he now flips the bird at England full time and continually slags off Alastair Cook. 
On a cricketing note, he's in WATCH because I'm not totally sure how he's going to go after so much time off.
Carberry ($92,500) – Probably not the type of player that the Scorchers needed, but Langer has this awesome ability to get the best out of his charges. Averages over thirty in domestic t20, he could be a fantastic POD in the second round.
Ryder ($85,000) – Mmmmm. Picking him and Simmons is like loading three bullets into a six-shooter, spinning the chamber, aiming at your head and firing. Half the time you'll look like a magician, but the other half will leave you looking like an absolute f*ckwit. Pick at your own peril, but Ryder does bowl, so maybe he's a marginally better option than Simmons if you're determined to get one of them.
Simmons ($81,500) – See Ryder.
Avoid
Morgan ($91,100) – A fine exponent of the reverse sweep, organ is a great player. He bats at five for the Thunder so in years past I'd say lock him in, but the Thunder actually have a semi-strong top order this season, so I'd pass. 
Wicket-keepers (> $60,000)
Keep
Dunk ($105,600) – Awesome player. Terrific form. Reasonably strong team. What's the problem then? His price. Considering the abundance of cheap keepers can you justify spending big bucks on Dunk? Your call. 
Watch
Wade ($66,800) – Like I've mentioned previously, he could and should open. He has a bit of experience in that position so I'd say he'll go okay. Could also be completely sh*t, so take your pick. 
Avoid
Paine ($68,500) – One of Paine or Dunk will fire and it could be Paine. Is that likely? No. 
Haddin ($72,500) – Didn't even play a game last year, so nahhhhh.

Allrounders (> $89,000)
Okay, there are HEAPS of all rounders over $90k. To make it easier for me, I'm going to take the six players priced at over $100k and say that they are absolute keepers (which they are). These guys are your premiums and ideally, you want at least one of them. The only exception is perhaps Steve Smith, who is not totally proven on the t20 stage. 
Keep
Christian ($96,300) – He was a terrific pick-up last year, batting in the top four and sending down two or three overs. Consequently, he had an average of just a tick over 52. Expect the same again this season. 
D. Smith ($89,000) – I'm frothing at the mouth because I believe the Sixers have pulled off the biggest signing of the tournament. Smith is one of the best t20 opening bats going around. He topped the run-scoring charts at one point in the IPL. $89k is a BARGAIN!!!
R. ten Doeschate ($92,500) – I'll start by saying that if RTD played for a test nation, he'd be revered. Because he plays (or played) for Holland, however, people were like 'what?' and 'who's this?!' when Adelaide announced the signing. Trust me, he's Shane Watson 2.0.
Watch
Henriques ($92,500) – Should bowl at least three and bat at four. Moises is your perfect all rounder. There's no doubting that he'll get the opportunities, but can he make the most of them? So far in his career, the answer has been a resounding 'no'.
Hopes ($90,700) – This one could bite me in the ass, but I'm going to tell you to steer clear of HOpes for the time being. He'll bowl four great overs, yes. But he will also likely bat down the order, as a finisher. HOWEVER (and this is a BIG however) he has batted high in the order before and if there are indications that he will do so again, think long and hard about getting him in. He could be one of the bargain buys of the season.
Avoid
Pollard ($98,600) – Make no mistake – Adelaide didn't buy Pollard to bold an innings. He's there to hit. The problem is that he'll be coming in late and he most likely will not bowl. His batting alone is not enough to warrant an all-rounder slot for me. Pass.
Russell ($93,500) – Bowling all-rounder. Exact opposite to Pollard in that he'll bowl but he won't get a huge bat. There are better options out there.
Cutting ($92,500) – I should've just created a separate category for these guys! In a test match I'd almost pick Cuttsy as an all rounder, but in t20, no. He has a tendency to be expensive and won't bat higher than six. If hew was a bowler though… I suppose you can only dream.
Sammy ($93,500) – To me, Sammy is the best of the above lot. He should bowl four because Hobart are seriously short on quality bowling options. He will, however, still bat in the lower/middle order. That's why I have to pass BUT I think he could average 45+ if you're willing to take the risk.
Kallis ($92,500) – Too old and hasn't played in a while. He'll most likely bat at first drop, but he probably won't bowl at all. Was never a brilliant t20 player in my opinion and now he's definitely past his prime.
Hastings ($90,200) – I honestly have no idea how Hastings averaged 49 last year. He is basically a more economical Andre Russell.
Bresnan ($90,000) – This is getting ridiculous. I don't even rate the guy as a bowler, let alone as a batsman. I'd be all over him if he was classified as a bowler, but I want someone who'll come in before the seventeenth over to take my all rounder slot.

Bowlers (> $80,000)
Keep
Arafat ($101,200) – Possessing a huge variety of slower balls, Arafat is a terrific death bowler and is one of the few true 'premiums' in this game. He'll always grab a wicket or two and keeps the runs down. A great option.
Behrendorff ($90,600) – The unsung hero of the Scorchers. I've lost count of the number of times he's nipped out an early wicket or two. He averaged 49.2 last season and this year he should transcend the 50 mark and into 'true' premium territory.
Boyce ($83,700) – Boy, isn't this kid a prospect? He broke into the national side this year and believe me when I say that you'll see him there for a long time to come! He's so unlike any other spinner in this format because he's not afraid to flight the ball in search of wickets. If you haven't watched his delivery that got Carters on 198, I strongly suggest you do. Warne-like.
Sandhu ($82,400) – Another bowler that improves in leaps and bounds each year. Sandhu really impressed main the Matador Cup with his ability to change his pace without changing his action. He is quicker than he looks, gets good bounce and has a great off cutter. I'm debating whether to start him.
Watch
Bird ($104,900) – Bird surprised me and a lot of people last year by proving that line-and-length seam-up bowling still has it's place in t20 cricket. He has recently come back from injury, so I'd suggest that he won't at his best, but considering that the Stars have a DGW first up, I'll risk him.
Avoid
Pattinson ($84,200) – Injured.
Siddle ($102,700) – Not a noted short-form bowler, Sids will most likely be playing in the test series.
Lyon ($81,000) – Again, not a noted short-form bowler. There are guys better than him who are priced lower. If you're looking for a spinner around the $80k mark, go for Boyce.
Gannon ($95,300) –  I started with him last season, but dumped him after he went virtually wicketless for three games. He then went on to grab more than ten. Would I pick him up for $95k? Hell, no! He's not even assured a starting spot!
Alright, that's basically it guys. Thanks for reading once again, and feel free to drop a comment. I might not be able to reply, because I'm currently finishing this off in my hotel's business room in Bali, but I'll have a look when I can.
Also guys, this is your LAST CHANCE for a BBL cash group. A few people have expressed interest, but we need a minimum of eight to run it. Entry is $20, but you won't have to pay until later in the season most likely (round 2 or 3). If you know anyone who might be interested, please direct them here. If you are interested please either drop me an email at 'fantasycricketgalore@gmail.com' or message me on twitter @homeofbanter_.  The more people we get, the bigger the prize pool.
Cheers,
Zeus.
CATCH UP ON BBL FANTASY ARTICLES