NBL Dream Team: Round 11 Preview
With the completion of round 10 we've hit the half way mark of the season and some decisions are becoming easier… like picking Josh Childress as captain this week.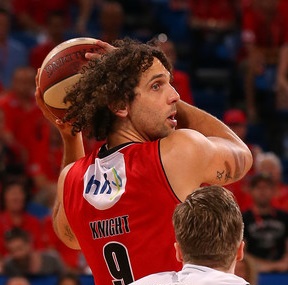 With the completion of round 10 we've hit the half way mark of the season and some decisions are becoming easier… like picking Josh Childress as captain this week.
Wrapping Up Round 10
With four teams playing the double match and plenty of nice scores from our double match players, 748 dreams scored 400+ while a lucky 11 had a great week scoring 500+. These results were led by Matthew Knight, who got 92 from his two matches, and our regular superstar Josh Childress, who got 86 from his single. Luke Nevill also stood out from the pack and increased his price by $19,600 this week after scoring 64 from his single match. While Childress and Nevill were the only two single match players in the top 20 scorers for the round, there were some great performances amongst those playing doubles. Alex Pledger reminded us what a quality player he is, scoring 62 despite limited minutes with his ongoing injury, while team-mate Tai Wesley took full advantage of Ibekwe's foul trouble to deliver 64. The biggest surprise though was Drake U'u who got a season high 44 in Perth's second game to total 48 for the round.
It should noted that there were a plethora of players playing the single match who scored well and bolstered our teams significantly too. The reptile rumble saw some very nice scores led by Cameron Tragardh (46) and Brian Conklin (42). Stephen Weigh (40) signalled a potential return to form, while Todd Blanchfield (40) showed that even an ankle injury can't keep him down for long. Over in Wollongong Rhys Martin, Gary Ervin and Angus Brandt all scored 36.
Jordan McRae leads the list of disappointments this week after he only managed 40 from his two games, particularly letting down all those who had selected him as captain. Some people gambled on Jermaine Beal as captain and were punished ruthlessly for it as he only managed 22 from his two matches. Brendan Teys' reduced minutes have turned into a price plummet for him as he got just 16 from his two games. Alex Loughton had a second bad game in a row getting just 10 but it wasn't as bad as Clint Steindl who didn't score any points in his match and only got up to 8 through some handy blocks. It was a tough week for Melbourne's Guards as Nate Tomlinson got 8 and -6 to total 2 while Darryl Coreletto, after holding onto his starting spot, got -6 and -2 for a lowly -8.
Round 11 – Trade Targets
Since we're at the half way mark of the season it's a good chance to pause and look at how many trades we have left (before we make this week's trades). If you have 20 left then you haven't been trading enough but you now have the opportunity to make two trades every week for the rest of the year. Ideally you'll have more like 14-16 trades left as that means you've still plenty of trades to keep improving your squad. If you've only got 12 or less left then now is a good time to start rationing so that you've got some for later in the season when the extra injuries strike.
Sydney are the prime trade targets right now as they have 18 matches over the next 10 weeks and don't have two weeks of single matches in a row during that time. This means they're great for trading in and keeping. Obviously if you don't have Josh Childress you should do everything in your power to trade him in. I know he is absurdly expensive but mathematically it is to your advantage to trade two other stars out to get him (and someone very cheap) into your team. Tom Garlepp has been solid without being great this season and is reasonably priced. Ben Madgen can score big and is a dual position Grd/Fwd, but after his -4 this week he'll probably lose a chunk of money and he's slightly expensive. Kendrick Perry has been erratic, but has shown in past doubles he can score big. Any of those three are valid options for betting on as keepers for the rest of the season.
Cairns are also worth looking at as they play 7 matches over the next 4 weeks, the most of any team in the short term. After his big score this week Stephen Weigh should continue to shoot up in price and is a quality player that could continue scoring for all four weeks. He's also quite cheap right now. Alex Loughton and Scottie Wilbekin are both reasonably priced at just over $120K, however neither has been scoring prolifically of late, but both could if given the opportunity. Cameron Tragardh is on a hot streak but too expensive for my liking. Cameron Gliddon has been the most consistent Taipan all year and is the perfect purchase for reliability. At the opposite end of the spectrum is Torey Craig, quite cheap for his potential but completely erratic, perfect if you want to gamble.
If you're looking for players to trade out then Perth is starting a four week run of single matches and don't have anyone who is indispensable. If you've held onto Tim Coenraad it is time to finally let him go. His last two weeks have been quite average despite Wollongong playing really well and he's set to lose a lot of money this week. I would avoid ditching any key Adelaide or Townsville players at this stage if unless you really need to as they all have achievable break evens and then both teams have a nice run of three doubles in four weeks in rounds 13 through 16. This doesn't apply to players like Leon Henry and Brendan Teys though who should be traded out now while the money they've earn't you is still worthwhile.
Round 11 – On Court Selections
Cairns, Melbourne, Sydney and New Zealand play double matches this round. Keep Jordan McRae and Cedric Jackson on court ahead of Scottie Wilbekin or Ben Madgen, they should both bounce back with strong rounds. I'd pick Stephen Dennis over all of them though this week, he just keeps getting better every match. Looking at those players on the cusp, I'd put Stephen Weigh and David Barlow on court over most single match players but despite his great form this week I'd keep Tai Wesley on the bench, NZ play much more mobile teams this week and he'll have less of an impact. Cody Ellis should also stay on the bench. Depending on who your main centre is, Angus Brandt has done enough recently to consider playing him ahead of them. Similarly Alex Pledger is worth considering on court.
Captain choice is Josh Childress. If you don't have him then trade him in.
We have a Thursday lockout again this week however it's at the regular time of 7:30pm AEDT as the game is in Sydney.
As always you can follow the live dream team scores for the games at dtlive.com.au/nbl
Cheers
Tristan
Coach of the Statismathgicians