BBL Fantasy 2014/15 – Players to Avoid
The Big Bash League starts this week, but don't get caught out by some traps in your team. Feathertop looks at some of the players to avoid.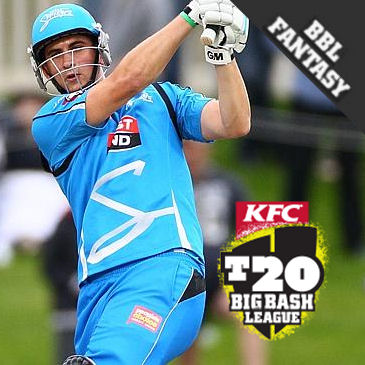 The Big Bash League finally starts this week and that means you need to finalise your BBL Fantasy team. It's time to make the big decisions that will inevitably determine where you rank and how many early trades you need to burn fixing mistakes, no pressure. Obviously, the best way to do that is to avoid players that aren't going to perform well. I don't proclaim that I can predict the future, but I will give you my thoughts on a few players that you should consider avoiding for your round one side. I've used different criteria to explain why you shouldn't pick these players and that will be listed next to the player. This list won't include players like Coulter-Nile who are injured and it also won't include players on Australian international duty.
Batsmen:
Ben Rohrer $72,500
Reason: Price/Batting Position
Rohrer is priced at over $70,000 despite averaging less than 20 last season. This is probably because he has shown in previous BBL tournaments that he can score high and they didn't want to give us too much of a discount on him. At that price, I think it's safe to say there are better options. The likes of Cameron White, Michael Hussey, Brad Hodge and Chris Lynn are all likely to average more. Secondly, Rohrer may even be pushed down to five or six in the batting order. This would greatly restrict his scoring consistency. I recommend avoiding Rohrer.
Alex Hales $59,600
Reason: Form
Hales is ranked number three in the world in T20 cricket, his price tag makes him incredibly handy, allowing you to spend money elsewhere. What's the issue? He can't make a run lately. With a high score of 42 since the middle of the year in international cricket, Hales is in a real sour patch. I understand the temptation here but I seriously recommend waiting at least two rounds before you trade him in. Let's see if he can hit form in the BBL and if he can, downgrade to him and use the money later on. Of course, he could blast 100 off 60 balls in round one, this is T20 and form isn't everything. Proceed with caution.
Peter Forrest $36,200
Reason: Form/Job Security
Forrest was once captain of the Brisbane Heat. Now he sits at rookie price having played three games last season. I don't see him in the Heat's best XII, the Heat have plenty of middle order options and Forrest will certainly be on the outside come round one. There are better players available for your bench position.
Side note: I recommend minimising the amount of Brisbane Heat and Perth Scorchers players in your side. They have the bye in rounds one and two and this could cause havoc with your side if there's a late withdrawal or injury. Jesse Ryder is another you should not start you side with as he will be unavailable due to international duties.
All-Rounders:
John Hastings $90,200
Reason: Better Options
Hastings isn't a genuine all-rounder, not in BBL Fantasy terms. He'll probably bat at eight or nine and for this reason, you have to look elsewhere. He has a hefty price tag and Kallis, Dwayne Smith, Sammy and Henriques are all better options in the price range. Don't be suckered into picking a Stars player just because they have the double bye. You still have to construct your team for the long term.
There are other players in the same boat here. I'd be wary with the likes of Ben Cutting, Ashton Agar and Tim Bresnan who will probably also bat between seven and ten. If you want full bang for your buck out of your all-rounders, pick ones that will bat and bowl with consistency.
Side note: The exception to this rule is James Faulkner who I believe is good enough to warrant selection, despite his batting position being seven or eight.
Wicketkeepers:
Ben Dunk $105,600
Reason: Price
Dunk was the player of the tournament last season and I'm not suggesting that he won't be able to replicate that form but that price tag is too immense. If you spend over $100,000 on your total wicketkeeping ranks, that's probably 30 to 40 thousand you're missing out on elsewhere. Unless you're going with Matthew Wade I recommend not spending over $75,000 total on your keepers. Dunk is just too expensive for my liking.
Bowlers:
Dan Vettori $79,700
Reason: Lots
Don't get fooled into thinking Vettori is an all-rounder who slipped through the cracks. With the likes of Hopes and Cutting, Vettori will probably bat at nine or ten. On top of that, he is incredibly injury prone, has that annoying round two bye, has an unknown availability and doesn't do much besides restricting run rate, if previous BBL's are anything to go by. Avoid.
Chris Tremain $64,000
Reason: Job Security/Price
Tremain had a decent BBL03 but with the addition of Pat Cummins to the Thunder side, I can't see Tremain getting a consistent game. Nannes and Sandhu as well as Cummins will all be picked ahead of him. In addition, there are better players in this price range. Pat Cummins, for example… Cummins really has stolen Chris Tremain's Thunder. Get it?
Shaun Tait $56,400
Reason: Inconsistency
Shaun Tait has gone basically unmentioned in the build up to BBL04 and he also hasn't played First Class cricket since October. Tait is a big name and was once the poster boy for T20 cricket in Australia. Because of this, people might think, at that price, that he's worth a spot in their sides. Avoid him. Tait will either take 3/10 or 0/50 and you don't want that kind of inconsistency in your side. That's if he even plays, he's prone to injury and the Strikers have plenty of bowling depth with Sayers, Putland and Zampa in their squad.
James Muirhead $48,800
Reason: Job security
I rate Muirhead as a decent prospect. He was excellent last season to the point of international selection. However, with Bradley Hogg going around for one last season, Muirhead will probably be in and out of the side which is not what you want for your bench player. It has nothing to do with two spinners being played at the WACA as the Scorchers consistently named Hogg and Michael Beer in previous seasons.
CATCH UP ON BBL FANTASY ARTICLES