BBL Fantasy 2014/15 – Damion's Cheat Sheet
Damion came 2nd last year in BBL Fantasy being very unlucky in the final round. He's been very successful in the previous three years of the Big Bash and in other Fantasy games. Here's his guide.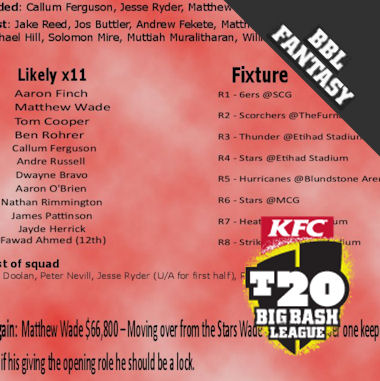 We are lucky enough to have last year's runner up, Damion, put together his guide to BBL Fantasy for this year. He looks at each club with who's come in, gone out, their best 11 and who you should be considering in your squads. He also looks ahead to how teams will go during the season.
Thanks heaps Damion! It's a privilege to have the guy who came second overall… out of around 30,000 players to help us all our with our BBL Fantasy teams. You can follow him on Twitter at @Damion23. Be sure to post any of your thoughts in the comments.
CATCH UP ON BBL FANTASY ARTICLES