BBL Fantasy 2014/15 – The Basics
The Big Bash League officially kicks off in two weeks and that means BBL Fantasy is open for business. This article will explain the basics of how to play the game and give you a few little tricks that'll put you ahead of the average player.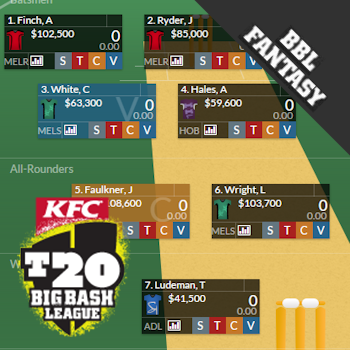 The Big Bash League officially kicks off in two weeks and that means BBL Fantasy is open for business. This article will explain the basics of how to play the game and give you a few little tricks that'll put you ahead of the average player.
BBL Fantasy has quite a complicated scoring system. All players receive one point for every run they make, and all players receive 20 points for every wicket they take. A catch is 12 points, a maiden is also 12 points and a run-out is 15. I specifically mention that all players receive these points because there are a few things that only apply to certain positions. Batsmen and wicketkeepers will lose 20 points for a duck while a wicketkeeper will gain 15 for a stumping.
On top of that, there are bonus scores. High strike rates while batting and low economy rates while bowling will result in extra points and this, in particular for bowlers, must be taken into consideration when choosing your team.
The next thing you need to know is that BBL Fantasy is very different to AFL Fantasy. In the AFL version, player positioning doesn't matter too much in terms of point scoring given there is nothing restricting a player from scoring in every facet of the game. Players get the ball all over the ground and defenders kick goals all the time.
In BBL Fantasy however, bowlers get 20 points for a wicket and batsmen get one point for a run. This means that a batsman has to make 20 runs in order to be as prolific as a wicket taking bowler. To compensate for this, I recommend spending more money on your batsmen in order to maximise the score you get from them. By this I mean that is easier to get value for money in the bowlers as some of the mid-priced bowlers are more likely to jag two or three wickets than the middle-priced batsmen are of making 40 or more runs.
Unlike AFL Fantasy where a good individual score is usually 100, in BBL Fantasy a good score is closer to 45. The most expensive players averaged scores in the mid 50's last season.
Moulding your team around the fixture is something that'll set you apart from the casual player. The Big Bash League fixture is a labyrinth of byes and double games and you'll need to pay close attention to avoid a donut. The best way to avoid trouble here is to only have one player per team in each position. EG: The Perth Scorchers have the bye in the first round, so don't have two Scorchers batsmen in your team because you'll be guaranteed a zero. The bye system is all over the shop with the Renegades having no byes and the Heat, Stars and Scorchers having two byes. I would be taking that into consideration when choosing between two players. Remember though, just because a side is missing two rounds does not mean they play fewer games, as will be explained below.
The other element of the fixture is the fact that most sides have rounds where they play twice. In round one, the Melbourne Stars play twice. This should definitely be considered when selecting a captain as you'd assume players playing twice would score highest. The teams who have two byes all correspondingly have two weeks where they play twice making them great teams in terms of captain choices but slightly unreliable in terms of having to play your reserve players. It's more important than ever to get your captain choice right. Your side only has 11 scoring players in it; you'll need a high scoring captain to push yourself higher up the ranks. Using the double game strategy (or just picking Aaron Finch) you should give yourself an edge.
However, reserve players shouldn't be much of an issue in BBL Fantasy. There are plenty of cheap options in all positions that will probably play every game. This is because quite a few players missed the previous season with injuries, while others were simply in poor form.
Another scheduling issue will be the upcoming international matches. The test series against India and the ODI tri-series with India and England will mean that certain players won't be available towards the back-end of the season. Also, I strongly advise against picking any player in the test side or test squad as you probably won't see much of them during the BBL season. Watch out for your English international players too as they could be called up for international duties. Other nations have matches during the BBL season too, so make sure to watch for team changes and use the partial lockout to make sure you don't have anyone missing matches.
Handy Hint: Pick batsmen who bat higher up the order. This is T20, if you pick batsmen who bat at five or six, they're less likely to get a bat let alone be in long enough to make a decent score.
Handy Hint: Don't be afraid to spend a large chunk of your salary on all-rounders. They're the ones most likely to bring in large scores. You can counter-act this by spending little to no money on your wicket keepers. There are so many cheap options there that you shouldn't be spending more than $75,000… total.
Handy Hint: Just pick Aaron Finch. What are you waiting for? The dude even gave himself a few overs to bowl last year and picked up a wicket or two. PICK HIM.
Handy Hint: Be creative with your side. There is always a player who averages far more than anyone expected; James Faulkner, Travis Birt and Ben Laughlin in BBL01, Aaron O'Brien and Ben Dunk more recently. It's these players that'll make all the difference in your head to head matches.
Good luck!
Follow me on Twitter: @FeathertopDT
CATCH UP ON BBL FANTASY ARTICLES