BBL Fantasy 2014/15 – Rookies Edition
To kick off our BBL Fantasy content on DT Talk, Zeus is bringing us a look at the 'rookies'… that is, players under $55K. They're the backbone of our teams so make sure you get them right!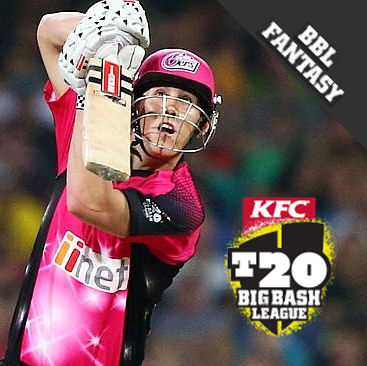 It's that time of year again. The sun's out, the birds are singing, you're going to the beach with your girlfriend/sister/mother/mates and you are absolutely loving it. It's summertime, and you know what that means… the cricket season!
The Big Bash League is once again fast approaching, and I for one, could not be happier. Forget the beach and the girlfriend/mother for the moment; your number one priority is to create a fantasy BBL team. You log on, mind already spinning with player combinations and fixture issues.
Then, drama! You see the myriad of players available to pick and realize that you've been a little slack in following the cricket in the last year. Sure, you might have watched a day or two of a couple of tests, but the real knowledge is gained from following similar leagues around the world.
But that's where I come in. Fresh off a top 10 finish in fantasy IPL, I'm here to help give you a leg up on your mates in terms of player choices and strategy. Fun fact: The total number of different teams you could take into the first round is 351,005,120. Pretty long odds on picking exactly the right one! Let's try and lower that number, shall we?
Today I will be focusing on the backbone of any fantasy team: the rookies. I use the term 'rookies' fairly loosely here, because my definition of a rookie in this game is anyone under $55,000. I'll split the players according to their role, and sort them out into three categories: KEEP, MONITOR and DISREGARD.
A NOTE BEFORE I START: I WILL INCLUDE POTENTIAL PREDICTED LINE-UPS TO SUPPLEMENT MY POINTS ABOUT PLAYING POSITIONS. THEY ARE IN BATTING ORDER. PLAYERS THAT ARE UNDERLINED ARE INTERCHANGEABLE, I.E. THEY COULD SWAP AROUND DEPENDING ON CONDITIONS. IN POSITIONS WHERE THERE ARE TWO PLAYERS SEPARATED BY A FORWARD SLASH (/), THAT INDICATES THAT EITHER OF THOSE PLAYERS MIGHT PLAY.
BATSMEN
KEEP
BURNS ($50,900) – People have been jumping all over Burns, at and first glance, it's easy to see why. He's in solid form, is guaranteed a slot and will probably be opening. I'd imagine that he'll act as a sort of 'anchor' for the Heat, allowing stroke-makers to attack around him. But (and there always is a but), I'm not a massive fan. I just don't think he's a type of player that'll be going huge in this format. Call me weird, but I've got this sort of 'sixth-sense' about players, and I'm not feeling it with Burns. He's in that 'awkward price' bracket, in that he's too expensive to occupy a bench slot, and I wouldn't feel comfortable playing him on the field. Saying that though, I do recognize that he is value if he gets going, and will probably increase a bit in price. At least wait until after Brisbane's bye to get him in, if you're going to.
MADDINSON ($49,700) – A massive gift from Virtual Sports, this guy is better than his price. He's in my team to start with, and with the double game week (DGW) that the Sixers have in the second round, he should be in yours.
HEAD ($36,000) – Boy, I have had to draft up a predicted line-up for almost all the teams just to see whether these guys will get a game! After doing the Strikers line-up, I have discovered that they are short on guys who can craft an innings, but big on guys who can thrash one out (mind out of the gutter). That is what makes me think that Head will play, and consistently. I also think he'll bat at three. He's competing with Alex Ross and Jono Dean, but I don't know much about Ross, and Head is better than Dean, so he should play. Could be a nice pick-up at 36k. See the Adelaide predicted line-up to the right.
MONITOR
GULBIS ($52,800) – This is an interesting one, because he is an allrounder, and allrounders in the batting/bowling category are usually gold. Gulbis, however, is not someone I'd be picking. Assuming Hobart pick four bowlers and Darren Sammy, Gulbis would be battling with Jonathon Wells for a spot and uncertainty is not something you want. If Bailey doesn't play, or Hobart decide to take in three bowlers, Gulbis could slot in at 8. Would I pick him then? Most probably not, no, but it never hurts to see what his role is. Take a look at the Hobart line-up further down the page to see what I mean.
A BLIZZARD ($41,500) – I'd imagine Blizzard would slot in at six, but that's too far down the order for me. The Thunder actually have a half-decent batting line-up this year, so he might not get as much of a bat. Could be used as a pinch-hitter, but I wouldn't bet on it.
FERGUSON ($41,500) – Another bloke that people have been jumping on, but once again, I'm not sure. There's no denying that he's in great form, but the question is, will he get a game? At some stage, yes, but when will that be? The Renegades have a good squad. For me, it depends on whether O'Brien/Ahmed play or not. If one of them does, Bravo will probably bat at seven and Ferguson might squeeze in. If both of them do, Ferguson won't get a game, unless they sacrifice Cooper, which is unlikely in my opinion. It also depends on whether they're comfortable with Wade keeping, or want Nevill. Too many variables for me, so for the moment, it's a no. See what I mean in the Renegades line-up to the right.
SILK ($36,000) – In my predicted line-up, he's playing and batting at five. The only reason that he's not in the 'KEEP' category is because he's batting down the order. I'll be honest though, he could bat anywhere from 4 through 8 depending on the situation. If Steve Smith plays, however, he'll take Silk's spot.
MICHAEL ($32,000)/J. WELLS ($33,700) – These guys are competing with each other for the number six slot. I'm thinking that Wells will probably grab it based on form, but I wouldn't pick either of them. Their slot could just as easily go to Darren Sammy if both Gulbis and Mennie play (I've currently got them fighting for the number eight slot). I'd avoid for the duration of the tournament, unless injury strikes and they're moved up the order.
DISREGARD
QUINEY ($52,600) – Won't get a slot in the Stars line-up unless injury strikes or blokes like White, Faulkner and Maxwell get called up. Even then, I'd probably stay away.
A DOOLAN ($36,400) – Definitely won't play. Drop him like a hot potato.
DORAN ($32,000) – I'd bet my left nut and the life of my first-born child on the fact that he will not play. Even Hughes is ahead of him at this stage, and that's saying something. Great young player, just not ready yet. If they are going to miss the finals, he might get a game or two at the end, but I still doubt it.
FORREST ($36,200) – Another bloke that I can't be bothered having headaches about. Similar position to Ferguson, in that his spot is largely
dependant on the picking of other players. If Gannon/Steketee play, he won't get a bat. If they don't, I think he will. Simple as that. I'm also assuming that both Johnson and Watson are playing in the test team. If Watson plays BBL, however, Forrest will 100% not play. See the Heat predicted line-up to the right.
A KEATH ($36,000) – They could not pay me enough to pick Keath. Pass, pass and pass.
A ROSS ($36,000) – Apart from sharing a last name with the bloke who won a Nobel Prize for his work on Malaria, Ross hasn't got much going for him. Save yourself the heartache and leave him alone. I'm not going to say he's not going to play, because the Strikers are very hitter-heavy, but it's highly unlikely.
ALLROUNDERS
KEEP
A TURNER ($44,600) – Here's a good chance to buy into the reigning champs at a low price. He's progressed in leaps and bounds over the last couple of years, so his performances in the CA XI games should come as no surprise. If the Scorchers decide to leave out Hogg/Muirhead, Turner could be the lone spinner. Will bat in the top six, could even get promoted to three or four if Langer prefers him there over Whiteman. Considering Scorchers have the DGW second round, I'll probably start with him on my bench.
MONITOR
O'KEEFE ($42,600) – Another from the bargain bin, O'Keefe should bowl four overs and bat at 7-8. Still a bit too low for an allrounder slot, but considering his low price, he could sit on your bench.
LAWFORD ($32,000) – As crazy as it sounds, it wouldn't surprise me if Lawford got the occasional game, especially if Neser starts off poorly. He's a big lad who bowls strictly medium pace, but he can hit a ball. He's best described as one of those players who makes the highlight package for a brutal 50 off 20 balls, gets talked up and then does absolutely nothing for the rest of the season. Pass, unless he starts showing some consistency and penetration with his bowling.
DISREGARD
ABBOTT ($50,600) – I've got him down at eight, so I'm sorry Sean, but you are a massive pass for me. If he was a bowler, that would be another story, but eight is waaaayyyyyy too low for an allrounder.
A AGAR ($49,900) – Ashton will be a good player in the future, but I don't see him getting a gig at the moment. He's fallen behind Turner in the pecking order.
DWARSHUIS ($32,000) – Surely this bloke won't get a game. Surely not. If you asked me to name the player on here who I would be least likely to pick, it would be Dwarshuis. If you take away one thing from this article, let it be that.
STOINIS ($40,800) – I started off with him because off his Matador Cup form, but after constructing a predicted line up for the Stars, I dropped him immediately. They seem to like him, but I just don't see where he'd fit into the side, except if Faulkner/Hastings gets called up or injured.
CARTWRIGHT ($36,000) – If Turner gets injured (or anyone else), Cartwright would probably come in because he's a better bat than Agar. Other than that, it's a massive no.
WICKET-KEEPERS
KEEP
HARTLEY ($32,000) – Another absolute gift from VS. If you were to ask me which guy I'd be most likely to pick, it'd be Hartley. He's in cracking form and will most probably open the batting. What's not to like?
PEIRSON ($32,000) – I probably wouldn't feel comfortable with playing him on the field, but there is a hell of a lot of value in Peirson. He's the Heat's only keeper, and is also an opening bat. Whether that means he'll actually open the batting or not is another thing, but is guaranteed a slot somewhere in the top seven. There is definitely a lot of merit in picking both Hartley and Peirson this year, your keeper slots are full up and it'll only set you back 64k.
MONITOR
WHITEMAN ($47,900) – One for the risk takers. He could very well bat in the top four, but at the same token, could bat around five or six.
Considering the cheaper options, I wouldn't, but he is a quality bat. If he gets a go, watch out.
NEVILL ($36,000) – I almost put him in the DISREGARD category, but then an tantalising thought occurred to me: What if he replaced Wade and nailed down that spot (see the line-up above)? You'd then be getting an experienced short-form opener for 36k. Watch extremely carefully.
LUDEMAN ($41,500) – I've currently got Ludeman penciled in to open. That makes for a interesting situation. The best with the gloves at the moment in Australia, so he won't get completely dropped but his batting isn't the best. If I had a choice between Nevill and Ludeman (assuming they were opening), I'd still go Nevill.
DISREGARD
CARTERS ($36,000) – I don't see him batting any higher than six. With all the other options available, it's a pass.
HANDSCOMB ($46,000) – There are two rules in fantasy BBL. Number one is that you do not pick Dwarshuis. Number two is that you do not pick Handscomb. Ever. I'd rather cop a zero. He will not get a bat, and even if he does, I guarantee he won't score big. He's literally there as a glove man, and that's it. For those that are tempted by his DGW first up, don't. Write it on a piece of paper, and stick it on the toilet door. Record it on your phone and play it back to yourself over and over on your commute to work. Get a damn tattoo if you have to. Do not pick Handscomb. Trust me.
BOWLERS
KEEP
BOLLINGER ($44,700) – You just have to love this guy. He tries his heart out ball-after-ball. He never goes missing through a lack of effort, and that's why I love him. He's actually a fairly decent bowler in this format as well and if you combine that with being a lock for the Sixers, I'd say we've got a bargain on our hands. Almost a must-start, considering the Sixers have a DGW second round.
DOHERTY ($33,900) – A quality international short-form bowler, Doherty's best asset is his ability to bowl almost anywhere in the innings. He targets the stumps, giving the batsmen no room to work with. This usually leads to a decent economy rate and at least one wicket. I think the Hurricanes will go with both Boyce and Doherty this season because their pace bowlers are pretty inexperienced and Doherty (and your team) is only going to benefit from it.
PARIS ($32,000) – Is there something in the water over here in the west? Paris is another in a long queue of quality fast bowlers. Based on his Matador Cup and Champions League exploits, I don't see how Perth can afford to leave him out. If he plays all games I reckon he could take the most wickets out of any bowler this year.
MONITOR
BEER ($48,300) – Here's someone I'll be watching very closely. Along with Rangana Herath, he's probably the most underrated bowler of all time, at least in shorter formats. His role is pretty simple: spear it in at yorker length on the stumps. He'll have a decent economy rate and is always a chance for a maiden. I think he's pipped Clive Rose to the spinner's slot; surely the Stars wouldn't trade away Muirhead for someone who'll sit on the bench. My only concern is whether the Stars will play a specialist spinner because they have Maxwell and Hussey, and for that reason, he's in MONITOR.
HERRICK ($36,000) – Looks like he should be working security for Guantanamo but Jayde is actually not a bad bowler. He played one game (the first) last season in which he broke down, but I think he'll get more game time with Siddle's absence. Could be a handy POD but I think there are better options out there.
HAURITZ ($41,500) – Nahhhhhhhhhhh… look, I feel dirty even suggesting this, but Hauritz is the only spinner of any kind in the Thunder roster. Literally, none of their batters even bowl part-time offies. That indicates that he'll probably get consistent game time, but remember, it is Hauritz. Tread with caution, and wash your hands afterwards if you trade him in.
A ZAMPA ($36,000) – I'm a fan of this guy, but he is battling with Holland for the spinner's spot, because I can't see them playing two regularly. Loves to toss the ball up and give it a rip, but occasionally cops a pasting. If he grabs that spot, expect him to put in a decent shift.
VAN DER GUGTEN ($32,000) – Most probably Holland's best bowler, there is actually a decent chance that he'll crack the side sometime this
season. The Hurricanes are seriously short of good fast bowlers.
DISREGARD
MUIRHEAD ($48,000) – This feels a little harsh because he's a great young bowler, but he's going to have to compete with Hogg for the spinner's slot, and that'll be difficult. At the Furnace Hogg is a crowd favourite, so I'd expect him to get picked there. Because of that doubt, he's a pass for me, but if he gets an extended run, watch carefully.
A MCDERMOTT ($48,500) – Son of Australian great Craig McDermott, Alistair is also a fast bowler with a shock of red hair. I actually rate him, but whether he receives consistent game time is another thing. For that reason, I'd pass.
FELDMAN ($45,600) – A bloke who's going to suffer from the massive depth at the Stars. There is going to be a fair amount of rotation in their line-up this year.
MCKAY ($36,800) – I appreciate your service to Australian cricket, Clint, but your time is up. Well past his prime and not guaranteed game time. Could, however, make a mockery of me. I wouldn't put it past him.
COPELAND ($36,000) ­– Seems like a quality bloke, but unfortunately won't be getting a go in my team this season.
MENNIE ($36,000) – Will be battling for a spot with Gulbis and Rainbird all season. No.
PUTLAND ($36,000) – Once again, not guaranteed a slot. Move along.
BUCHANAN/R. DUFFIELD ($32,000) – Really scraping the bottom of the barrel here lads. Let's not waste any more time.
A MCGREGOR-BAPTISTA ($32,000) – Channeling his inner Sri-Lankan side with that name. *Cue laughs for five seconds*. Don't even think about it.
J. REED ($32,000) – Is this guy in your team? Yes/No. If no, continue reading and congratulate yourself for being sane. If yes, take a ride to the top floor of your nearest sky-scraper/big tree and jump off it. Disgusting.
RAINBIRD/CHAD SAYERS ($32,000) – Both of them are promising young fast bowlers, but will struggle to break into their team's t20 squads. If one of them gets an extended run (Sayers especially), chuck them on your MONITOR shortlist.
Okay, that pretty much wraps us this book guys. If you're still awake by this point, cheers for reading and stay tuned for three (possibly four) more installments before the start of the season.
For anyone wanting some more material (unlikely after that), our preview of the Melbourne Stars is up on Fantasy Cricket Galore. Click the name of the website and you'll be directed to it. We'll be cranking out previews for the rest of the teams as well, so stay tuned. We've also got an RMT section over there too, so if you'd like some help with your team, feel free to pop over. Hopefully everyone can help each other out.
Also, one last thing. We are planning to run a cash-group this year. The more people we get to enter, the bigger the prize pool. We will be charging $20 to enter, and if we can get twenty people that would mean a prize pool of over $300. If we could get 50 people, that's a prize pool of over $750.
We haven't decided how we'd split it (i.e. 1st, 2nd, 3rd or top 5 get an equal amount), but we'd let you know closer to the date. It adds a bit of a fun edge to the game and you always perform better when money is at stake! If you are interested, please do drop us an email at fantasycricketgalore@gmail.com. We're happy to explain it again or answer any particular questions that you might have. Payment would most likely be a bank transfer, but if you can't do that then I'm sure we can work something out.
Cheers,
Zeus
Twitter: @homeofbanter_ and @cricketgalore
CATCH UP ON BBL FANTASY ARTICLES