Jeppa's Phantom Draft 2014
Tomorrow the best youngsters in the country will know where their football journey will continue. So where is each draftee headed and more importantly which rooks are Fantasy worthy next year? Jeppa gives us his views right here, right now.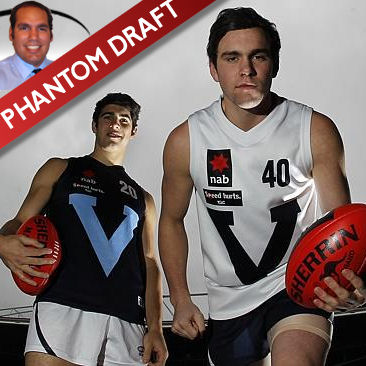 After a pleasant offseason, I'm back to look at this year's young talent.
Compiling the Top 30 AFL draft selections for 2014 has been no easy task however, I've given it a crack with some Fantasy relevance to get your planning started. I hope you enjoy.
Dominant key forwards dont grow on trees thus when the next Johnathon Brown becomes available, you pick him! McCartin is quick on the lead, an excellent set shot and he doesn't shy away from the rough stuff. Life after Riewoldt just got a little easier for the Saints!
Petracca is a guaranteed future superstar of the competition. Power, speed, skill and smarts makes him the complete package and he knows where the goals are. Plays like a young Steve Johnson hence the hype and Melbourne should consider themselves very fortunate that they have nabbed him.
A competitive beast who thrives around the stoppages and wins the contested ball. He's not flashy but he makes good decisions under pressure and is a natural leader. Similar to Ollie Wines and like Ollie, Brayshaw will play plenty of games in his first season.
GWS will take no chance in possibly missing out on Pickett to the Pies. Speed, skill and X-Factor are his best qualities and with a cool head on his shoulders the future is very bright. I doubt he'll play much in his first season with so many young guns at the Giants.
Midfield depth is first on the agenda for the Pies and Laverde fits the bill. At 189cm he's your modern day on-baller with plenty of athleticism and poise. Laverde doesn't need a lot of the ball to cut up the opposition.
Arguably the best inside midfielder in this year's draft. De Goey is tough as nails and at 187cm he's taller than your average ball winner. Whether it be at half forward, half back or on the ball, he'll always go to 'war' for his teammates.
An ACL injury sustained last season has put a few clubs off Lever but I suspect the Giants will take a punt on this key defender who is widely tipped to be the next big thing. Lever has the ability to shut down his opponent and he's athletic and crafty enough to create from the backline.
Duggan has a left foot that even Pendlebury would admire. This skillful on-baller never wastes a possession and he's deadly when in range for goal. Duggan lets his footy do the talking and his teammates look up to him accordingly. Reminds me of a left footed Deledio.
An athletic tall forward that will live up to his famous father's name. Moore is excellent in the air, very clean below his knees but can go missing on the stats sheet. He'll need a couple of seasons to add bulk and develop. Could captain Collingwood one day!
Touted earlier in the year as a potential top three pick, Wright will slip through to the Cats much to their delight. The big red head is a tower of strength up forward and in the ruck and is an accurate kick for a big man. He'll learn from the best at Geelong.
It's no secret that West Coast are looking to add speed and skill to their midfield and Ahern ticks all the boxes. He can play inside or outside and loves a running goal from 50m but it is ability to stand up in big games that is most appealing. Lock and load!
Ellis is another clearance machine who has the ability to create time and space for himself when there is none. He isn't a big ball winner but good things usually happen when he has the ball in his hands. A solid contributor.
Freo are desperate for a key tall and Durdin gives them plenty of options.The young South Australian can be used forward, back and even in the ruck. He dominates the air with his leap and safe hands and we'll be hearing his name often over the next 10+ seasons.
The Crows to draft on need and select tall defender Goddard. An excellent one on one player, Goddard excels in defence. He reads the play exceptionally well and is often the third man up in contests to help out teammates.
Another versatile player that can be used forward or back. Langford has sure hands, a huge leap and moves like the wind. He often steps up when needed and when he adds size to his frame, he could push into the midfield.
North fans should be excited if Cockatoo joins their club. Pace, skill and smarts are exactly what the Roos need around the ball and his ability to turn a game in an instant will make him a future star. They'll give him plenty of time to develop in the VFL next season.
Bombers to land a bargain! Weller is one of this year's best outside midfielders with his strength's being his kicking efficiency, agility and huge tank. He'll fit nicely at Bomberland so make sure you put him on your Fantasy watchlist.
The steal of this year's draft! Heeney is arguably the best midfielder in this year's group and the Dees offered pick 2 to nab him. Given he is a part of the NSW Academy, he joins the Swans with their first round choice, pick 18. Don't be surprised if he plays 15+ games for the Swans next season. He is that good.
Carlton have been stalking Marchbank all year and they'll pounce if he's available. The 193cm athlete has the skills and smarts to play in the midfield but he's likely to play a key role in defence. Dont be surprised if Marchbank is a regular for the Blues next season.
A match winner with breakaway pace and a good sense for goal. Garlett is amazing at ground level, well balanced in the clinches and good off both feet. Expect him to have a similar highlight reel to Cyril Rioli!
Strong bodied, inside midfielder with great skills and can run all day. He does his best work at the clearances and has been compared to Fantasy pig Dane Swan! Might take a few preseasons to get to that level.
Small but mighty. Miller was captain of Vic Metro this year and he has modelled his game on hardness and winning the contested ball. He is rarely taken in a tackle and amasses his fair share of possessions. There's a lot to like!
Very tall midfielder whose very best is quite special. Unfortunately, he has been fairly inconsistent in his performances to be considered a top 10 pick but the future is bright. Lamb will craft his game in the reserves over the next couple of seasons.
GWS Academy selection, Steele is a big bodied, goal kicking midfielder. He won U/18 All Australian selection after averaging 21 possessions (79% efficiency), 6 marks and 2 goals. Steele wont play regularly enough in his rookie season with the Giants current list of mids.
Midfielder with a great turn of speed and breakaway pace. He can also jump and has excellent endurance. With North's lack of midfield depth, I'll be watching him closely over the preseason.
Slightly undersized for a key defender but an athletic Vickers-Willis can handle any opponent. He spoils the ball like Josh Gibson and has the smarts and skill to set up play from defensive 50. This hard nosed defender will be a future leader at the Dogs.
Menadue creates plenty of headaches for the opposition when he's breaking the lines from half back. He has been consistent enough this year to be on the Dogs radar but will need to spend some time in the gym before becoming the next Nick Malceski.
With the Blues lack of quality midfield depth, I find it hard to believe that they will pass on the No. 1 clearance player in this year's U/18 national carnival. Blakely is a master in traffic but will need to work on his speed and kicking efficiency. A future jet nonetheless.
Jack of all trades with a booming, accurate left foot kick. Maynard doesn't mind the tough stuff either and he excels in the one on one contests. Would be a great fit at any club.
Outside midfielder with a workman like attitude, renowned for his second and third efforts and his ability to run all day. Cavka's speed on the outside sees him push forward and kick goals but he'll need to fine tune his game before getting a regular gig at AFL level.
FANTASY RELEVANT ROOKIES
Here's an early indication of the first year players to make waves in the AFL next year. Keep tabs on these youngsters throughout the preseason.
Christian Petracca (Fwd/Mid) – Petracca will get plenty of opportunities at the Dees or Saints in 2015 and with his 92Kg frame, he is ready made. The decision for Fantasy coaches will be whether his hefty price tag is worth his potential return. Watch him closely.
Lachie Weller (Mid) – Will make an impression at any club he joins and is likely to get an opportunity early in the season. Weller wins plenty of the ball and kicks goals. If he gets to the Bombers at pick 17, I'd almost say that he's a lock for next year. Don't let his brother cloud your judgement!
Caleb Marchbank (Def) – Selection in the National Under-18 All Australian team and his mature body will hold him in good stead for an early debut. Marchbank marks the ball strongly and has a neat disposal so expect plenty of +6's. Should play 10+ games if he ends up at the Blues.
Isaac Heeney (Mid) – This year's Matt Crouch! Heeney is the most Fantasy relevant rookie given his ball winning ability and high tackle count. He averaged 22 possessions, 4 marks, 7 tackles and 101 Fantasy Points in 5 TAC cup games but can he break into the Swans 22? Don't rule it out!
Touk Miller (Fwd/Mid) – Doesn't take no for an answer. Miller will be working hard to make an early impression at his new club. He averaged 22 possessions, 4 marks, 6 tackles, 1 goal and 98 Fantasy Points in the TAC Cup this year. Fingers crossed he is given Fwd status.
OTHER CHEAPIES TO LOOK OUT FOR
Jesse Hogan (Fwd) – 2014 was a year to forget for Hogan so hopefully the highly rated youngster can complete a full preseason. Don't forget that he won Casey's best and fairest in 2013 after averaging 15 disposals, 7 marks, 2 tackles and 2.5 goals per game. Has to be on everyone's watchlist.
Nathan Freeman (Mid) – Another youngster with his injury woes this past season. Freeman has a mature frame to mix it with the big boys in 2015 and in my opinion, he's in the best 22 at Collingwood. He's my early tip for next year's NAB Rising Star award.
Trent Dumont (Mid) – In trouble with the law but Dumont almost broke into the Kangaroos' senior side in the later rounds last season. Averaged 25 disposals, 4.8 marks, 6.3 tackles and 108 Fantasy Points in VFL this year. Wait to see what happens off field before picking Dumont.
Shane Biggs (Def/Mid) – Traded to the Bulldogs minutes before this year's deadline. He can play at half back, through the midfield or as a tagger. Biggs scored 96 Fantasy Points in a game against the Saints last season and with midfield depth running thin at the Dogs with the loss of Griffen and Cooney, he becomes Fantasy relevant. Could be given dual Def/Mid status.
Mark Whiley (Mid) – Was traded to the Blues in an attempt to receive more senior opportunities. Whiley averaged 30 disposal and 4 tackles in the NEAFL last season thus could he be this year's Anthony Miles? Here's hoping.
Mitch Clark (Fwd) – If he's fit and available, the key forward is an automatic selection. With Geelong's quality mids feeding him the ball, he'll take plenty of marks and kick multiple goals each week. Four games over the past two seasons means Clark will be dirt cheap.
That's all from me, for now. Keep an eye out for future write-ups throughout the pre-season as well as comments via Twitter @JeppaDT.
FOLLOW THE DRAFT LIVE: Join other fantasy fans chatting live on DT LIVE while the draft unfolds on Thursday night. Click here to get involved and see plenty of stuff to get your DT juices flowing.