NBL Dream Team: Round 8 Preview
Captain choice determined if Round 7 was good or bad for most people as Beal set a new season low. We wont have that problem in Round 8 with Childress playing two matches.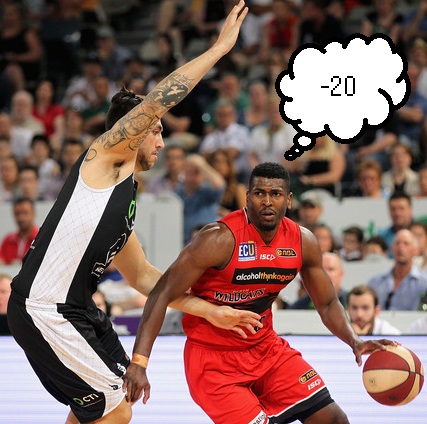 Captain choice determined if Round 7 was good or bad for most people as Beal set a new season low. We wont have that problem in Round 8 with Childress playing two matches.
Wrapping Up Round 7
Prior to the start of the round debate was raging as people tried to decide who to make their captain, with Jordan McRae, Jermaine Beal and DeAndre Daniels being the favourite choices. After each had played their first game Beal held a narrow lead with 46 to McRae's 44, while Daniels had failed to deliver with 12. The players then literally went head-to-head as Melbourne hosted Perth and the winner was McRae by a country mile as he scored a respectable 36 to finish on 80. Meanwhile Beal was completely shut out of the match by Melbourne's defense. He failed to hit a field goal and finished with a season record low of -20 for the game, dragging his total down to 26. Daniels didn't do much better as he added another 12 to total 24, still last of the three despite Beal's shocker.
Meanwhile, after opening the round on Thursday night, Josh Childress sat back observing, having already delivered the top score with 88 in Sydney's single match. This added another $30,300 to his price, bringing his total to an astonishing $271,800. He now has the chance to become the first player ever to be worth more than $300K!
Fellow high roller in Adam Gibson started a dramatic descent as he lost $22,700 after only scoring 6 in Adelaide's loss. Stephen Weigh continued his fall from grace with a combined 10 from his two games. This caused him to lose $18,200 and he's now worth less than he was at the start of the season. Whilst we're discussing plummeting prices, Gary Ervin dropped $18,800 after getting a combined score of 2 from two games. He's now lost $81,900 from his starting price and will be closely watched as he's so cheap now that even the suggestion of a return to form warrants trading him in. Special mention goes to Tyson Demos who briefly looked like he might regain some form but then got -6 this round to give him a total of 8 points from 10 games this season.
Round 8 – Trade Targets
Adelaide are playing double matches for the next 3 rounds so offer so big opportunities. Brock Motum was a popular trade target last round but only scored 20 for his third game, meaning that his price barely increased. He's still worth getting as he has huge scoring potential. Anthony Petrie has been scoring solidly all season, consistently getting points by working hard and he could be a great point of difference. Jamar Wilson is starting to look fit again after his injury and is good value at only $117,600. I wouldn't trade in any of the other 36ers, but if you've already got players like Brendan Teys, BJ Anthony or Peter Crawford then you're best holding onto them.
Townsville are also playing double matches in rounds 8 and 9 and have some interesting prospects. Todd Blanchfield has the 7th best average in the competition and I would be trading him into my team this week except for the fact that he is a Fwd and my structure just can't fit him in. I suspect I'll regret not reworking things in future weeks though as, like Petrie, he offers a great reliable point of difference. Brian Conklin is very reasonably priced after a quiet patch and can certainly score in spades. Mickell Gladness looks like he might finally be getting the hang of the NBL and is a potential bargain as he's yet to gain much value.
If you're looking for a cheap option then Jason Cadee could be a potential target. He got extra court time in Sydney's most recent match to cover for Perry when bringing the ball up the court was proving problematic. This has been a problem for Sydney all season and if Cadee can show consistency there then he could have some great opportunity.
Round 8 – On Court Selections
Adelaide, Cairns, Townsville and Sydney are playing double matches this round so get the stars from those teams off the bench and on to the court. Clint Steindl has well and truly earned a spot on court at this time and you could even consider backing in Brendan Teys. Players like Angus Brandt or Josh Duinker should still be off court for the minute though and I'd be benching Stephen Weigh based on his current form. If you happen to have Steven Markovic then don't be tricked by his 50 this round. Keep him on the bench as that's what Townsville is doing for most of their games.
Captain choice is not really a choice at all. Josh Childress is averaging 66 points a match and was the top scorer in round 7 despite only playing one match. He scored 180 last time Sydney played two matches in a round. Make him your captain. Everyone else who has him will too but that's ok, it's one of the safest choices you'll make all season. If you happen to be in the 52% of teams that don't own him then cross your fingers and hope that someone you do have like Adam Gibson, Brock Motum, Todd Blanchfield, Scottie Wilbekin or Cameron Gliddon explodes for points.
We're continuing with a Thursday for lock-out one more week, with a slightly early 7:00pm AEDT cut-off time.
As always you can follow the live dream team scores for the games at dtlive.com.au/nbl
Cheers
Tristan
Coach of the Statismathgicians