Drawing Board 2015 Popularity: November
Warnie takes an early look at player selection trends using data from DT Live's Drawing Board.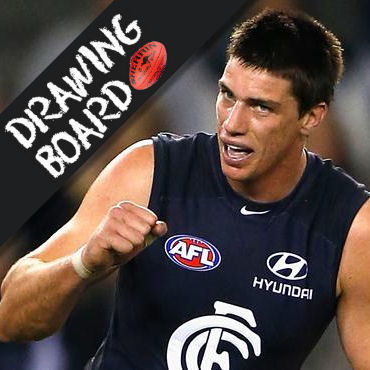 It's only November, but over 250 teams have been created in DT Live's 'Drawing Board' as AFL Fantasy coaches gear up for 2015. At this point, prices aren't official but Chad has made his best guess based on the pricing structure from last year. The salary cap for Fantasy will remain at $10,000,000 for next year.
Discounts have been given to players who missed part of the season with a 30% discount given to players who missed all of 2014. This discount is on their previous year's average. Players who only played one game in 2014 were given 27% discounts, two games 24%, and so on.
We will know the prices in December with AFL Fantasy Classic opening in January, as per our podcast.
So with the data from the teams entered thus far, what have we learned. Here's a quick pre-draft look at who the popular selections are.
MID-PRICED RUCK STRATEGY LOOKS THE GO
Appearing in 72% of teams is Carlton's Matthew Kreuzer. Playing just the one game for 59 points, Chad has priced the ruckman at $263,400. In 2013 he was looking like taking his game to another level and at this price, he is a bargain. As is Matthew Leuenberger. The Lion is the second most selected player overall, behind Kreuzer, and he will also receive a discount for just playing five games. He is projected to be priced at $273,200 and appears in 68.9% of teams. It looks likely that these two players could be a popular starting combo with the next cemented ruckman by popularity being Stefan Martin (18% of teams), who incidentally will be the third highest priced player next season.
A few familiar names are also popular in the rucks due to their price. Jonathan Griffen (62% of teams) from the Dockers has been projected to cost us just $128,340 and will be great bench fodder. Brent Renouf (25% of teams) and FWD/RUC Fraser Thurlow (36% of teams) have plenty of popularity, but at this stage, they aren't AFL listed players. At their prices though, they can be interchangeable with other 'hyped' rookie priced rucks for R4.
BARGAINS ARE THE POPULAR GUYS
Next on the list behind the aforementioned rucks who are looking cheap, are some guys returning from injury. Daniel Rich is projected to be priced at $267,000 and if he can average anywhere near the 85 he did in 2012, he'll be a mid-pricer who will make us some coin. 57% of coaches are happy to start with him at this stage.
New Cat Mitch Clark (67.2% of teams) is the third most selected player and is a lock if fit at only $219,597.
Beau Waters will split many due to durability concerns, but there would be low risk if he comes in at the $335,900 Chad has started him at. 52.5% of coaches have selected him in their backline so far. Fellow Fantasy defender, Garrick Ibbotson has attracted interest with 32.8% of coaches on board at the bargain price of $331,452. While fellow WA guy, Scott Selwood will be around the $451,980 mark after a shocking season that annoyed the crap out of plenty of coaches. My text messages are full of texts from Calvin lamenting picking him at the start of this year.
Brendon Whitecross (42.6% of teams) at $255,800 will be a popular defender as will Ben Reid (45.9% of teams) at only $175,770. His team mate, Nathan Brown (34.4% of teams) is handy for the bench at under $100K! This won't happen, though… he will be at basement price which is likely to be around $118K. Robbie Tarrant (32.8% of teams) is another that is popular for the pine.
I've probably tricked a few into Colin Sylvia (34.4% of teams) after the podcast, but really – how can we pass him up if he is playing round one and just $182,299.
The list goes on, but we'll look at these in more detail when we know the prices for real.
MORE THAN HALF WILL START WITH ROCKY
After a record breaking 2014, Tom Rockliff will start 2015 as the most expensive player in the history of AFL Fantasy/Dream Team. In case you needed reminding, Rocky averaged 134.8 and will ask a whopping $752,072. That's a massive chunk of your starting salary cap! But 57.4% of coaches who have completed Drawing Board teams are backing him in to start and be their go-to guy as captain from the get go.
Gary Ablett is backed in again, with 57.4% of coaches starting with the little master priced at $664,745 (based on his 119.1 average in 2014). He has started pre-season training, despite rumour of a set back. Did you know that next year will see Gaz at the second highest starting price we've seen his his career with only 2013 better after averaging 124.8 points.
Other popular premium midfielders include Scott Pendlebury (29% of teams), Dayne Beams (28% of teams) and Dane Swan (26% of teams). The original Fantasy pig is mega under-priced for what he has dished up for us over the years and at $522,902 he should remain a popular starting option. Some have called for him to gain FWD status, and while it could be warranted, with Beams leaving it may be a little unlikely.
HOPEFULLY THE POSITIONS STAY THE SAME…
Among the top 30 or so players selected in the Drawing Board are guys who had great seasons this year and coaches are happy to load up with them again. I'm thinking the ownership of a few of these guys may change once the 2015 positions are released in January.
Peace Hanley is 10th on the list with 49.2% ownership. As a DEF/MID, we'll be all over him but there is a chance he will be named as a MID only. Same goes for Sam Mitchell (42.6%), but he has a better chance to retain his DEF status.
In 44.3% of teams, Tiger Dustin Martin is the most popular player selected in the forward line behind Clark. Will he remain as a MID/FWD. Time will tell. If he is, then I'd be on board from the start. Patrick Dangerfield (32.8% of teams) offers some value at $516,150 after a few down games this season. He's another that may lose his FWD status but he did spend plenty of time up forward to justify keeping it.
| Player | Club | 2014 Position | 2015 Price | Ownership |
| --- | --- | --- | --- | --- |
| M.Kreuzer | CARL | RUC | $263400 | 72.1% |
| M.Leuenberger | BRIS | RUC | $273200 | 68.9% |
| M.Clark | GEE | FWD | $219597 | 67.2% |
| J.Griffin | FRE | RUC | $128340 | 62.3% |
| T.Rockliff | BRIS | MID | $752072 | 57.4% |
| D.Rich | BRIS | MID | $267000 | 57.4% |
| G.Ablett | GC | MID | $664745 | 57.4% |
| B.Waters | WC | DEF | $335900 | 52.5% |
| P.Hanley | BRIS | DEF/MID | $549630 | 49.2% |
| B.Reid | COLL | DEF/FWD | $175770 | 45.9% |
| D.Martin | RICH | FWD/MID | $544720 | 44.3% |
| S.Mitchell | HAW | DEF/MID | $518103 | 42.6% |
| B.Whitecross | HAW | DEF | $255800 | 42.6% |
| R.Gray | PA | FWD/MID | $537689 | 41% |
| F.Thurlow | ESS | RUC/FWD | $118601 | 36.1% |
| N.J. Brown | COLL | DEF | $98599 | 34.4% |
| C.Sylvia | FRE | FWD/MID | $182299 | 34.4% |
| P.Dangerfield | ADE | FWD/MID | $516150 | 32.8% |
| G.Ibbotson | FRE | DEF | $331452 | 32.8% |
So there's a very quick look at some of the trends of the Drawing Board teams (click here to make your own) as they stand a week out from the Draft and before official prices are released. Speaking of the draft, DT Live will be running a live chat and a bit of a look at the players, prices and positions of the new rookies as they are picked by their respective clubs. Click here to join in next Thursday night (27th November, 2014).
Stay tuned to DT Talk as we cover the AFL Fantasy pre-season. We'll know official prices and positions in December and Chad at DT Live will be updating the Drawing Board as new stuff is learned!