NBL Dream Team: Round 7 Preview
With both Melbourne and Perth delivering big in round 6 there were again high scores everywhere. Round 7 promises to be even bigger with four teams playing twice.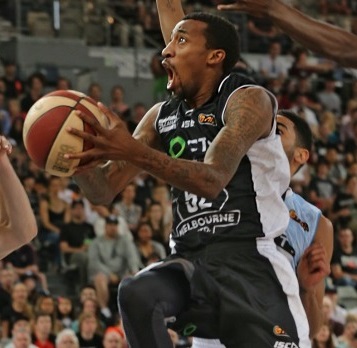 With both Melbourne and Perth delivering big in round 6 there were again high scores everywhere. Round 7 promises to be even bigger with four teams playing twice.
Wrapping Up Round 6
The high scores keep coming week after week this season and round 6 was no exception. Melbourne and Perth played the double matches and delivered the 9 best scorers for the round, capped off with Jordan McRae, the round's most popular captain choice, getting the top score of 122. Then as extra icing on the cake, the two most popular players in the competition, Josh Childress and Cedric Jackson got 54 and 52 respectively to make them the 10th and 11th highest scorers for the round. The led to 66 teams scoring 600+ while an astounding 459 teams scored 500+. Assuming scores like this continue then it really is an open competition as ranks have moved up and down in big swings over these last two weeks.
The poor scores weren't too common either. About the worst possible result would have been gambling on Adam Gibson as captain as his hot streak came to an end with only 22. If you grabbed Lucas Walker, because like me you were expecting Wortho would be missing, then his 22 from two games was disappointing. He's struggling to get points in the talent laden Melbourne squad but is still playing a really important role for the team. Shawn Redhage was another with the double who delivered poorly with only 18 and he is owned by a surprisingly large 11.3% of team. Ben Madgen was close to being the most disappointing, scoring a meagre 2, however that award was contested by three popular players who all got negative scores. Leon Henry (-2) and Peter Crawford (-4) were certainly bad but the worst goes to Jahii Carson's -2, a massive drop off for someone who had been averaging over 25 ppg beforehand.
If you've been in the bad luck basket during the start of this season then remember that all is not lost. Despite a really bad start to the year, my team has rocketed up the charts over the last two weeks. Having the top scoring player as captain certainly helps, yet the ranking increases were without being in the top 10% on either week. So even if things look bleak keep up hope, personally I've still got my sights set on a top 25 finish.
Round 7 – Trade Targets
New recruit to the league Brock Motum had another good score this week, despite his team getting demolished. If you can trade him in I recommend it. He is a natural scorer and it's quite possible this is the cheapest he'll ever be. Following Melbourne's points explosion on Saturday night, Daniel Kickert and Stephen Dennis both have very reasonable break evens. As United continue to improve and settle into their structures you would expect both players to score well most weeks. Perth also had a good points surge meaning that some of their starters in Matt Knight and DeAndre Daniels still look to be good value right now. If you're after a cheaper option then Eric Ross at less than $50K offers some potential. He's now had two matches where he's scored 30 and if he can avoid any more big negative scores then he should make some nice money.
If you've held onto your Wollongong players this long then hold them for another week. While the Hawks are playing relatively poor basketball, it shouldn't stop some of them from scoring well. I wouldn't trade any of them into my team though except for Larry Davidson who is pretty cheap and looks like he's finally getting full fitness back after his injury at the start of the season.
Special consideration needs to be given to Adam Gibson if you have him as he is now worth a huge $255,600. It's a big call but you could trade him out and have bucket loads of money to play with elsewhere to upgrade some of your under-performers. However Adelaide has a run of three doubles over rounds 8 to 10 and Gibson could score a lot of points during that time. The question ultimately stands "Will he score more than the other players you could buy with his money?" I think not, but then I don't have him.
Round 7 – On Court Selections
Melbourne and Perth both have double matches again this round but they are joined by Cairns and Wollongong. Of the four teams I would be giving lowest priority to the Wollongong players as they have been far from dependable of late. I would still play a star Hawk (or any other double match star) over most single game players, with the exceptions being single match players like Josh Childress. I generally work to a rule where if the single match player's average is more than 2.5 times the double match players average, then I put the single match player on the court. Double match players are usually safer as they get two games to make an impact. This rule isn't absolute though, I'm currently debating if I should consider putting David Barlow on court ahead of Childress.
There is a wide group of players that we can pick for captain this week and it's a tough call who is the best choice. It's hard to go past Jordan McRae after his impressive display this round, however there are a number of players who could easily surpass him if he's not at his best. Team-mates Mark Worthington and Daniel Kickert both scored 90+ in the recent round and have the capacity for 100+ scores. Scottie Wilbekin has already scored 110 this year, however he's been quieter of late so comes with a risk. Last week I said that at least one of Jermaine Beal, DeAndre Daniels and Damian Martin would get 60+ and I was right as all three did, plus they were joined by a resurgent Matthew Knight. Any of those four are a good option again. With the wealth of options elsewhere I wouldn't be giving the captain armband to anyone from Wollongong though.
We're back to Thursday for lock-out this week, with the usual 7:30pm AEDT cut-off time.
As always you can follow the live dream team scores for the games at dtlive.com.au/nbl
Cheers
Tristan
Coach of the Statismathgicians