NBL Dream Team: Round 5 Preview
Another tumultuous round of scoring changed the fortunes for a lot of teams in round 4 and some big inclusions promise an exciting round 5.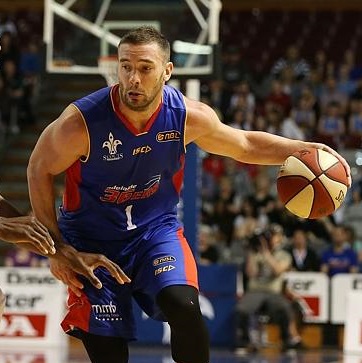 Another tumultuous round of scoring changed the fortunes for a lot of teams in round 4 and some big inclusions promise an exciting round 5.
Wrapping Up Round 4
For the second week in a row the player who I'm rating as the best for the round played only a single match. It is obviously none other than Adam Gibson. If you missed it, like I did initially, then do go back and watch the game if you can. It was an incredible performance, even beyond what his amazing stats and huge dream team score of 94 would suggest. It overshadowed a return to form for Cedric Jackson who became the third player to score 100+ points in a round this season. Jackson had great support from his team-mates too as four more breakers featured amongst the 17 players who scored 50+ for the round. This swathe of high scores saw many teams getting nice high satisfying scores as 24 teams reached 500+ and an incredible 677 teams scored 400+.
On Friday night Brian Conklin become the main talking point as he torched those who had him as captain with a monstrous -16. He did somewhat redeem himself in his second match with 40 to total 24, which didn't seem so bad since many people had DeAndre Daniels as their captain. Daniels only got 34 from two sub-par games of 24 and 10. Gary Ervin was a disaster for those who kept him as he left his first match injured on -4 and then didn't suit up for the second. Finally, Eric Ross continues to fascinate with big negative scores. It appeared that he attempted to reclaim his worst score title from Conklin on the Sunday by posting -12 after having an impressive 30 on the Friday night.
Round 5 – Trade Targets
We're reaching the point where bargain players are fewer and it would be nice if we could settle our team a bit and start conserving some trades. With this in mind, looking at rounds 5 through 11 shows that most teams have 3 doubles except for Melbourne with 4 doubles, Townsville with 2 doubles and Wollongong with just the 1. So it would be a good idea to look at trading out your Wollongong players, although you can afford to keep Tim Coenraad for the minute. Melbourne has seen a very interesting trend with most of their players losing value except for Mark Worthington and Jordan MacRae, who have shot up in price. Worthington is far too expensive to consider, despite how awesome he has been, but McRae is still worth getting at his current price. Stephen Dennis showed real signs of improvement on the weekend and now could be the time to grab him, whilst Daniel Kickert has dropped a fair bit of value and could explode for points at any time. David Barlow is incredibly cheap for someone of his talent and is a really safe downgrade option right now if you need some money.
Looking at the immediate round, Sydney have a double match this week but offer very little in the way of reliability beyond Josh Childress. He should return with a lot to prove. Cody Ellis and Josh Duinker are both cheaper options that could do well and make you some money. New Zealand have the last of the long run of double matches this week and are showing prime dream team form. Cedric Jackson stamped his authority on the game last week and will shoot up in price this round, Ekene Ibekwe has been steadily improving and is still quite cheap, whilst Mika Vukona looks to have found his form and halted his price plummet.
There are a lot of solid targets amongst the rest of the league too. Brendan Teys scored 50 in his most recent match and will shoot up in price this week. Adam Gibson will also jump up in price but at $201,100 he is probably beyond most people's reach. Staying in Adelaide, BJ Anthony and Luke Schenscher have been really solid during their last two games. All four of these 36ers have negative break evens and would be thoroughly recommended normally but Adelaide have just added Brock Motum to their lineup and released Daequon Montreal and until we see them in action it's uncertain what effect this change will have on the team.
Scottie Wilbekin is removing his super poor round two off his rolling average this week and is likely to jump up in value, although there are no guarantees with Cairns this season. Jermaine Beal had a big round and could be considered, while Tom Jervis capitalised on getting extra court time and is a bargain if the trend continues. Leon Henry played a nice double, is improving as the season continues and is a good cheap bench option if you need one.
Round 5 – On Court Selections
Only Sydney and New Zealand play double matches in round 5 and with the Breakers showing some nice scores in round 4 then you want any of their top six scorers on court. Rhys Carter and Tai Wesley are probably happy staying on the bench at this stage. I also wouldn't consider moving Josh Duinker or Angus Brandt onto the court, you're much more likely to get a decent score from one of your stars who is only playing a single match.
Josh Childress is the most likely to wear the captain armband for me this week, although Cedric Jackson should again figure in your considerations. His class showed through and his value really depends if this was a reaction to his poor form and thus he'll drop off again or if it was just the inevitable reassertion of his quality. Thomas Abercrombie is another alternative who due to his pre-season injury has been somewhat underrated in dream team this year despite having the best average amongst the Breakers. If you're after someone different, which is potentially a fun idea since it appears that anything can happen this season, then gambling on Mika Vukona, Ekene Ibekwe or Tom Garlepp could be a master-stroke (or it could be a disaster).
This week is one of the pleasant rounds when lock-out is a very reasonable 7:30pm AEDT on Friday.
As always you can follow the live dream team scores for the games at dtlive.com.au/nbl
Cheers
Tristan
Coach of the Statismathgicians