2015 AFL Fixture and Fantasy
The 2015 AFL Fixture has just been released and we've turned our eye on what it means for us as Fantasy coaches. We look at the MBRs, partial lockouts, easy of draw and more.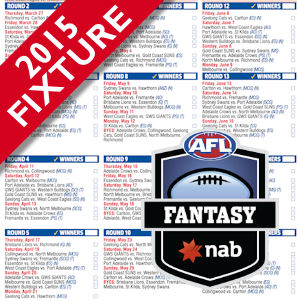 Did you know it was just over a month since the 2014 AFL Grand Final? It seems so much has happened in the last 33 days with the trade period and all of the other dramas around our favourite game. On Tuesday the NAB Challenge fixture was announced and it will be a cornerstone of the Fantasy study leading into that first lockout in round one. But the next, and very important, piece of the puzzle is what the 2015 fixture looks like and what we need to know as Fantasy coaches.
Click here for the full fixture.
ROUND ONE
Plenty of fixture info was leaked over the last week or so and the complete round one schedule of games was revealed on October 21.
Due to the Cricket World Cup, and the unavailability of the MCG until after the CWC Final, the season will have a late start with the first round over the first weekend in April. This also happens to be when Easter falls next year.
The good news is that following the split round of last year, the first nine games will happen over the long weekend and there will (hopefully) be no need for a 'free-hit' round. This should please many hardcore fantasy coaches.
It'll be Carlton v Richmond as the traditional Thursday night clash to open the season with no games next year on Good Friday. Maybe we'll see them in 2016? Four games follow on Saturday with the normal three on Sunday, finishing with the Easter Monday game we're all accustomed to, modern day rivals Hawthorn v Geelong.
The only question from here is what the lockout will look like. With the Thursday night game, we'll have a partial lockout at the very least. Usually over Easter we are fully locked at the first game on Saturday. Due to only knowing the squads of 25 for the Hawks v Cats game we may get a rolling lockout for the first weekend. This would be welcomed as the Monday game squads aren't trimmed until around 4-5pm AEST on Saturday afternoon, post the 'usual' Easter round lockout. At the very least, a rolling/partial lockout up until Saturday evening would be a win for coaches in the first round as we settle our starting squads.
Loading ...
MULTI-BYE ROUNDS
Well here they are, the dreaded bye rounds for 2015.
ROUND 11
Adelaide, Brisbane, Carlton, Hawthorn, Richmond, Bulldogs
ROUND 12
Collingwood, Essendon, Fremantle, Gold Coast, St Kilda, Sydney
ROUND 13
Geelong, North Melbourne, Western Sydney, Melbourne, Port Adelaide, West Coast
At first glance, the split here doesn't look too bad.
Our top averaging and popular players from 2014, Rockliff (11), Ablett (12), Barlow (12), Pendlebury (12), Stevie J (13), Beams (11), Heppell (12), Priddis (13) are reasonably split with most of the jets landing in the round 12 bye which is also joined by Sydney who will once again have many great options to select from in 2015.
So… if we can plan and apporach these byes in 2015, keeping in mind that round 12 will hold the most issues, we can all cruise through the season without a single headache… right?
LOCKOUTS
Ahhhh a Fantasy Pirate's dream. It appears that we will have partial lock-outs and therefore Loop Hole options over five rounds. Amazingly from rounds 12 to 15 (also round 1)… each week we have a Thursday night game. NUTS! This will be Loop Hole heaven over this period, causing chaos and massive confusion between the Fanasty elite. Calvin will need to have his Pirate hat on and working overtime during this period.
We also have two Monday games (Round 1 and 10) where we may/may not know the teams that will be announced. We'll be flying blind into that late game without any control over changes that may come our way.
FANTASY FRIENDLY FIXTURING
To the right… a ladder has been created to identify which teams conceded the most or least amount of points against them in 2014. This is extremely important as we approach a new fixture as it can assist us in identifying which teams have a Fantasy friendly fixture and which players will dominate over their starting price from the word 'GO'.
EASY START

Over the first three rounds, Collingwood, GWS, Adelaide and Richmond are the only teams to meet two teams in the easy to score against 'green zone'. The Giants start with St Kilda and Melbourne and should start with a bang! Treloar, Griffen and Ward will all look to get busy right from the start.
TOUGHER START

As you'd expect, Hawthorn, Port Adelaide and Sydney open their accounts with a tougher start than most. They don't meet any teams in the 'green zone' in the first three rounds. Along with these teams, Melbourne and Essendon are also in the same unlucky boat.
PLAYS THEM TWICE
Gary Ablett and the Gold Coast Suns have a great draw this year. The teams they play twice are Sydney, West Coast, Adelaide, Brisbane and the Giants. Meaning they meet NO teams from the red zone on anymore than one occasion. The only other two teams to share this luxury are West Coast and Melbourne.
Draw difficulty with correct header. It's 2015 next season. pic.twitter.com/mBkX1T8deG

— Champion Data AFL (@championdata) October 30, 2014
ROCK AND ROLLING WITH ROCKY ROUND 1?

Last year's leading scorer and 'Our Boy' Tom Rockliff is going to cost the big bucks after recording a World Record average in 2014, where he scored 135 points per game, more than justifying his elevation to Pig Status. The big question will be whether 1) you can afford the cash or 2) whether you can afford not to have the most prolific scorer in the game sitting in your midfield with a C on him. Rocky starts the season with the Pies who he scored 165 on last season before backing that up with The Roos (122) and The Tigers (137)…… and in round five he plays The Suns who he ammassed 157 and 190 last year. Try winning that week without Rocky leading the boys through the banner.
Discuss the 2015 fixture in the comments and look out for our first podcast of the off-season, dropping early next week. Subscribe on iTunes by clicking here.