NBL Dream Team: Round 2 Preview
The season has officially begun and it was an exciting opening round, highlighting the quality and talent in the league.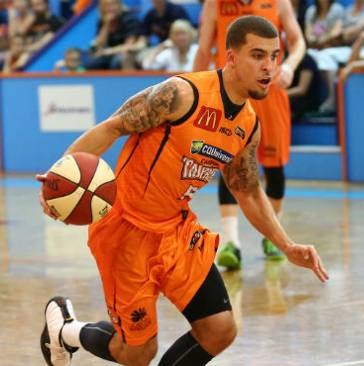 The season has officially begun and it was an exciting opening round, highlighting the quality and talent in the league.
Wrapping Up Round 1
Opening the season with a score of 500+ was the perfect start for 122 teams and has left the rest of us with some early catching up to be done. Most, if not all, of those 122 teams would have had Scottie Wilbekin as their captain. With a pair of impressive performances, Wilbekin started with 48 then added 62 to take his total to 110, making him the first century for the season. Based on what we saw over the weekend though, it certainly won't be the last. Wilbekin was one of seven players who scored over 50 in a single game, with 72 by Josh Childress being the biggest score. Childress looks like he's got plenty of room for improvement too.
There were some great results too from our value players led by Tim Coenraad hustling up 46 and 40 to a very impressive 86, equal second overall. Mitch Creek showed some great intensity with his 38 and 32 while team mate Brendan Teys showed that his improvement from last season was here to stay, scoring 26 and 18. For their new teams Adam Ballinger turned back the clock with 18 and 34 and Rhys Carter shot his way to 42. Cody Ellis managed to get 34 despite only being on court for 11 minutes.
It wasn't all celebration though. If like me you had Cameron Tragardh as captain his scores of 20 and 10 were very underwhelming. Another popular captain in Mickell Gladness wasn't much better with 32 and 8. Clint Steindl started with 36 and was looking like a big trade target, until he got 0 in his second match. Popular bench players in Josh Duinker and Corey Webster got 4 and 2 respectively. Damian Martin, the most expensive player in the competition, had a game to forget and got -2, while team mate and last year's Grand Final MVP Jermaine Beal only managed 2.
Round 2 – Trade Targets
With round 1 completed you should now be looking to make 2 trades. Although there may be a few top scoring teams which seemingly picked all good players, the rest of us should be actively correcting our list before price changes come into effect. Top of your wish list should be Cedric Jackson and Scottie Wilbekin. If you don't have both of these players then you should definitely trade them in.
New Zealand is about to go on a four week run of double matches but looking at their players there isn't a lot of certainty once you get past CJ. With the absence of Abercrombie and limited minutes to Pledger and Webster, it's unclear how indicative their round 1 scores are. That said, Rhys Carter is only $76,100 put up a solid 42 so is well worth considering as a trade in. Beyond him, Ekene Ibekwe looked solid, but had good and bad games all pre-season, while Ruben Te Rangi is cheap and got over 30 minutes of court time on his way to 20. Tai Wesley got 10 and seemed to struggle with the stepped up intensity, but I'd hold him if you've already got him. Keeping or trading Corey Webster depends on how serious his injury is. I would consider trading out Mika Vukona if you have him. He was quiet coming back from injury and the extra $52,400 from trading him down to an import would be pretty handy elsewhere.
Wollongong still has three weeks of double matches and has a few players you should definitely be looking at. Tim Coenraad was full of hustle and intensity and getting into everything, exactly the sort of player we love in dream team because it means he should score well every week. Adam Ballinger is cheap and scored well, but has the risk that potentially only got the extra minutes because Gruber and Davidson were out. Brad Hill is also cheap and played some nice basketball, he looks better at Wollongong than he has in a long time. Luke Nevill, Gary Ervin and Jahii Carson all scored well and should continue scoring well, they're just a bit more expensive. Oscar Forman had a slow start to the season but is probably worth holding if you've already got him.
Cairns also has the double match, but then has four weeks of single matches, so beyond Wilbekin I wouldn't be looking to trade any Cairns players into my team. If you have Torrey Craig, Stephen Weigh or Alex Loughton then hold onto them for the minute, but consider offloading Cameron Tragardh, Matt Burston or Cameron Gliddon who all have break-even scores which are unlikely to be achieved.
Despite Melbourne's star studded line-up I would recommend avoiding them all at this stage. With their sub-par performance on Sunday and now Chris Anstey's departure it's really unclear how the team will be structured going forward. If you already have a Melbourne player in your team then you can hold onto them for this week and see what happens, they do still have the double match so should get you some points and hopefully not lose you too much money.
Townsville only has the single match this week and next but a double in round 4, so is a real midway team as far as the fixture goes. Todd Blanchfield looked great and looks like he could be amongst the best this season. Absolutely worth consideration despite his higher starting price and a single game. Brian Conklin is slightly more expensive again but really enjoyed the extra freedom he gained when Gladness was on the court. Even though his score was less than what people wanted, Mickell Gladness is worth holding onto, he'll only get better as the season progresses. Clint Steindl looked good in both games and I have to admit I was surprised when I found he'd scored 0 against Adelaide. Hold onto him. Look to trade out anyone else from Townsville, particularly Steven Markovic who is $131,200 and will give you a new import guard with some change left over.
Adealaide has six straight weeks of single matches from this point which is really unfortunate as Mitch Creek, Brendan Teys and Peter Crawford all scored really well in the opening week and should make some great money. All would be worth a bench spot though if you can afford the luxury of trading for your bench. Hold onto Anthony Petrie or Jamar Wilson if you've already got them but consider ditching Adam Gibson and Daequon Montreal. Gibson's role is unclear and he's to expensive for uncertainty, while Montreal lost his starting spot in game two will need a few weeks to settle in.
Perth and Sydney both only have a single game for the second week, meaning that you can wait another week before grabbing or ditching their players as they won't change in price this round. That said, if you absolutely must, then you could look at getting Josh Childress, Tom Garlepp and Angus Brandt from Sydney or DeAndre Daniels and Greg Hire from Perth. If you're struggling to find players to cut, then I'd trade out Kendrick Perry and Kevin White from Sydney and Damian Martin and Jermaine Beal from Perth. Anyone else from these two teams should absolutely be given one more week.
Round 2 – On Court Selections
Cairns, Melbourne, New Zealand and Wollongong all have double matches in Round 2 so make sure that you've got your stars from those teams on court. Captain choice is a tough one but there are really only two candidates to choose from: Cedric Jackson or Scottie Wilbekin. CJ starts against Adelaide while Wilbekin finishes against Wollongong and both have a two day break with Melbourne as their other opponent. I'm probably going to select Wilbekin just because he doesn't have to face Adam Gibson. Hopefully this works better than selecting Tragardh instead of Wilbekin did.
You can follow the live dream team scores for the games at dtlive.com.au
Cheers
Tristan
Coach of the Statismathgicians