NBL Dream Team: 2014/15 Preseason
The NBL is back and it's time to get excited. With only a few days until tip-off, here is some information to help you finalise your team.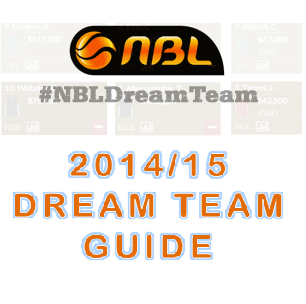 The NBL is back and it's time to get excited. With only a few days until tip-off, here is some information to help you finalise your team.
Picking for Fixture
One of the most exciting things about NBL Dream Team this year is the absence of byes. No longer will we have to debate whether we hold or trade our stars during their week off. We still have double matches in a round though and combining them means the fixture looks like this:
Ideally you want at least one good player who has the double match who you can select for you captain each week. It's clear from this that to start with we should be giving a slight emphasis to players from New Zealand and Wollongong as they have more games early on. Don't overload with players from these teams though, while points are the aim of the game, you still need to ensure that your team is jumping up in value too.
Who to Pick
Even though there are only 3 positions on the court in NBL DT, I have split the players up into 5 types because the dual position players are so important. Having dual position players in your team enables you to have a much greater flexibility when considering who is on court and who is on the bench, as well as giving you access to more options when trading. I have only covered players who are still on my short list for selection, if there is someone who you're interested in who I haven't mentioned then left me know in the comments and I can let you know why I won't be picking them.
Centres
Luke Nevill ($128,900)
Wollongong hasn't had a true centre for years but Nevill changes that completely. Should complement Wollongong's shooters really well.
Mickell Gladness ($116,700)
Showed huge potential during the NBL Blitz and was fundamental to Townsville getting their wins. Seriously consider.
Luke Schenscher ($104,200)
Potentially underpriced as Schenscher often took the second role to DJ. It will really depend on how his role works with Daequon Montreal.
Angus Brandt ($43,500)
There aren't many options for cheap centres so despite missing the Blitz through injury Brandt gets a mention as Sydney needs a big to step up and he could be it.
Dual: Centre/Forward
Daniel Kickert ($150,200)
Whilst he has the potential for really good scores, he was slightly quiet during the Blitz. Combined with the depth of Melbourne's roster he is only a maybe for me.
Cameron Tragardh ($128,500)
"Trigger" has always been a player who can put up big scores and he appears to be back in great form with the showing he made during the Blitz.
Ekene Ibekwe ($116,700)
Should some good potential in the Blitz. His viability will seriously depend on how Pledger is going.
Josh Duinker ($49,100)
Another Sydeny big who missed the Blitz through injury. I'm not sold on either of them and could go with Schenscher as my "cheap" centre instead and look to downgrade when they show some in-season form.
Forwards
Josh Childress ($116,700)
Another injured Sydney player but I figure someone has to score the points that were completely absent during the Blitz. Unsure due to his injury but lots of potential.
Daniels DeAndre ($116,700)
Unsighted in Perth colours during the Blitz, he is likely to be fundamental to their play structure as he is replacing James Ennis. Could score big and has a "base" level import price.
Tim Coenraad ($97,900)
Some great pre-seaon form, combined with Wollongong's early run of double matches suggests that Coenraad could be a great selection.
Tai Wesley ($52,000)
Showed some great potential for such a cheap player, but it's not clear how much opportunity he'll get once the full NZ team is back on court.
Dual: Forward/Guard
Ben Madgen ($132,600)
An absolute scoring machine, Madgen can comfortably score 50+ regularly. Sydney is somewhat unsettled to start the season so this may impact his scoring, or he might step up and lead the way with some big scores.
Mitch Creek ($105,500)
Steadily improving every season, Creek is a value choice who should deliver. He cost might be slightly too close to the imports for selection though.
Brad Hill ($51,100)
It's astonishing that a player of Hill's quality is so cheap, but he is incredibly inconsistent. Having just moved to Wollongong he showed glimpses during the Blitz. A gamble but could pay off big.
Leon Henry ($49,100)
Looks like he fits into Townsville's structure well and was given plenty of court time during the Blitz. A safer option than Hill but less potential.
Guards
Cedric Jackson ($131,000)
Lock him into your team now. Last time Cedric played in the NBL he had huge scores nearly every week and there's no reason he won't repeat that. He's such a prolific scorer that he still got 20DT after shooting 1-10.
Scottie Wilbekin ($116,700)
Looked completely at home with Cairns' versatile line-up and scored brilliantly during the Blitz. Almost certainly a lock for me too.
Jordan McRae ($116,700)
Was all guns blazing for the first half of Melbourne's first Blitz game and seemed unstoppable, until he went cold in the second half. Looks to be Melbourne's go-to player but there is the slight risk with so many quality players lining up for United he might not need to do much sometimes.
Brendan Teys ($49,100)
Nice and cheap, Teys saw a huge leap in his scoring over the later stages of last season. Performed well during the finals too. Should see plenty of court time.
Round 1
Adelaide, Cairns, Townsville and Wollongong all have double matches for the first round giving us a big choice of captain options. Cameron Tragardh appears the most likely at this stage, but Scottie Wilbekin, Mickell Gladness or Jamar Wilson should all be good options.
If you're wanting to actively follow the stats for your NBL Dream Team then head over to dtlive.com.au and sign your team up (click links below for live scores for round one).
Make sure your leagues are locked in before the start of the round too. If you're looking for a league to join then please feel free to join me with code 652083
Summary
Getting a balance between selecting proven performers for points and taking advantage of all the potentially under-priced players is a real trick early on. I usually leave myself $30K-$40K unspent but I feel that there is a real lack of great cheap options this year and at the time of writing this I have only $1K left over. Best of luck in making your decisions and I'll see you on court!
Cheers
Tristan
Coach of the Statismathgicians