Brownlow Medal Form Guide 2014
Get the annual CBA Special Report for the Brownlow Medal. See who they have winning and club-by-club votes to help you get a grasp of what's happening on the night that might win you a few dollars.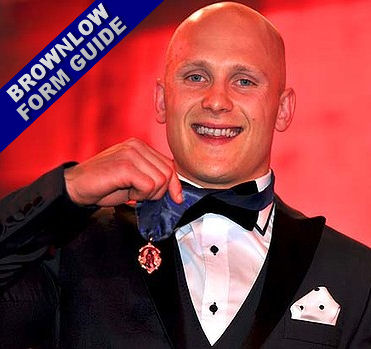 The AFL's night of night's is here one again, the 2014 Brownlow Medal count. We have attached here the annual Special Report from the CBA that has a special model they use for predicting this years' winner.
DOWNLOAD: CBA 2014 Brownlow report.pdf
They're saying that Gary Ablett and Josh Kennedy will tie on 25 votes each. According to the model, both players reach 25 votes before getting injured. Have they got enough to hold off the chasers?
This year's model has gone back to basics. Last year they experimented with individual player attributes to see if they could improve the model's fit. However, it was found that it tended to reward players the year after they played well.
This year, they've reverted to the simpler model used in 2012 where points are awarded for Kicks, Handballs, Goals and Hitouts. Players on the winning team also gain an advantage that rises as the margin rises. The final two variables are the score percentage and the difference between the Supercoach score and the Dream Team score.
The Score Percentage captures the notion that kicking 4 goals when your team kicks 10 for the match is more important than kicking 4 when your team kicks 30 goals. The Supercoach less Dream Team score captures efficiency.
The Supercoach scores are adjusted to reflect efficiency and when the game is still undecided while Dream Team votes are not. A player with a small number of pivotal touches at clutch times will have a much higher Supercoach score than Dream Team score. They tend to win more Brownlow votes too.
DOWNLOAD: CBA 2014 Brownlow report.pdf
People like to have a punt on the Brownlow, if you're one of those make sure firstly you're over 18 and you are gambling responsibly – always bet within your limits.
Let's not forget that the umpires vote on the Brownlow. Anything can happen… But with that said, I'm tipping Gaz to hold on

— Calvin (@CalvinDT) September 21, 2014
I've been betting on the Brownlow all year and my best ones are Robbie Gray at 80 and Luke Parker at 150. Rocky, Beamer and SJ all out.

— Adam Roy Davey (@RoyDT) September 21, 2014
I nailed the trifecta last year, so pressure is on. I'm calling it Selwood, Ablett and Kennedy for #Brownlow Medal 2014. Minimal confidence!

— Adam 'Warnie' Child (@WarnieDT) September 22, 2014
In fact, I'm going to put my balls on the line here. Here are all my #Brownlow Medal vote predictions team by team. pic.twitter.com/E4s0BsEEgm

— Tim Rosen (@timrosen35) September 22, 2014