Pre-order AFL Prospectus 2015
The Champion Data shop is now open and taking orders for the AFL Prospectus 2015.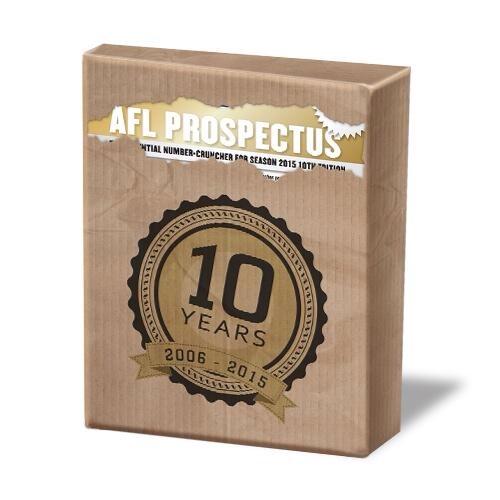 Ten years ago we had an idea. To produce a footy book with a difference. Ten years on we are going as strong as ever and our AFL Prospectus still remains the Essential Number Cruncher for any AFL Season.
The AFL PROSPECTUS 2015, in its tenth edition, will be even BIGGER and BETTER than our previous nine editions for coaches, players, fans and fantasy footy coaches.
OUR 10th EDITION WILL INCLUDE:
The AFL Prospectus Team of the Last Decade
Performance analysis of every team and all listed clubs
In depth analysis of every team's 2015 player list
Player stats profiles for the last five seasons
Profiles of all draft picks and rookies
Our 10 commandments
10 years on – How the game has changed
Plus much more
AFL FANTASY & SUPERCOACH ESSENTIALS
The ultimate fantasy footy guide
All positional changes including a the list of all Dual Position Player's (DPP's)
Fantasy scores of the 'new draftees' and 'late bloomers'
Guide in valuing players in a 'Fantasy Draft League'
Plus the exclusive Fantasy Freako newsletter
Click here to pre-order the AFL PROSPECTUS 2015 for $39.95 + postage.