AFL Teams 2014: Round 23
The teams have been announced for the final round of the 2014 AFL Fantasy season. See who is in and who is out for your Grand Final match-up.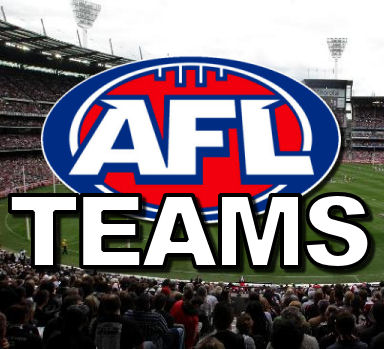 Friday, August 29
Collingwood v Hawthorn at the MCG, 7.50pm AEST


Collingwood
In: H.Lumumba, C.Gault, P.Seedsman
Out: D.Swan (hamstring), C.Young (hamstring), B.Macaffer (knee)
New: Corey Gault (Swan Districts)
Hawthorn
In: R.Schoenmakers, T.Duryea, A.Litherland
Out: L.Hodge (knee soreness), M.Suckling (knee), B.Stratton (calf cork)

Saturday, August 30

Carlton v Essendon at the MCG, 1.45pm AEST
Carlton
In: B.McLean , D.Armfield , M.Watson
Out: N.Graham, N.Holman, B.Johnson
Essendon
In: T.Bellchambers, D.Heppell, M.Gleeson
Out: J.Carlisle (hamstring), A.Steinberg, O.Fantasia
Fremantle v Port Adelaide at Patersons Stadium, 1.10pm AWST
Fremantle
In: M.Pavlich , M.Barlow
Out: G.Ibbotson, M.de Boer
Port Adelaide
In: J.Impey
Out: C.O'Shea
Sydney Swans v Richmond at ANZ Stadium, 4.40pm
Sydney Swans
In: S.Reid, S.Naismith
Out: J.Laidler, M.Pyke (illness)
Richmond
In: D.Martin
Out: B.Lennon
North Melbourne v Melbourne at Etihad Stadium, 7.40pm AEST
North Melbourne
In: D.Wells, L.Hansen, D.Currie, J.Macmillan, M.Wood
Out: M.Firrito (soreness), L.Thomas (knee), L.Greenwood (calf), T.Goldstein (soreness), L.McDonald (back)
New: Mason Wood (Geelong U18)
Melbourne
In: J.McKenzie, A.Riley
Out: C.Garland (knee), C.Pedersen
Geelong v Brisbane Lions at Simonds Stadium, 7.40pm AEST
In: M.Brown, B.Smedts, J.Walker, G.Horlin-Smith, L.McCarthy
Out: H.McIntosh (managed), S.Motlop (managed), A.Christensen (managed), S.Kersten (hamstring), B.Hartman (adductor)
In: M.Leuenberger, J.Paine, J.Bourke, Z.O'Brien
Out: A.McGrath (retired), M.Maguire (ankle), R.Harwood (foot), M/Close)
New: Jordon Bourke (Morningside)
Sunday, August 31
Gold Coast v West Coast at Metricon Stadium, 1.10pm AEST
Gold Coast
In: M.Warnock, G.Broughton, H.Schade, L.Herbert
Out: T.McKenzie (hamstring)
West Coast
In: S.Selwood, A.Smith, N.Naitanui, J.Brennan, B.Wilson, E.Yeo
Out: D.Cox (soreness), M.Brown (foot), M.Hutchings (hamstring)
Adelaide v St Kilda at Adelaide Oval, 2.50pm ACST
Adelaide
In: B.Reilly, D.Mackay, M.Grigg, S.Kerridge, M.Crouch
Out: L.Thompson, R.Laird (concussion)
St Kilda
In: J.Gwilt, D.Roberton, L.Pierce, S.Dunell
Out: S.Gilbert (foot)
Western Bulldogs v Greater Western Sydney at Etihad Stadium, 4.40pm AEST
Western Bulldogs
In: W.Minson, J.Tutt, L.Jones, F.Roberts, T.Young
Out: J.Roughead (shoulder), A.Cordy
GWS
In: J.Giles, P.Davis, C.Hampton, J.Townsend, L.Sumner, Z.Williams, C.McCarthy
Out: A.Kennedy (shoulder), T.Golds (concussion), M.Whiley (hamstring), J.O'Rourke (hamstring)
---
AFL Fantasy Punt is back!
Very much like Match Day, but with prizes based on a competition pool – ie. betting like on lotto. – you can pick a side, enter it with a $10 entry fee and if you're in the top few, you take home cash prizes… and for the high rollers, get involved in the $50 and NEW $100 entry game! The round game locks out before the first game of the round, but for the single match day games it just needs to before they start. This week we have Freo v Port, Swans v Tigers (FREE ENTRY!), Suns v Eagles. Sign up to a Luxbet account by clicking here and then head over to the AFL Fantasy Punt website to log in and pick your sides. 18+ and gamble responsibly.