The Weekend Wash-Up – Round 22
Welcome to the season finale of the weekend wash-up! For those who've snuck through this week, god loves you all. For the rest, I hope your Mad Monday is a big one. I've had some more help from Mr anonymous, shout out to him! It's time to take a look at the weekend wash-up.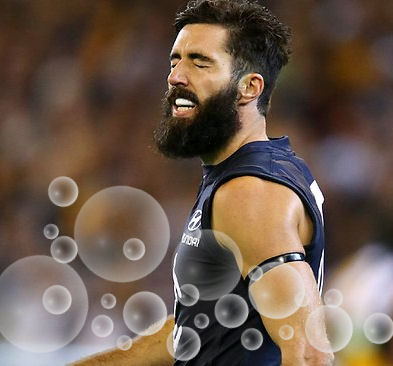 Welcome to the season finale of the weekend wash-up! For those who've snuck through this week, god loves you all. For the rest, I hope your Mad Monday is a big one. I've had some more help from Mr anonymous, shout out to him! It's time to take a look at the weekend wash-up.
Legends
Jarrad McVeigh – If you don't have him, why not? 113 against a Doggies outfit isn't a bad effort at all… if not expected.
Stat: He has gone under 80 twice this season: Round 6 (Melbourne) and Round 9 (Essendon).
Stefan Martin – When the world was in darkness and needed a hero, Stefan Martin answered the call. No seriously, he did. He's been phenomenal this season and had to be in your squad. Even against the man mountain in Sandilands he scored a huge 107.
Stat: How about this for an incredible stat? He has NOT GONE UNDER 97 ALL SEASON! This was consecutive ton number 6. I swear you'll never see anything like this ever again.
Luke Parker – We were given an absolute gift in Parker this season with a breakout year in midfield. Don't get used to it, he'll be a bona fide mid in 2015!
Stat: He has just 3 scores under 70, which is a huge effort (unlike some of the Losers this week). It was also the 12th time he went over 100 this season.
David Swallow – We tended to forget he was a former Number 1 draft pick. Now we can see why. I took him as a DPP as I thought he had a lot of potential. He delivered in spades. It will be interesting to see if he retains his DPP going into next year, I somewhat doubt it due to his extra mid time without Gaz.
Stat: He got so close to his highest score this season! 123 was his highest back in Round 4 (Hawthorn).
Scott Pendlebury – Most coaches sweated profusely when we heard the whisper about Pendlebury. We were relying on him with many big name outs, and he delivered, rewardeding coaches who stuck with him with a nice 111.
Stat: Only on 5 occasions has Pendlebury not gone 100 points or more.
Robbie Gray – If you backed Gray over Wingard this season, well done. 137 is a great reward to those who have him and backed him in. That is the type of score that gets you into a grand final! The 45 was clearly an anomaly.
Stat: Just to emphasise the last point about Gray v Wingard, Gray has got 6 scores of 100+ points this season. Wingard only 4. Gray also has the higher ceiling this season with that 137 this round. Wingard's highest is only 125.
Zaharakis (110) – I wanted to praise those that made the difference in their preliminary finals. Zaharakis was one, as a differential to guys like Harvey/Martin he delivered in spades. If he remains a forward next season, get on board.
Ryder (118) – Finally the real Patty Ryder has stepped up. West Coast's formidable ruck force aside, he's topped 90 in 7 of his past 8 outings. What a brilliant POD to have during finals, exactly what you should be looking for to make the difference next week.
Greene (165) – The grass hasn't always been greener this season, in fact some thought Toby may never play again. It sure looks a little better now, 4 consecutive tons prove that he's back to his ball winning best. 42% disposal effciiency proves he still has a long way to go. Luckily we don't really care in DT, a match winning POD for your GF.
Zorko (132) – You have some serious balls owning him during finals, but I suppose this is exactly why. Lyon had targetted him for a tag, but it didn't really eventuate. He ran free for 38 touches this week, but runs into a determined Geelong in Round 23. I'd steer clear to be honest.
Rockliff (154) – There's nothing more I can say about this bloke. He's averaged 154 for the last 8 weeks. Seriously, we used to think someone who scored consecutive 150's was the second coming of jesus. He looks like smashing Swanny's legendary season of 2012, sorry Dane but there's a new pig in town. He has notched 40+ disposals in his last 3 games, reaching the mark 5 times in his past 8 outings. Then you realise he just played his 100th game at the age of 24… Who knows how far he can go, he is left to do as he pleases! The perfect DTer. You'll be a brave man to not pick him up next season, whatever he costs. You're not just getting one Rocky, you're getting 2…
Losers
Kade Simpson – See that picture of Kade? Yeah, it wasn't taken this week. I'm not even sure he was spotted out on the ground. I'm sure missing persons are onto it…
Brodie Smith – Only Smithy could back up a 39 with a 54. Seriously, overrated much?
Stat: His last 4 matches have been horrible! Not one score over 70 and a 4-round average of 56.
James Bartel – The only reason why he's here is due to his "Dive". Got 10's from all nationalities except the Russian judge who gave him a 9 because he's a patriotic soviet. Oh, and coming back with a lowly 79.
Stat: Surprisingly he doesn't like Hawthorn that much. In 20 matches this is the 12th time he's gone sub-100. It's also the 9th time he's gone under 90.
Sam Jacobs – He needed some soap, because Toddy Goldstein gave him an absolute bath. Scrub a dub dub to a 68.
Stat: He had a 44 this season and came back with an 88. He does play St Kilda next week and should be in for a big Grand Final performance.
Shane Kersten – I do feel bad for putting him in here after copping a hammy, but when you're scraping the bottom of your bench and place him on the field, you know you're stuffed either way.
Stat: As you'd expect from a forward rookie, his scores haven't set the world on fire since that 85 on debut. Hopefully he'll come good later on. For now he's in cotton wool, I'd suspect.
Dustin Martin – Friday: There's a rumour on Twitter that Dustin Martin was to be a late withdrawal. Friday night: Lockout. No more changes. After the Port/Carlton match, the drumbeats about Dustin being a withdrawal grew louder and louder. Saturday: News came out that he was officially withdrawn. Cue meltdown sequence. For me I'm a bit lucky as I had Blaine Johnson on my pine with the E. But to all the coaches who threw away your bench I feel your pain. Infuriating? Yes. Don't get me started on talking about naming players who are in doubt. It's happened far too often and for far too long. Richmond are NOT playing Sydney. They are NOT playing Hawthorn. They are NOT even playing one of Collingwood/Adelaide/Gold Coast/West Coast. They are playing lowly St Kilda. Why bother with the mind games?! *end rant*
Stat: Don't panic too much. Last time he missed a game was in 2012 and he came out the next match with a 92.
Jaensch (59) – Back to my spuds, yeah I still have Jaensch, what of it. Tip: Don't own him.
O'Rourke (10) – I also had O'Rourke on my bench. Just about summaries my season. Next please!
Selwood (87) – Honest to god, you couldn't script my Selwood journey. I have owned him for 6 weeks this season. Bringing him in on the back of a 138, he managed to notch 1 ton for me (104) in his 5 week spell at my club, averaging 86. In the 7 weeks following, he tonned 6 times, averaging a whopping 121. I traded him back in this week against his favourite team in Hawthorn, only for him to score a pathetic 87 and possibly get suspended for Geelong's final game against Brisbane. I give up.
Suckling (18) – Surely we've all dumped him now, but I guess this would have SUCKED for those still clinging on for grim hope. Get it, because his name is Suckling?! Anyway, your hopes were certainly grim with him in your team. That was pure sh*te, it's been a long season…
Cotchin (60) – Speaking of pure sh*te, anyone who is taking an early exit due to this score will be after blood. The saints may as well have been cones for the majority of this match, yet Cotch could only manage a measly 60 points. He just can't deliver when we need it most.
Swan (38) – It is hereby that I announce the retirement of the pig. He's the hero Fantasy deserves, but not the one it needs right now. He will never be forgotten. His feats will never be taken for granted. I ask that we please stand and applaud this great man for all he has brought to our lives. There's been just as many laughs as there has been 300+ captaincy scores. His attitude should serve as a lesson to many, and it is not the only lesson he has served. I will forever cruch the chips in every packet so there's more until the day I die. An ode to a DT pig. Thankyou.
Talking Point
Is there a legitimate argument for holding DT finals after Round 17? Everyone will have played each other once, and the Grand Final will be wrapped up by Round 21. It would avoid all this resting bull sh*t that seems to capitulate an entire seasons work into ashes. Something to consider.
This Game Sh*ts me
I suppose this is fairly straight forward. When half the bloody competition goes down injured, you know you're f**ked. This week was survival of the fittest, and proves exactly why we need weekly trades. Not even that saved us from the carnage suffered, personally I had to take 2 donuts (Which ended up being 4, shoutout to Simmo and O'Rourke) even after 2 trades. Whatever the AFL policy changes are to prevent injuries, it's clearly only making things worse. Hallelujah, there's no subs next season. We're getting off track here. Injuries ruin seasons, and there's nothing we can do about it. When some of the competitions most durable players in Pendlebury, Kennedy and Higgins go down, you know there's no hope for the other mere mortals. And that's why this game sh*ts me.
Shoutout to Greene who would have carried some injury ravaged teams over the line. Robbie Gray deserves a mention for his inspiring performance, as do Swallow and Parker for their unbelievable contributions all season! However there is only one man that can be seen strolling around with a golden stubby in his hand, and that's the biggest Rockstar to walk the planet since Mick Jagger. Well done Rocky, nobody can argue that he's earned it. I'm a proud owner since Round 3!!!
The Other Bits and Pieces
I guess I'd better update you all on my progress. Basically, my season ended 6 weeks ago after missing lockout. That's just an excuse to avoid the fact I was never really in it this year. Mistakes were made, and lessons were learnt! 1970 this week, dropping me out of the top 6k. Roll on next year.
Unless there's some dramatic performances worthy of a spray or a knighthood next week, that will be it from me this year. It's been great fun writing for you all season, I just hope you all enjoyed reading it! Enough of the goodbyes, good luck with your Grand Finals! I'll see you again when we kick things off with next year's pre-season!
Cheers,
Matt