The Friday Scramble: Round 22 Prelim Final!
If you managed to survive last week and you are through to a Preliminary final well done! But then as we head into this week we need to ask…. What the hell is going on? Dunny is here to help you scramble towards the round 22 lockout.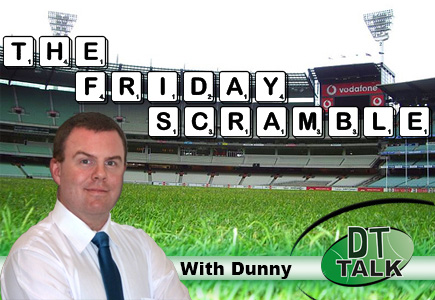 If you managed to survive last week and you are through to a Preliminary final well done!  But then as we head into this week we need to ask…. What the hell is going on?  Did someone burn a voodoo doll of Swanny?  Did the Fantasy gods get upset that we have inducted a new Pig to the sty?  Well if you can field a full team this week then you are doing a hell of a lot better than most.
Don't hear anyone complaining about having two trades a week at the moment!  I could certainly do with a few more trades in Supercoach and RealDreamteam.  However, we know the rules of those games and the risks of running low on trades….. so…..
Trading Strategy Is Important!
So in Supercoach and Real Dreamteam where we have limited trades there are a couple of schools of thought.  Either Trade hard early to get the team you want and then ride your luck or you can make sure you save a few trades for the end of the year.  There are a lot of differing opinions.  I must say I am normally in the school of keeping trades.  However, this year I had so many issues to fix I didn't get much choice.  I guess the point of my comments here are to really bank this knowledge for next season.  The argument to say go into the finals with at least 4 trades certainly holds some weight!
That's great, but what the hell do I do this week?
After surveying all the carnage that had hit I stepped back and thought… right, what do I do now.  I was in the lucky position of having 2 trades this week in all forms of the game.  They are my last two in Supercoach and 2 of my last 3 in RDT (obvioulsy we all get 2 in AFL Fantasy).  So I looked at my team and ranked my outs in order of importance to deal with.
Firstly I looked at my midfield as that is where the bulk of your points will be scored.  Of those players, the most important to deal with were those guys that were confirmed out for the rest of the season.  Easy.  Beams and Barlow.  They are where I will spend my two trades.  If you don't have them, then look at your players and the likelihood of them playing next week.  If you have no carnage in the mids (yeah right) then look to your forwards and follow the same plan where you may have Boomer sitting there.
Just beware that there were some rumours on Thurs night that Dustin Martin might be a late out for the Tigers.  Not sure how credible this is, but just make sure you have some cover.
Most important next is to find your replacement player!!  This is the tricky bit.  It is really a case of Last Man Standing for most of us.  Who isn't injured, yup, they'll do!  Here are the guys that I would be looking at as your go to guys to trade in.  I know a lot of writers have done this and have done the same list, but hey, you are my Friday guys, I know that you want to know my opinion too!!
Matt Priddis is my number one A Grade selection.  He has been on fire and I don't see this changing with him playing Melb at home and Gold Coast away in his last two games.  Averaging 110 on the season and 115 in his last 6 he is the obvious choice to bring in for both his scoring and his run home.
Rory Sloane is the next cab off the rank.  Averaging 104 he has had a great season and has a good run home too with the Kangaroos away and then St Kilda at home for the DT Grand Final.  He has had a number of games where he has gone big with a 160 and 143 in his recent history.  However, he has gone missing in a couple of games only scoring 79 in last weeks loss in the wet and 62 in the away win against Collingwood.
Steele Sidebottom With Beamer out then Steele should be seeing a bit more of the ball in the midfield.  He is averaging 108 for the season and faces GWS away this week and then the Hawks at the G in the last round.  I expect that he will certainly score over 100 comfortably in both of those games.
David Mundy would be a POD for you.  With both Fyfe and Barlow out he should get the majority of the ball through the midfield.  Whilst only averaging 96 for the year, he is cheap at $454k in RDT and has scored 100 and 122 in his last two games.
Dane Swan.  How appropriate is it that in a time of need we turn back to our old faithful Fantasy Pig!  I am sure he has been sitting back just watching all of us and having a bit of a laugh.  Priced at only $453k in RDT he will also benefit from Beams not being around the ball.  His 96 last week was his best score since a run of 3 scores over 100 during rounds 12-14.
I am fairly confident that from that bunch you should be able to find two guys that you don't have.  If you are a unsure of the status of a guy, then have a read of Warnie's Carnage Article from the other day.
Just remember that you aren't the only one that is suffering this problem.  Have a look at your opponent's teams this week and I am very confident you will see that they have been savaged too.
Captains!
Well with a lot of our regular players out it may make choosing your captain a bit more difficult….  hang on… no, we are all saved!  Rocky is still playing this week!  To be honest he is pretty hard to go past.  I know what a lot of you are saying, He will get the Crowley tag.  Well I have it on good authority from our Pirate Captain Calvin that this tag will go to Hanley.  In round 14 when the teams last met, he did go to Hanley for the first three quarters then to Rocky for the last.  Hanley scored 47 (his lowest excluding the 44 in Rd4 when he got injured) and Rocky scored 172.  My best bets for a captain of difference is Swanny v GWS or Sloane v North.
Have a read of Calvin's Captains of Difference as well as his regular weekly Calvin's Captains.
#AskDunny
Well a bit tough this week with a lot of people wondering what to do in regards to players that are out which I have covered.  So here are some other questions I received…
@pkd73 Zaharakis or Robbie Gray? #AskDunny

— Craig (@Subdubb) August 21, 2014
They are almost identical in average and price.  For me it comes down to their opponents coming up.  Zaka has Gold Coast and then Carlton.  Robbie has Carlton then Fremantle (away).  Purely due to Robbie having to play in Perth against Fremantle I think I would go with Zaharakis.
@pkd73 I'm ranked 27th 397 points off the lead. Thoughts on my best bets to take the prize?$8k bank #AskDunny pic.twitter.com/flsfRb7Ip2

— Chrisso #5152 (@chrisso_5152) August 21, 2014
Nice team, no wonder you are in 27th.  Going on my comments above, Barlow and Beams have to come out and I would be bringing in Sloane and Joel Selwood.  Other options you would look at could be Tom Liberatore or Dane Swan.
@pkd73 i can't uncurl from the fetal position.. HELP!!!

— Jo Macarthur (@jomacarthur) August 21, 2014
I don't think you are alone.  Most of the Dreamteam community were in the same position!!  Best of luck this week.
Things To Remember
There are always people worse off than you – It doesn't seem likely but this week I am sure there is.  In the words of Basil Fawlty "Well I'd like to meet them, I could do with a Laugh" (clearly I am only talking worse off in a DT sense, and yes I know some of you kiddies may need to research who Basil Fawlty is!).
Don't Give Up! – Overall Rank is still at stake and this could be your week to make up a lot of ground!!
Go and wash your DT team's cars to avoid injury – Seriously Greg Broughton how did you injure yourself washing your car?
Take this as an opportunity – If your team was similar to your opponents, use this as a way to bring in a unique premium that may just give you the edge over them.
Keep Smiling!  – That is all I could do when my team crumbled…  I just smiled and laughed!
What a week, I've never seen one like it and I hope not to ever again!!  But if you are in a Prelim then best of luck.  I am still in RDT but am out of the other games.  Hopefully we don't see a barrage of late outs this week that would just make things worse!
Don't forget that we are having a DTTalk catch up and end of season celebration Next Saturday in Round 23.  See the links on the website and our facebook page for more details.  Some of us will be there so you can say hi to Warnie, Roy, Calvin, Jeppa and myself just to name a few.  I am sure we all owe Jeppa a beer for the work he has done for us!!  Until next week and our Grand Final, good luck!!!!!