Fantasy Preliminary Finals Carnage
Johnson, Barlow, Beams, Elliott, Cloke, Ward, Bird, Harvey are all confirmed out while doubt surrounds Pendlebury, Kennedy and more.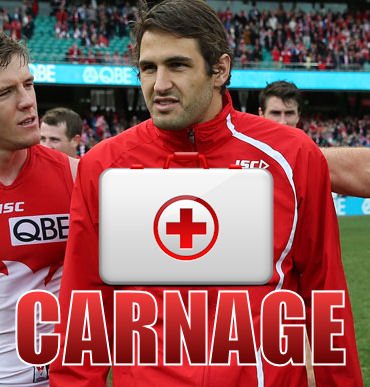 In all of my years of playing Fantasy football, I have never experienced a round like this… ever! And what makes it even more nuts is the fact it's preliminary final weekend!
We'll compile the news of the week here in this post with sources for all of the information so that you know where you sit with your team. Discuss your carnage in the comments.
CONFIRMED OUT
Steve Johnson – Geelong has ruled out Steve Johnson according to Footy Feed. Earlier in the day Chris Scott said  "I think given we've talked about how conservative we're going to be, I wouldn't be putting him in my (fantasy) team this week." (source)
Michael Barlow – The Fremantle midfielder broke his thumb in the third quarter last weekend (making his 128 points even more impressive – and will miss the last two rounds of the season. (source)
Dayne Beams – The knee injury that ended Beams' night on Saturday will keep him out for the rest of the season. (source)
Jamie Elliott – Unavailable again this week after being a late out on the weekend with a hamstring. (source)
Travis Cloke – "Cloke is unlikely to figure unless the team progresses deep into September". (source)
Callan Ward – Will miss this week with a calf injury. Listed as 1-2 weeks on Giants' injury list. (source)
Ben McGlynn – After missing last week, he is set to stay on the sidelines again. "We probably won't run him until Friday, which means he's going to be out again this week, but things are looking really good for him playing next week." (source)
Craig Bird – A knee injury will keep him out this week. (source)
Brent Harvey – Suspended for 3 weeks. (source)
Nat Fyfe – Although he challenged at the tribunal, Fyfe ended up with 2 weeks suspension. (source)
Dyson Heppell – HepD fractured his hand today at training and has had surgery. They say he is 'expected to miss', but surely that means he's a confirmed out. (source) UPDATE: Won't play this week but likely to play in round 23.
DOUBTFUL
Scott Pendlebury – Pendlebury is reported as 'touch and go' for the game – along with Herriter Lumumba. There were reports today that he didn't do much at training. (source)
Josh P Kennedy – Apparently he's pulled up well and will run Wednesday or Thursday. Looks like they may name him on Thursday night and "see how he is by Friday". (source)
Dale Thomas – An ankle injury saw Daisy subbed out on Friday night but the club says he escaped serious injury and is a chance to line-up on Friday night. (source) UPDATE: Apparently he didn't get on the plane to fly to Adelaide.
LIKELY TO PLAY
Jimmy Bartel – Looks set to play this week along with Jordan Murdoch who missed last week. (source)
Matt Suckling – "Early signs he'll be fine, he'll need to do a test on Thursday. I'm pretty certain he'll be available." (source)
Such a tough week to navigate through. If you've got a full side, nice work… and well played with having bench cover. Let us hear your tales of woe in the comments. Can anyone beat this midfield below?
Im not meaning to sook but cmon can I buy a couple trades off you boys?? @AFLFantasy @RoyDT @CalvinDT @WarnieDT pic.twitter.com/whYryviA9p

— Sam denniss (@denniss_sam) August 19, 2014
CLICK HERE TO READ ROY'S TRADE TALK ON AFL SITE.
FOLLOW WARNIE ON TWITTER: