The Weekend Wash-Up: Round 21
Welcome to a special edition of The Washup. Thanks to Matt for his work throughout the season. We have a very special guest writing up the look at the carnage filled weekend. Enjoy!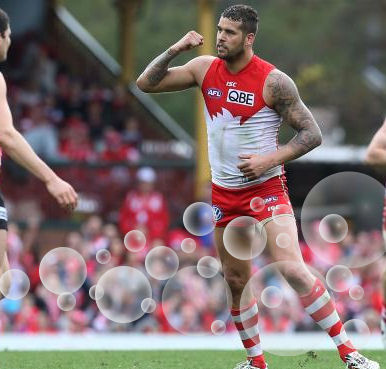 Welcome to a special edition of The Washup. Thanks to Matt for his work throughout the season. Let's jump into it.
The Legends:
Lance Franklin (157) – He should be about the only KPF you have in your team. 9.4 against a hapless Saints (Sorry, Saints fans!) and his score even outscored them! Since his arrival, Buddy's had a slow start (like the Swans most years) but he's really fired the last few seasons. Oh, and I think he's also just about wrapped up the Coleman medal too.
Stat: His 157 is his highest score this season and it's his highest score since that 204 he made in Round 10, 2012 when he kicked thirteen goals against North Melbourne.
Verdict: Missed the boat. If you have him, enjoy the ride.
Jarrad McVeigh (129) – One of the Co-captains of Sydney has done well this season. Been good all season and had to pay top dollar at the start of the season. Great to see him starting to go so well.
Stat: McVeigh has gone over 110 5 times this season including this round. Each time he hasn't gone past 130.
Verdict: I'll be surprised if you do not have him. Been a great player all season.
Jake Lloyd (121) – Finally getting his chance and busted out a huge score. Great payoff if you had him since R5. While inconsistent, he has now got a big ceiling.
Stat: This is the second time he's broken the 100-point barrier since debuting in Round 5.
Verdict: Inconsistent. Considering you are playing in finals, avoid like the plague.
Matthew Lobbe (145) – It was a sloppy game with all that rain around. It wasn't supposed to be a great game for big men. Lobbe, though, is showing he's a different breed. 56 hitouts with 13 kicks is already a great start. He's showing us that when he is the only ruckman in Port's side, jump on board!
Stat: His 145 equals his ceiling of 145 that he got last season against Geelong in round 20. It's also off the back of a shocking score against Sydney (60)
Verdict: Will be a handy Ruck 2, but a really tough match for Round 23.
Dyson Heppell (120) – I have to admit, I'm taking a big shine to Heppell. In my own team I got him in at Round 8 and, while he went below 100 4 times since, he's been in great form. He's produced monster scores. Certainly is one of the new wave of midfielders coming in to replace some of the old guard.
Stat: He has only gone below 70 once this season. This was back in Round 5 when he copped a super-tight Curren tag.
Verdict: Looking for a 7th Mid or 8th Mid? Perfect one right here!
Tom Rockliff (161) – What's better than 1 scoop of your favourite ice cream? (sorbet if you are lactose intolerant!) 2 scoops of ice cream! So what's better than 1 Rocky score? 2 Rocky Scores! Roy's mancrush has finally and deservedly gotten the tag of Pig from Calvin. Didn't he pig it up! That score is one of his best in any game this season and it was on a night to forget for both Collingwood and Fantasy coaches all around the world.
Stat: The MCG isn't one of his best grounds to play at, especially since his top score prior to this weekend was only 137. This is a new record for Rocky.
Verdict: You should have him. If not, WHY NOT?!
Pearce Hanley (147) – I am very tempted to call it. I think Hanley has started to work out how to beat a tag. Seems a bit premature, but he scored 147 against Macaffer, one of the toughest taggers to beat, and his SC score is just as high. Next round will be a real test for either him or Rocky. Crowley awaits, and Crowley is no pushover.
Stat: Hanley's score of 47 v Freo last time they met was his lowest for the season. He was tagged by Crowley until the 4th Quarter. At the Gabba this season he has averaged almost 111 this season.
Verdict: He is now incredibly pricy. My gut tells me Crowley will hang around Hanley like a bad smell. Hope hanley has his soap ready because he'll most likely cop a bath. If you don't have him, don't get him in.
Dayne Zorko (130) – If you ever wanted a rollercoaster for a player, Heath Shaw was always number 1. This guy is number 2. One week he'll give you a 130 (like this week) and then another week he'll give you a 14 (Round 9). He is so hit and miss he gives players the willies. This is one of the good week, though, so your patience was rewarded. If you had him on the midfield pine with the E and Pendlebury on the field, you would be laughing.
Stat: For those of you who love standard deviations, his standard deviation is 31.43. This means that his scores are very prone to changing from one week to another due to the deviation being so high.
Verdict: Pass for me. With Fremantle and Geelong in his next 2 the last thing you need is to rely on someone like Zorko to win you a match.
Stefan Martin (123) – Find of the season. I'm calling it now. We were screaming for someone to step into the Ruck 2/3 position and he came… wait… no… he smashed down the door with a sledgehammer and erected a giant concrete statue with the words "pick me" in the lounge room. He has been unbelievable.
Stat: Martin is the highest averaging ruckman this season. He's averaging an unbelievable 111.5 in just 10 games.
Verdict: Like Lobbe, a very handy Ruck 2/3. However, he faces Sandilands followed by McIntosh/Simpson and he is already over $530k with his price set to rise. Take him if you can.
Andrew Swallow (129) – Captain Courageous. After returning from an Achillies injury he rewards patience. His highest score of the season.
Stat: His 11 tackles in the match against the Bulldogs is his highest tackle count for this season.
Verdict: Luxury trade if you need a 9th Mid on the bench. Wouldn't get him in any higher than an 8th mid.
Sam Gibson (126) – Where did he pop up? I mean he's like Zorko, only his bad isn't as bad. I do remember him being in my team in 2012 and he was awesome… but apart from that I can't remember. Anyway, he's having a great season thus far.
Stat: He has only 1 score under 60 all season and 13 scores over 90. Not bad at all!
Verdict: A good little POD, especially when he plays Melbourne in the Grand Final round.
Devon Smith (147) – He has had a terrific season. Like the rest of the GWS crew can be very inconsistent. This is his second consecutive 100+ score and is his highest score for this season.
Stat: his 31 disposals against the demons is his second highest ever disposal count. His highest was against Essendon this season when he got the pill 33 times.
Verdict: Keep an eye on him over preseason. He could be a great player for next year. As for now, with Collingwood and Western Bulldogs to finish the season could be worth a punt on.
Josh Kelly (140) – RLGriffen has already dubbed him "Josh Brownlow Kelly" so I take it this kid is better than what has been said about him. This is easily his highest ever score for DT and it's only his first season too!
Stat: The Round 3 NAB rising star has had an eventful season. He's had the dreaded green vest 4 times.
Verdict: Pass for obvious reasons. Maybe in about 2-3 years time he will be worth having a look at.
Toby Greene (126) – I know people have players that they champion a lot. There is one bloke who I know who champions Greene harder than any other. He would be happy, even excited with Greene's effort this week. He had that 5 week suspension to the NEAFL for whacking a bloke with a crutch. This is his 3rd straight ton.
Stat: Since that crutch incident, Greene had a slow start then has gone bang in the last 5 weeks, only once dropping under 100 points.
Verdict: See Devon Smith. I think he's a nice smoky.
Tomas Bugg (125) – When you tag Jack Viney I usually don't expect players to score very well. I, like many other DT and Fantasy coaches, have an absolute hate on taggers. For fans and coaches they love taggers because it means the best players don't get a free ride and cost their own team the game. But to Fantasy coaches, Taggers are hated for the reason that their players don't get a chance of scoring well.
Stat: This is his 3rd EVER ton, and his second this season.
Verdict: Pass. There is one tagger I would ever pick up, but apart from Greenwood, I would never pick a tagger.
Michael Barlow (128) – Mr Consistent does it again. Yet another 100. Along with Priddis just keeps getting nice little 100's.
Stat: This season's been his most consistent season. Hasn't gone over 140, but hasn't suck below 80. Good sign.
Verdict: You need to have him in your team. I doubt Lyon will give him a rest.
Matthew Pavlich (122) – Super Pav returns with a 5-goal haul against Hawthorn. Could have left his run too late, but he does finish his season with Brisbane (Away) and Port Adelaide (Home)
Stat: It's his best score this season, but he has been underperforming. It's just his 4th 100+ score in 19 games!
Verdict: It's time for a champion to say goodbye.
David Mundy (122) – Last week he missed a goal to win Freo the game. This week he goes nuts to repatriate for the loss. Looks like missing that last shot on goal was a kick in the pants for him.
Stat: One would expect a good player to carve up lower teams, but Mundy has struggled a little to do so. Other players get 120+ and 130+ scores against teams like GWS and Melbourne. Mundy's best score against the bottom 10 sides (currently) is 123 v Gold Coast. It sounds impressive until you look at all the other matches and notice that he's only gone over 100 3 times against them. All the others are in a range between 55 to 99, and that's in 12 matches!
Verdict: Not for me, but could fit someone who's willing to take a risk.
Jordan Lewis (156) – This guy is a tease. He teases Fantasy coaches all the time about picking him especially when he scores like he did against Fremantle.
Stat: you need to look back at last season's stats to see the inconsistency and the tease. He didn't get his first score of 100+ until Round 6, and the longest run of 100's he had at any given time was 3 and that happened twice. So that's 3 rounds of 100+ scores.
Verdict: I've mentioned a few rollercoaster rides so far. Add him to that pile.
Luke Hodge (126) – Well, he can produce scores like this, but just a bit worried about his body. When fit he can be really good. Just be careful of the red vest and those injuries…
Stat: The red vest is a real concern for those who have him. He's already copped the red vest 3 times this season.
Verdict: If the Hawks are on top especially in the last 2 matches expect him to be subbed out or given a rest in round 23 to prepare him for the finals. Pass for me, even with DPP.
The Losers:
Be warned… this WILL be long. Also I want to add… WHAT HAPPENED ON SATURDAY NIGHT?! Collingwood vs Brisbane ended up being last man standing! It was insane the number of injuries coming out of one game.
James Bartel (DNP) – This was when alarm bells started ringing. Jimmy was a legend and I was so thankful I got him in my team. However, his out made my head hurt. What do I do? Hold? Trade? In the end I held due to his DPP. But this was the beginning of a downward spiral of agony for Fantasy coaches everywhere.
Stat: History shows Bartel misses at least one match per season. The last season he played every match was back in 2008.
Verdict: Don't panic. He'll be back next week.
Dale Thomas (21) – This was where things got a bit hairier. Copping a whack to the knee and ankle then mothballed means he's gone for this season. With 2 matches to go, can't see him getting back especially with Carlton out of the finals race so early.
Stat: This is his lowest score for the season. He was coming off consecutive tons.
Verdict: You shouldn't have him in your team any more. If you do you need to get him out.
Kade Simpson (62) – I was not expecting this performance. Atrocious. This is worse than a pub having happy hour, then halfway through finding out they ran out of alcohol!
Stat: He only has one score worse than this and that was when Bugg sat on him. Suffice to say he didn't have enough "Bugg Spray" that day. I'll see myself out now.
Verdict: Don't panic. History shows he doesn't have 2 stinkers in a row.
James Kelly (64) – Poor Calvin. Kelly is now on the wrong side of 30. He has had one of those seasons where he just hasn't been getting high DT numbers at times.
Stat: This is the second match this season he has registered 0 tackles in a game.
Verdict: Avoid like the plague
Mitch Duncan (48) – This kid was supposed to be something special. He's special all right… special at flopping at the worst possible time.
Stat: His lowest score of the season, believe it or not! If you take out his 1 vs Port Adelaide in round 20 last season (He got concussed and subbed out immediately) it's his lowest score Since round 4, 2012 (When he made 43 v Richmond)
Verdict: Might get a look in next season. Pass if you don't have him, hang on to him if you do. He'll be fine over the next 2 weeks.
Craig Bird (45) – Bird is certainly NOT the word. The only saving grace for Bird was that he had a bit of knee soreness.
Stat: It should come as no surprise that Bird got that score against the saints, really. He hates them! His highest score is 86, but that's way back in 2009! Apart from that he's had 5 scores under 60 in the 10 matches he has played against them, giving him an average of 59 against the Saints.
Verdict: Pass for me. I don't like his odds of a good score in the last 2 matches.
Josh P Kennedy (16) – The second quarter and carnage started to unleash. Little did we know what else was in store. Calf injury, so I suspect his Fantasy season (not real season, Swans fans. He should be back for Finals) is over.
Stat: Everyone talks about his run of games. So that's not gonna come from me. What I will say, though, is that his kick to handball ratio is rather low. In other words he handpasses more than he kicks. It's expected as he is an in-and-under player, but it means he needs more possession to score big.
Verdict: Say your tearful goodbyes to JPK. It's time for him to leave the team.
Nick Malceski (65) – The Curren tag strikes again. I don't like Curren very much. I don't like him because he kept Heppell to just 44. Now he keeps Malceski to 65. That kid is gonna be some tagger and probably worse than Crowley. Mark my words.
Stat: When Malceski is free to roam, that's when he can really rack up the points. The best news is that he loves to kick the ball as opposed to handpassing it. Not once this season has he had more handpasses than kicks.
Verdict: Honestly, this late in the season it's now harder to decide who to bring in and who to keep. Keep if you  have him, but pass if you don't.
Kade Kolodjashnij (35) – 1 injury, 3 hurt players for Gold Coast and "KK" is one of the hurt ones. I call him "KK" because it's much easier than typing "Kolodjashnij" every time. It hurts my wrists too much. Anyway, wasn't the most pleasant of games, let alone conditions (so apparently it's been raining?)
Stat: Don't let that 35 fool you. He's had a great season. It's only the second time he's gone under 50 points this season and he's had 10 scores over 70. A terrific effort by a first year player.
Verdict: Great bench cover. You shouldn't be fielding him at all.
Brad Ebert (52) – I remember this guy. He used to play in a jumper that had blue, white and gold stripes. I have seen flying around twitter the words "Never Again" thrown around along with his name.
Stat: 16 scores over 80 (including a big 152) but this is his 4th score under 70. It's been a season where if Ebert is on song he is on song.
Verdict: Hold if you have him. Certainly consider if you are looking for a mid to fill a hole.
Brendon Goddard (61) – To the fresh faces, once upon a time, Goddard was a Saint Kilda player. He was considered a lock for all teams when he had DPP status for defense and midfield. Then he signed for the Bombers and became mid only. Since he did that he has faded into Fantasy, while once in a while coming out and having a blinder.
Stat: How the mighty have fallen. 6 matches since his last 100+ score. In the games against Melbourne and Adelaide, he scores 157 and 147 respectively. That was back in Rounds 13-14.
Verdict: Matches against Gold Coast and Carlton coming up. I'd look at trading by Round 23 if I have him. Gold Coast not the greatest of teams at the moment. Could be worth a shot for one round.
Patrick Ryder (44) – It's not uncommon for Rucks to do poorly against West Coast this season. Ryder was going alone, so it was no surprise that he got a low score.
Stat: Just so Patrick Ryder doesn't feel out of place, out of all the rucks who have played West Coast, only 6 have gone above 80 points. That's 26 different scores, only 6 have gone over 80. That's a nightmare!
Verdict: Hold. He will improve.
Bachar Houli (61) – I always was thinking about Houli, thinking he'd one day grace my side. I thought he could be a really good Fantasy-relevant rebounding defender. Scores like this always make me think twice.
Stat: He doesn't tackle very often, which hurts his score. Most tackles in one match this season is 6 tackles in round 4.
Verdict: Pass.
Brodie Smith (39) – It's an indictment when Jed Bews outscores you. Smith, your first warning.
Stat: Surprisingly this is NOT his lowest score of the season. His lowest was against Port Adelaide in Round 15 when he made just 26 for the whole game!
Verdict: Hope like crazy he's gonna improve. On the plus side, his last 2 matches are against teams he tonned up against this season.
Matthew Jaensch (64) – Ahh Jaensch. I feel really smug whenever I see his name and low scores on the same weekend because I know that I didn't pick him up at all and it just feels wonderful
Stat: This is actually a long season for Jaensch. Prior to this season he has not played more than 13 games in one season. This season he's already played 19.
Verdict: *smug feeling* yep. Pass.
Scott Pendlebury (DNP) – Calf injury right before the bounce. Tony Armstrong put on his superman cape and must have chugged gallons of Gatorade for him to get up for this match. After all, 6 hours earlier he helped the Magpie VFL team to victory.
Stat: Surprisingly he handballs more than he kicks, although those numbers are close. He's had 264 kicks to 276 handballs. Doesn't mean much, but it does mean that sometimes he's scoring a bit less than what he can produce.
Verdict: Should be fine for next week.
Dayne Beams (46) – It's a PCL and he's gone for the season. A pity for a player who was ridiculously cheap for his output.
Stat: There has only been one match where Beams did not hit the scoreboard this season. Round 14 against hawthorn is the only match where Beams did not kick a goal or behind this season.
Verdict: Parting is such sweet sorrow, to quote a phrase. It's time to say goodbye to great Dayne.
Travis Cloke (41) – Well, apparently struck with a corkie, but for a guy who is being paid $700kish a season this isn't good for him. Not only is he playing poorly, he is also becoming more and more fantasy irrelevant.
Stat: He's very much the whipping boy of full backs this season. 39.30 this season while having 3 matches scoreless, 2 matches goalless. Helped by having 2 matches of 5 goals, one match of 6 goals and 1 match of kicking 4 goals.
Verdict: PASS, FOR THE LOVE OF ALL THINGS FANTASY PASS!
Heritier Lumumba (34) – A name change isn't always a good thing, as Heritier is proving.
Stat: It's certainly not the first time Heritier hasn't been Fantasy friendly. This is his 5th score under 60 this season, and all those scores have come since the first Essendon match (You know… ANZAC day match?)
Verdict: PASS.
Jackson Macrae (DNP) – Just when we thought the carnage was over and it couldn't get any worse what happens? Jack Macrae was a late withdrawal with General Soreness paying a visit. Great.
Stat: This kid has got "piglet" written all over him. Calvin will most likely chuck a fit, but this season he's had a mammoth 168 along with 9 100+ scores, 3 of those 130+. He's gonna be a beauty!
Verdict: He'll be fine next week.
Nick Dal Santo (65) – A terrible match. Just… no. The Fantasy game has certainly gone past him.
Stat: 14 possessions. That's all he's had this round. 14 measly possessions. Only the sub (Leigh Adams) got less than him.
Verdict: Move on. He's gotta go.
Callan Ward (46) – He's been really good all season. Too bad he strained his calf in the second.
Stat: He's been outstanding this season with his scoring, even though he has had some low scores. A 162 ceiling shows that he can score very well. Worth a look next season.
Verdict: Check back next season. As for now, if you have him, might be worth cashing him in.
Aaron Sandilands (60) – You would think this man mountain would do some form of damage in terms of Fantasy. After half time he fell away. As in way away. As in he no longer was there, which is kind of difficult when you're 211cm.
Stat: You would think that being 211cm you would be able to mark the ball a bit more due to sheer size, but you'd be wrong! Most number of marks in a match is 8, but 9 of his 19 matches he has taken 3 or less marks.
Verdict: If you still have him, keep him. Should finish the year off well. If not, don't get him in.
Grant Birchall (59) – I've seen his name spelt as "bi*chell". No joke! Autocorrect got something right for a change! He's like when you have a cold: consistently getting hot and cold flushes.
Stat: He can have absolute shockers. 4 matches under 60 points isn't good enough for someone who started the season at $436,300.
Verdict: He is on my "Never again" list.
Matthew Suckling (35) – When Suckling is on a roll, he can be really good. But today was just bad when he rolled his ankle.
Stat: Believe it or not, Suckling is almost averaging exactly the same as last season. He's under by just 0.3%.
Verdict: Trade time. Otherwise D7 is a good position for him.
The Talking Point:
I hope that one umpiring decision (given or not given) doesn't decide the grand final. Twice we saw this weekend where an umpiring decision at a crucial stage of a match costed a team a chance at victory. While I am WCE biased (like Matt… Hi, Matt! Hope you like the read so far!)  Carlton supporters can also feel aggrieved that their team was robbed of victory due to an umpiring decision. If this keeps going and the Grand Final was decided on an umpiring decision or mistake, the losing team supporters will be angry as anything and Twitter will most likely break due to sheer number of tweets raging about that decision. Umpires, you are now on notice.
This Game Sh*ts me:
Here we are in Semi-finals of Fantasy. So what do the footy gods do? GIVE US ABSOLUTE DT HELL! In RDT I presume we are down to our last trade or 2, for Fantasy we still have 2 trades per week so it's not too bad for Fantasy. But what happened? Bartel was rested. The ever dependable Scott Pendlebury was a late withdrawal due to a calf injury. Dayne Beams, whom I guess all of us got at Round 1 because he was super cheap… PCL. Josh P Kennedy out with a Hammy/Calf. Stevie J had a brain fart and got a week's suspension. Macrae, the jet of a kid he is, is a late withdrawal due to General Soreness paying him a visit. Jack Ziebell copped an awkward twist and was subbed. Our premos pretty much all failed at the WORST POSSIBLE MOMENT! We already had 2 rounds of this, DT Gods! Why throw us into absolute pandemonium? Just about everything that could go wrong did, and that's why this game sh*ts me. By the way, I really feel for you if you have Josh P Kennedy, Pendlebury, Beams and Johnson as well as Cloke and Thomas. I hope you have some good players on the pine, because you WILL need them.
Before I finish, just a note on Golden Stubby. Well, quite frankly it was either going to go to buddy or Rocky due to scores. Since Rocky has gone gangbusters, he'll have the stubby. Sorry to Buddy fans.