The Friday Scramble: Round 21
Cut throat finals now. Got to make sure that all your trades count and that your team is perfectly set. However, as usual we have been stuffed around with injuries and suspensions. I doubt you have no reasons to scramble! So come on, get into it!!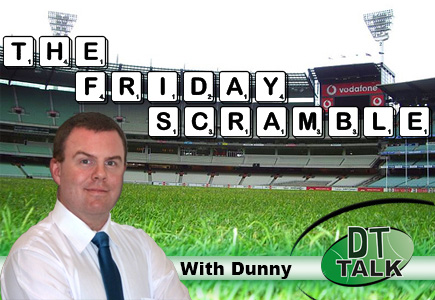 Do or die time now!  No second chances.  So don't play conservatively any more,  it is time for all out attack!  Of course if you are sitting pretty in Prelim finals in all your leagues then you don't have to do any scrambling this week.  But if not, then you will be in there with the rest of us doing everything you can to survive.  Of course the players and coaches have made things easy for us by not getting injured, suspeneded or being rested this week…. NOT!
If you aren't involved in finals still like Calvin, then make sure you still look after your team and try and outrank your mates!  There are only 3 weeks left and you don't want to blow all that hard work in the last few rounds.
Selection Table
Jarryd Roughead posed the first problem for us this week with his trip.  If you are in RDT or SC and are basically out of trades then see if you can swing someone onto the field for you to cover Rough for the one week.  However, do keep in mind that when he comes back he will face Geelong and Collingwood in the last two games.  If you are in AFL Fantasy then there is no choice but to trade him out.  You still have the option to trade him back in again next week thanks to having two trades per week.  But beware, if you do trade him out, make sure that it is still someone that you would be happy to have in your team for the remainder of the season as you never know what will happen next week, you may have two bigger issues to deal with that could prevent Rough from coming back into your team.  I was going to suggest that a guy like Ben McGlynn would be a great replacement.  However he is out as well!!
Stevie J is another that is causing us grief this week! We all now know that he is out with that foot injury.  Now, do you keep him or do you trade him.  In AFL Fantasy, no question you trade him!  If you are down to one trade in RDT or SC and have cover you may want to risk it and keep him.  But if you don't have cover you should be looking to trade him.  And if you have Jimmy Bartel as well then you could be completely stuffed!  As he is out with a corked calf.  The same goes as we discussed there with Stevie.
If you have all four guys then you are in serious trouble!
Levi Greenwood is back this week if you have held him.  The big Original Pig is back!!  Dane Swan returns after a few weeks off!  I reckon he has seen Rocky trying to take his title so he will be back and firing to make sure he takes control of the sty again!
Michael Hibberd returns for the Bombers!  I am a bit wary of his scoring potential to be honest.  One thing that I am sure of is that Jobe Watson will come back in and it will be very interesting to see what happens to the scoring of Dyson Heppell and Brendon Goddard.
#AskDunny
@pkd73 now that we're in luxury trade mode, would you consider trading out Dangerfield due to his niggling injury? #AskDunny

— Ken Kaneko (@K_Kaneko10) August 13, 2014
Interesting call this one.  On the one hand I can certainly see merit in trading Danger out as he has been a bit down lately averaging only 86 in his past 11 and 93 for the season.  In that last 11 there were only three scores over 100 which were 135 v Collingwood, 113 v Port and 132 v Hawthorn.  So this means of course there have been some stinkers in there too wiht a couple of 60's and 70's.  So I can certainly see where you are going with this option.  He has dropped by $73k on his inital price in RDT down to $465k.  If you looking to go to an in form premium mid of forward then I think it would be worth doing and could be a great POD by not having him.  HOWEVER!  Just beware that he does have the propensity to go big on occasion too.  Interestingly Adelaide haven't played Richmond yet this season but he scored 73 against North and 92 v St Kilda.  These are hardly scores you want from your premos.  So I guess in summary there is a risk there, but only a slight one so I would go for it if you can find a player that you think can guarantee you somewhere north of 100 in each of the remaining three rounds.
@pkd73 @DTTALK thinking r.gray for a POD in place of libba this week… Need an edge that's value

— Phil Beckwith (@pbexxx) August 13, 2014
Robbie Gray is certainly in form at the moment.  If your 0pponents don't have him he could be a great point of difference.  Libba hasn't been on the same hot streak he was earlier on in the year.  Since round 14 he has only had 2 scores over 100 whereas Robbie has had only had 3!  The difference for me is that I think Robbie has more upside over the next few weeks as the Power are pushing for the finals.  The one thing that would worry me though is that Port play Fremantle in the last round and Crowley may go to Gray or Boak.
https://twitter.com/luis_fennessy/statuses/499431789119553536
Well we know that Calvin always says Bird is the word!  However, he has only had the 4 scores over 100 this year and he will be good for at least 85 points.  Yes Hannebery seems to be getting the tag of late and this lets other guys off of the leash and yes the Swans get a pretty good run home.  However, you would only want to play him up forward as his scores aren't good enough to put him in the midfield.  So I would say that he isn't the worst selection out there, but I think there are better ones for you.
Things To Remember
Win at all costs!– Try put your opponent off with fake injury reports, whatever you can come up with!  We don't want to lose now!
Beware Matchups – Check the matchups of your stars to see who they are likely to be on.  Basically look for taggers!  But also look for guys in your players team that are out too that might mean more attention will be coming your players way.
Bench Cover – I mentioned this last week and it is just as important this week.  Given the closeness of the battles for the top 4 and 8 players won't be rested.  However, we might get guys who are injured being named and being given right up until game start to prove fitness.  So they could still be a late out.
We all knew it would happen.  We all knew that we would lose some of our key players at some stage.  It just makes it a bit difficult when they are all in the same week!!  Best of luck with your finals matchups this week.  I am up against Calvinator in one of my leagues and I am a little worried given that now he has hit a bit of form and has already traded out Stevie!
Just the two weeks left after this one, don't lose focus now!  Push on through to the finish and come and have a Froffie with me and the DTTalk boys in round 23 in Richmond.