AFL Teams 2014: Round 21
The ins and outs are here ahead of the Fantasy semi-finals. Check out the status of your squad and do what you can to get a win this week if you're playing!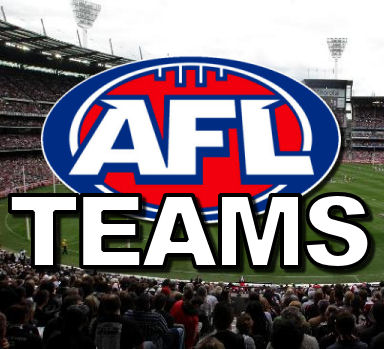 Friday, August 15
Carlton v Geelong at Etihad Stadium, 7.50pm AEST
Carlton
No change
Geelong
In: B.Smedts, J.Bews
Out: J.Bartel (corked thigh), S.Johnson (foot)
Saturday, August 16
Sydney Swans v St Kilda at the SCG, 1.45pm AEST
Sydney Swans
In: S.Biggs, D.Towers
Out: R.Shaw (ankle), B.McGlynn (calf)
St Kilda
In: C.Shenton, N.Wright, J.Saunders
Out: J.Bruce (shin), B.Murdoch, J.Billings (hamstring)
Gold Coast v Port Adelaide at Metricon Stadium, 2.10pm AEST
Gold Coast 
In: C.Dixon, S.Tape, T.Sumner
Out: S.May (hamstring), M.Shaw, A.Hall
Port Adelaide
In: M.White
Out: K.Mitchell
Essendon v West Coast at Etihad Stadium, 4.40pm AEST
Essendon
In: J.Watson, M.Hibberd, A.Steinberg, P.Ambrose
Out: C.Dell'Olio, J.Carlisle (back), E.Kavanagh, O.Fantasia
New: Ariel Steinberg (Bendigo U18)
West Coast
In: S.Tunbridge
Out: X.Ellis (shoulder)
Collingwood v Brisbane Lions at the MCG, 7.40pm AEST
Collingwood
In: L.Ball, D.Swan, B.Sinclair, B.Grundy
Out: C.Young, S.Dwyer (hamstring), J.White, T.Armstrong
Brisbane Lions
In: C.Beams
Out: N.Robertson
Adelaide v Richmond at Adelaide Oval, 7.10pm ACST
Adelaide
In: J.Podsiadly, S.Shaw
Out: A.Otten (knee), T.Lynch (neck)
Richmond
In: B.Lennon
Out: M.Thomas (knee)
Sunday, August 17
North Melbourne v Western Bulldogs at Etihad Stadium, 1.10pm AEST
North Melbourne
In: D.Wells, L.Greenwood, M.Wood
Out: –
New: Mason Wood (Geelong U18)
Western Bulldogs
In: D.Giansiracusa, J.Grant, J.Tutt, J.Johannisen, T.Young
Out: E.Wood (hand), N.Hrovat (ankle)
Melbourne v Greater Western Sydney at the MCG, 3.20pm AEST
Melbourne
In: J.Grimes, J.McKenzie, J.Fitzpatrick, C.Salem
Out: J.Kennedy-Harris
Greater Western Sydney 
In: J.Giles, M.Whiley, N.Wilson, J.Stewart
Out: J.Lamb
Fremantle v Hawthorn at Patersons Stadium, 2.40pm AWST
Fremantle
In: A.Silvagni, T.Mzungu, M.Walters, M.Taberner
Out: L.McPharlin (calf)
Hawthorn
In: B.Lake, B.Ross, J.Gunston, A.Litherland, T.O'Brien
Out: J.Roughead (suspension), B.Hartung
---
AFL Fantasy Punt is back!
Very much like Match Day, but with prizes based on a competition pool – ie. betting like on lotto. – you can pick a side, enter it with a $10 entry fee and if you're in the top few, you take home cash prizes… and for the high rollers, get involved in the $50 and NEW $100 entry game! The round game locks out before the first game of the round, but for the single match day games it just needs to before they start. This week we have Blues v Cats (FREE ENTRY!), Crows v Tigers, Freo v Hawks. Sign up to a Luxbet account by clicking here and then head over to the AFL Fantasy Punt website to log in and pick your sides. 18+ and gamble responsibly.
---
COMMENT AVATARS: Unfortunately these have disappeared over the last few weeks (some are still there if they are from Gravatar). Head to your profile page and upload your own pic to add a bit of character to the site.