The Friday Scramble: Round 20
Finals week one! No tomorrows! You have to win this week! No massive problems at the selection table which is nice. But I am sure you still have some issues to sort out! Join me in a Scramble.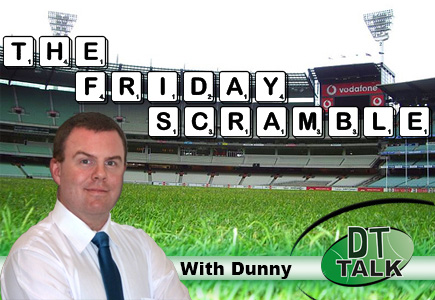 It's FINALS TIME!!!  You and your team have fought all year for this.  The chance to bask in Premiership Glory!  But how is your team going?  Are they fully fit?  Are they in the right headspace?  Hopefully they are all ok.  It is this time of the year when we have to start relying on our bench guys as we have more late outs this time of the year than any other.  The one thing that we do have going for us is that the fight for not only the top 8 but also the top 4 is so tight that teams don't have that luxury at the moment.
Just to make things very exciting we have had Tribunal issues and injury issues!  Can things get any harder?  Where are all those people who think this game is too easy these days??
Finals Basics
I am sure that the vast majority of you know how the finals work.  For those that don't, things are exactly like the AFL finals.  If you have a look at your league's page you will see a tab that says Finals.  You will see the flowchart of the finals just like below (which is from our DTTalk Writers League).
Selection Tables and Injuries
Wow, how lucky did a heap of teams get with Stevie J getting off of his suspension earlier in the week with him being in a heap of teams.  What this means is that the Crowley tag will now probably go to him and leave Joel Selwood to run free and rack up the points!!  Great to see Sam Mitchell return this week.  I am sure that I am not the only one that is keen to see him back out there.  As a Power fan I am not sure that I am as happy to see Lance Franklin return.  But I am sure that many of you with him in your teams are happy about it.
We did see that David Swallow went down with an injury last week.  He has been named this week and I am hopeful that he does get up and play as well as he has so far this year.  I won't be dropping him from my side, but what I will be doing is making sure that I have adequate bench cover just in case he is a late out.  Kade Kolodjashnij has been named this week and he could be a good one for you to have as a bench cover.
#AskDunny
@pkd73 if StevieJ gets freed, would you still trade him out co of Crowleys tag? #AskDunny #luxurytrade

— Ken Kaneko (@K_Kaneko10) August 5, 2014
Well now that we know that Stevie did get off this is a very interesting question.  We know that Crowley generally goes to him and Stevie doesn't like the attention (he tends to belt Crowley).  This would be the definition of a luxury trade.  If you are 100% that he will get the tag then yes I think it is a good idea.  However, in the last game he started on Matty Stokes and then went to Stevie later.  The big question here is who you think will get the tag.  If you don't have any other Cat midfielders (namely Joel) then it might be a good tactic to get past an opponent that has both of those guys.
@pkd73 @DTTALK Harry lumumba coming of 96 98 and has a good run home do you see him as a good downgrade from swallow?

— jason towns (@townz36) August 5, 2014
I like this question as Hertier is someone that I have been noticing a bit more over the past two weeks.  He seems to be playing a bit more midfield time.  I am not sure if this has coincided with Swanny being out of that midfield rotation or if he is just charging in from the back of the square and it looks like he is in there.  But you are right, over the past two weeks he has had 96 and 98.  Unfortunately he has only one other 90 which was against Adelaide and he has had two 100+ scores in R4 and 5 against Richmond and North Melbourne.  Upcoming he faces West Coast, Brisbane, GWS and Hawthorn.  For me this is a fantastic run and if he can continue to get some mid time and be that link up player from Half Back I don't see any reason why you shouldn't be picking him up as a great unique.
@pkd73 To Crisp or not to Crisp, that is the question. How desperate would I have to be to get him on the field over, say, Miles? #AskDunny

— Peri Strathearn (@PeriStrathearn) August 5, 2014
Must say I think Crisp would be a fair point of difference for you.  His third game this week with 97 and 96 in the bank so far.  Certainly good scores.  These scores have come against Gold Coast in a one sided game at the Gabba and a close one against Melbourne at Etihad.  This week they are up against an Adelaide side that must win to keep finals hopes alive.  I think it will be a tougher assignment than he has come up against this year (no disrespect to the other two teams, but an Ablettless GC and Melbourne are not like an Adelaide fighting for their life).  Miles on the other hand has played 8 games so far and his last two scores have been his lowest with 86 and 43.  These came against West Coast (away in the pouring rain) and GWS at the MCG.  Prior to that he was consistently scoring in the 90's and 100+'s.  Personally I go Miles as he has more form on the board than just the two games that Crisp has.
@pkd73 upgrade who's house or suckling as a priority?

— Peter Hopper (@Pete_Hops) August 7, 2014
Let's start with Dahlhaus they play St Kilda, North, Sydney and GWS.  So a couple of good games there where he should score well.  He hasn't had his best couple of weeks.  But I think that he will bounce back v St Kilda.  I would be a little worried with the North and Sydney games but a nice one against GWS for the Grand Final.  Suckling has Melboune, Fremantle, Geelong and Collingwood to finish up.  His scores haven't been all that good.  Even though he had a passable score last week I just don't think that he will score as well as Dahlhaus will for the rest of the season.
https://twitter.com/ThomasBennetts/statuses/497339911700115456
The ideal thing would be to keep a trade for the GF.  However there is no point having a trade left if you have been bundled out of the finals.  So really I would be using that trade at any point that you think you may not win in your match up.  If you do have to use the last one make sure you get someone that is going to see you right through for the rest of the season and will play each week!
Things To Remember
BENCH COVER! – Last week a heap of people got caught out with no Bench Cover for Sam Mitchell, I was one of them!  I know we all focus on our on field players, but don't forget about having someone on each line that you can put the E on that will play.  If you are able to make luxury trades, it may be worth not doing that and getting someone reliable on the bench.
Go for it! – If you are in an Elim final don't hold back, you have to go for it!  There are no tomorrow's!  If you are in a Qualifying final then you should also be going for it as great to have that week off and miss out on the carnage that could happen and you can strengthen your team for the Prelim.
Overall Rank – If you aren't in the finals or get knocked out this week, don't give up, keep going and get your rank as high as you can.  Play out the full four quarters!
No Loophole – This week we don't have the loophole that we have had in the past couple of weeks as we are back to a regular round of footy with just the one lockout (in AFL Fantasy and RDT).  So get your Captain right straight up.  Check out Calvin's thoughts!
Big week in Fantasy this week.  Don't leave any stone unturned and leave nothing to chance.  This is the week to go for glory!  Hopefully you can get your team over the line and progress towards the ultimate prize.
A big shoutout to the members of my two Friday Scrambler leagues.  Well done guys, we are sitting with the 3rd and 4th ranked leagues overall currently, let's hold that right through to the end and prove that "Those who Scramble on a Friday find themselves covered in Glory on a Sunday!"
Cheers til next week!  @pkd73