Jeppa's Juniors – Round 19
Don't miss Jeppa's last article for the year. There's plenty covered including the latest crop of rookies, a chance to vote on the best 'junior' for 2014 and the ideal finals lineup!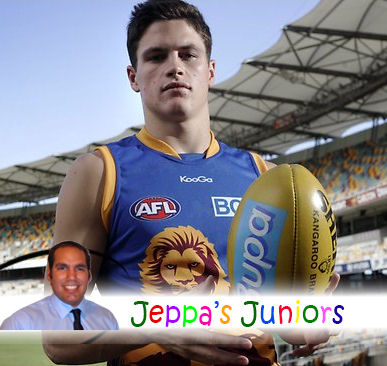 What a year! This season we have had two forms of AFL Fantasy and I personally have enjoyed the challenges of each. As far as the rookies go, I think it is safe to say that we have been well looked after. Stefan Martin (av. 109), Anthony Miles (av. 90) and Dom Tyson (av. 89) are three players that all exceeded expectations and most would have played a big part in building your current side. Fortunately, a few new rooks may still play a part…
Three-Or-More Gamers
WORTHY ROOKIE RESERVES
Further to my article last week (source), I'd like to add a couple of notable absentees from the worthy rookie reserve category.
Brodie Martin (Def. $365,679, 39 be AF. $379,600, 44 be DT) – Confidence is everything and Martin is certainly flying high at the minute. He has averaged 88 from his past three games and more importantly, his spot in Adelaide's best 22 looks secure. With the Crows favorable draw in the last four rounds, Martin will be handy cover.
Jeremy McGovern (Fwd. $279,297, 47 be AF. $275,000, 46 be DT) – I always love seeing a big fella roam free. Against the Crows last weekend, McGovern did as he pleased and finished with 24 possessions, 6 marks and 80 Fantasy points. He looked as confident as ever and against a smallish Collingwood backline this week he should do well.
Two Gamers
For those lacking a quality back up midfielder, Jack Crisp (Mid. $254,072, -15 be AF & $238,400, -52 be DT) is an excellent option. Plenty would have thought Crisp's Round 18 score of 97 was a fluke but he backed it up with 20 possessions, 10 marks, 3 tackles and 96 Fantasy points against the Dees last weekend. Other than his kicking efficiency, there's not too much to dislike. Crisp is strong, reads the play well and is part of a current winning formula at Brisbane. Don't miss the boat!
It was great to see midfield dynamo, Alex Woodward (Mid. $120,489, -6 be AF & $119,200, -11 be DT) avoid the green vest. He has overcome two knee reconstructions in three seasons and last weekend was the first full game of his career. Woodward's appeal is his price. Bargains that play on ball and score 70+ are always sound investments so if you need to maximise your earnings, trade him in. Note however, that his job security is far from guaranteed.
Cameron Wood (Ruc. $302,542, 32 be AF & $163,500, -66 be DT) found the going tough against Fremantle and that last kick was a clear error.  To be fair, most ruckman have been far from their best when opposed to Sandilands but he still managed to score 68 Fantasy points which is a positive. If Wood holds his spot then expect him to do plenty of damage against the Suns this weekend.
Stay well clear of Sam Blease, 33 (Fwd. $175,963, 26 be AF & $173,700, 17 be DT) and Louis Herbert, 2 (Fwd. $107,902, 30 be AF & $124,500, 38 be DT). Both are well below the standard required for Fantasy.
One Gamers
The late out of Buddy Franklin on Friday night allowed Tim Membrey (Fwd. $123,686, 12 be AF & $119,200 DT) to finally make his AFL debut. The strong marking forward has been in hot NEAFL form but he was hardly sighted against the Bombers. Membrey could only manage 9 possessions, 4 marks and 40 Fantasy points before being subbed off just prior to three quarter time. Unfortunately, Membrey will make way for Jesinta Campbell's boyfriend this week but expect his to be a name floated about in Fantasy next year if he's traded to another club for more opportunities.
FYI, I am not a fan of Tony Armstrong, 62 (Def. $239,100, 35 be AF & $274,700 DT) and would highly advise against picking him up. I cant believe he got a game at Collingwood!
Tim Golds (Def. $151,093, 25 be AF & $174,800 DT) was the only other one gamer to feature in Round 19. He started in the green vest but did make the most of his time on ground. 10 possessions, 3 marks, 1 tackle and 36 Fantasy points in just over a quarter is a solid outing but I'd wait and see what he can produce from a full game before trading him in.
Keep Your Eye On
I know I sound like a broken record but Trent Dumont (Mid. $184,300, 62 be AF & $112,800 DT) and Orazio Fantasia (Fwd. $135,500, 45 be AF & $112,800 DT) are closer to selection than ever before. Dumont was untouchable in the VFL last weekend amassing 35 possessions, 10 marks and kicking 3 goals (video highlights) while Fantasia had 22 touches, 6 tackles, 1 goal and was the best player for Essendon reserves. Both the Bombers and Roos had bad loses in Round 19 so expect them to feature at selection on Thursday night. Early prediction…OUT Jackson Merrett, IN Fantasia.
In his return from injury, Brant Colledge (Fwd. $141,456, 15 be AF & $119,200 DT) had 20 possessions, 6 marks and 1 tackle versus Subiaco in the WAFL. West Coast rates this kid highly and they'll want to get games into him where possible. Expect him to play this week or next.
2014 AFL Fantasy & Dreamteam Rookie of the Year
It's time to vote for this season's best rookie. Select two 'juniors' that you believe were the most valuable throughout the season. Consider scoring ability, games played, consistency, and the like.
Loading ...
Winning Lineups
We all play Fantasy and Dreamteam to win finals so I thought I'd take this opportunity to share my ideal and realistic teams heading into the business end of the season…
Both teams are very similar, in fact the only differences are Kelly in lieu of Hodge in defence for Fantasy as well as a DPP in Dal Santo at D7. Kelly is due for, dare I say it, some PIG like scores and I've got a feeling that Hodge will be rested this week or next. The Hawthorn skipper has averaged 105 from his past five. Mid/Fwd, Alex Spina is at the 'throw away' M10 position and can be switched with Zorko when needed. David Hale can comfortably score 70+ and is suited to the R3 spot given his current price and dual position status.
The Dependables
Rockliff is a must and Beams is back to his best. JPK continues to lead the Swans midfield (and the Brownlow IMO) and teammates McGlynn and Parker are winning too much ball to be ignored. Bartel is self explanatory as are Simpson and Jacobs. I'm extremely confident that Heppell, Goddard and Macrae will score heavily over the next four weeks!
Notable Omissions
David Swallow (Def) – Is under an injury cloud with a sore achilles so even if he plays, he's not 100% fit.
Nick Malceski (Def) – Can stink it up with a score in the 50's and is likely to be heavily tagged given the damage he can cause for the opposition from defence.
Michael Barlow (Mid) – Geelong, Hawthorn, Brisbane & Port isn't the best draw and after watching him closely last Thursday night, Carlton paid him no respect. I may rue this decision.
Matt Priddis (Mid) – Surely opposition teams realise that he is the backbone of the Eagles midfield and therefore must be tagged. As good as he's been this season, I can't pick him.
Kieran Jack (Fwd. Fantasy only) – I'm not feeling it from Jack at the minute. His 61 against West Coast a few weeks back burns in my brain but this decision could backfire.
David Zaharakis (Fwd. Fantasy only) – Hurt his ankle in the dying stages of the game on Friday night and won't be fully fit. It's unfortunate because the Bombers have an excellent draw.
Mitch Duncan (Fwd. Fantasy only) – I'm after consistency from my players. Duncan has scored 65, 93 and 111 from his past three. Chook lotto.
That's a wrap! What a year. I hope you have enjoyed my research and opinions. This job isn't easy but I enjoy it immensely. Good luck in the finals and I'll see you bigger and better in 2015. Peace!
Got a question? Ask me on Twitter @JeppaDT
* Massive thanks to Jeppa for his awesome contribution to DT Talk this year. You are an absolute legend! If you're heading to the Round 23 Meet-Up, be sure to buy him a beer for his brilliant pieces throughout 2014 and then another for the years before! – Roy, Calvin & Warnie