Daniel's Dilemma: In Form POD Team
Are you in need of a season changer or maybe a cutting edge? Look no further as Daniel takes a glance at the players that are taking the league by storm, but are still without a fantasy home.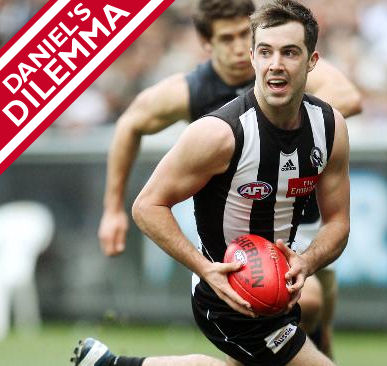 Welcome back to Daniel's Dilemma! Another week, another dilemma and the finals are finally upon us, as the best 8 teams from each league go head to head in hope of Fantasy bragging rights.
For the small minority of coaches, the weeks counting down to the end of the season seem to tick away painfully slow as the overall rankings start to take shape for one lucky participant to take home the illustrious prize.
However, there are trades to be made and games to be played as the unpredictable fantasy season aims to take another eventful turn.
By now our Fantasy teams should be well and truly completed, with only minor changes and withdrawals to be taken care of.
Though for the coaches aiming for a headline finish, this is your last chance to stake a claim into progressing further in the competition. With this in mind it is important to take with you the 'no second chances' mentality, if you are anywhere near serious enough of striving for Fantasy greatness.
So to help you in succeeding, I have created a team complete with players that are in great form and that are currently below 10% ownership.
Along with this it is recommended to read last weeks article, which summarizes some other options that you may want to consider.
Defenders
In the backline, I have selected players that have had a promising season but inconsistency has warded coaches away from the temptation of acquiring one of them.
Trading in one of these players for the injured and underperforming David Swallow or frustrating Jimmy Bartel who has averaged a mere 80.7 over the last 3 weeks, could be worth considering as the season closes.
Nick Malceski and Brodie Smith top my list of defenders that could possibly be a replacement for the above players.
With a total ownership percentage of 5.88% and 4.87% respectively while averaging 91.6 and 88.3 over the last 3 rounds also, both players could be worthy servants.
As mentioned last week, Adelaide has a highly fancied draw that could see Brodie Smith produce impressive numbers, despite his disappointing 67 this week against a difficult West Coast outfit.
Smith has a mixed bag of results against his upcoming opponents since 2012. He has never played Brisbane since his debut season in 2011, against Richmond he seemingly takes on the responsibility of playing a defensive role on Shane Edwards which has resulted him in averaging a mere 48.5 and when playing North Melbourne he averages 72.6.
However, these stats may point to you not including Smith in your side but like some players, he turns it on in front of his home crowd and has averaged an incredible 98 at the Adelaide Oval!
On the other hand, Nick Malceski has had a fantastic season with Sydney averaging 91.4, the fifth highest averaging defender this year.
Sydney may not have an easier draw than Adelaide heading into the finals, but Malceski has accumulated some exciting numbers that could have you clicking frantically at your trade button to induct him into your team.
In the next 3 weeks, Sydney plays Port Adelaide in which Malceski averages 89.6, then the Swans compete against St.Kilda at home where he averages 70.75 and lastly when playing Western Bulldogs he averages a meagre 54. This though includes an injury affected 64 in 2013 where he suffered a knock to the ribs in the first quarter.
Like Smith, Malceski shares a particular interest in playing at home throughout the season.  In his last 5 games Malceski has averaged 91.6 but in the 3 games he has played at home during that period he has averaged 104.3!
This has resulted in a pattern that he obtains a score over 100 every second week. Luckily, he plays St.Kilda at the SCG in Round 21 meaning that selecting him could prove extremely handy.
Midfielders
Moving into the centre of the ground, we have a wealth of options at our disposal to consider as suspensions and poor form have coaches rallying to find a suitable replacement.
At the moment, nobody comes under that category better than Steele Sidebottom who has been an absolute ball magnet in the midfield for Collingwood this year.
Sidebottom has been performing in the shadows of Pendlebury, Swan and Beams but has risen to the fore and captured the selection of only 2% of coaches despite his great form.
Needless to say he racked up the biggest score last round of 142, Sidebottom finds himself in a comfortable position as the season closes as I mentioned last week in the 'Run Home'.
However, Sidebottom hasn't been the only impressive midfielder that has gone well and truly under the radar.
Matt Priddis has been sensational this season.
The West Coast midfielders' work ethic and consistency has been overlooked by many coaches, despite the discussion he has sparked in the DT Talk community.
It seems that picking Priddis is perceived as being brave, though his average of 108.1 this season and 110 over the past 3 weeks should be enough for coaches to finally jump on board and safely sail the rest of the season in awe of his talents.
In the next 3 games that Priddis plays he averages 103.8 against Collingwood, 99.6 when playing Melbourne and 104 against Gold Coast. His averages are even consistent!
Rucks
Picking ruckmen this year has been harder than resisting the urge to mute the TV when Brian Taylor has been commentating.
Luckily, Stefan Martin and Sam Jacobs have provided us with form and consistency in the ruck department. Though, because of the limited amount of options, it makes for finding a unique duo even harder.
Fortunately, there have been some ruckmen performing admirably lately that deserve your attention.
Todd Goldstein tops the charts as a ruckmen that fits perfectly into that category. Over the last 3 weeks, Goldstein has averaged a remarkable 110 points, however this good form seems likely to slow down.
North Melbourne comes across GWS next week and Goldstein will go toe to toe with Shane Mumford.  Goldstein only averages 71.3 against the Giants and he may be lost at sea when they travel to StarTrack Oval this week.
North Melbourne then plays Western Bulldogs where Goldstein will be pitted up against another in form ruckman: Will Minson.
Interestingly though, Goldstein averages 92.75 when playing Western Bulldogs so the reward could be there if anyone is brave enough to go out on a limb.
To end the 3 week bracket, North Melbourne plays Adelaide at Blundstone Area, a ground where Goldstein averages 91. The task of competing against Jacobs in the ruck may be too much to ask, but the price of fantasy gold is never cheap.
Patrick Ryder could also be an option alongside Goldstein. With an easy draw and a great average over the last 3 weeks, Ryder could certainly fit into your team though is he really worth the risk?
Forwards
To conclude the article, I will summarise the main option that you should consider as a valuable acquisition into your team as the season ends.
Ben McGlynn has an ownership percentage of only 4.0% of coaches in the competition, yet has averaged 101.9 this season and 118.6 in the last 3 weeks!
He has been in superb form this season and has been ignored as an option in the forward line with many coaches opting to go for Dangerfield, Riewoldt, Martin etc. as their main points supply in the front line.
McGlynn likes to find his points in the form of tackling, where he is ranked 6th best in the competition to date.
McGlynn isn't notorious for his goal kicking prowess though his ability to find the ball around the ground is a good strength.
Four consecutive tons rounds off an impressive month of footy and his rich vein in form isn't likely to drop off.
As previously mentioned, Sydney plays Port Adelaide, St.Kilda and Western Bulldogs. Since 2012, McGlynn has only averaged 46 against the Power recording poor scores of 46 and 44. However against St.Kilda, he has averaged 87.75. When playing Western Bulldogs, McGlynn has averaged 83.
The history may not justify McGlynn's good form, but the past may not gift us an accurate guide to whether McGlynn can keep up his string of top notch performances.
In this case, his previous history should be ignored as his current purple patch of form is too hard to ignore.
Finally we can see an end to the uncertainties of the season that was and now look forward to the most anxious but exciting part of the year. I wish the best of luck to the coaches that have stuck by their selections and taken on advice from not only my own work, but from the work of the other writers that contribute to this website. Hopefully we can sit back and relax, ready to watch another week of fantasy football unfold.