The Friday Scramble: Round 19
The last week before we hit the finals! Make sure your team is tip top and squeaky clean ready for the finals. Jump on in and let's see if we can get you through and up the top of your ladder.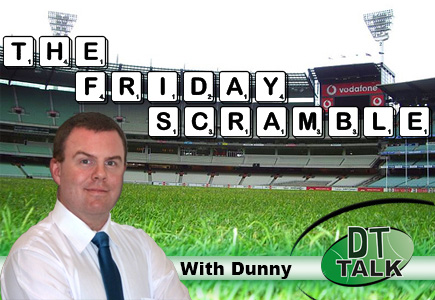 The last minor round!  Are you in contention?  Are you safely tucked away in the top 4 and just waiting for next week?  Well this week is the week to make sure everything is squared away ready for the finals.  Don't expect the massive scores of last week to be repeated, but jeez it would help if it was my players getting those scores!
We have already had one game this week so maybe you took advantage of the VC loophole this week?  We will have a little look at that and anything else of interest from last night.
Don't forget that your trades in RealDreamteam and Supercoach are NOT reversible today.  Once you trade in those two games today, they will stick!
Loophole!
So did you have a go last night.  Here were the ones that I thought of that you may have used.
Barlow 124
Simpson 112
Fyfe 105
Murphy 87
Gibbs 89
This is very awkward tonight if you do own Barlow.  I think he is the only score that you are considering taking.  If you have Rockliff then I say trust our newest Fantasy Pig.  If you don't have him then I think you have to go with Barlow's score.  To be honest this is probably one of the toughest calls though if you don't have Rocky.  Do you trust Danger who is playing banged up, or do you trust Joel Selwood or Stevie J v the Kangaroos who don't tag?  I would be in a quandary over this one.  I have Rocky in RDT and will be backing him in.  But in AFL Fantasy I don't, so I think I will be taking Barlow.  Greed simply can't be afforded when you are fighting for finals positions.
Loading ...
So if you aren't happy with the score you got then you should be looking at locking in another captain this week.  I am sure that many of you would be looking towards our new Fantasy Pig Rocky!  I would bet that this is who Roy has the big C on this week.  Other options as I mentioned above would be Danger v West Coast or Stevie J v North Melbourne who don't generally tag guys.  But why listen to me.  Check out this week's Calvin's Captains to see who he thinks is the right one to pick.
Selection Table
A few things happened this week for us to have a look at.  We found out that Michael Hibberd is now out for 3 weeks.  This puts him on the must trade out list.  We can't afford to have someone worth that much sitting on the bench.  By the time he comes back for the DT Prelim final you may have already been bundled out of the competition!  Sandilands is back after a couple of weeks rest.  I hope that he rewards those of us that have kept him.  I am confident that he will.  Tom Langdon has been left out of the Collingwood side.  This may be the last we see of him for a while.  Interesting to see Shaun Higgins back in the Doggies line up.  Hopefully he can stay there.  Dean Cox didn't pull up after his Vickery whack so that means that Nic Naitanui will be rucking essentially alone (well he will have Lycett) as backup.  Billy Hartung finds himself back in the Hawks Squad, but I can't see him making the final team.
Who should I pick up?
When you are looking towards the end of the year and who you should be selecting in your team from here you need to have a good look at who has the easiest run and will be most likely to maximise your points.  You should make sure you have a read of this weeks edition of Daniel's Dilemma where he had a look at this exact issue.  Without stealing too much of Daniel's thunder it is Adelaide that I would be looking at players from.  Adelaide have arguably the easiest run home of all teams.  They play Brisbane, West Coast and St Kilda who are the teams that have been scored against most heavily.  Check out the article and have a look at which other teams you should be looking at players from.
#AskDunny
https://twitter.com/BuggsBunnyfacio/statuses/494284625049436161
I am sure there has been a fair bit of interest in Nick Riewoldt this week after he pulled out a big score last week of 164.  But if you have a look back before that his previous 4 scores were 72, 64, 97 and 89.  His average is 90.5 but his previous 100 was in round 5.  So yes he would probably be a point of difference but if you were going to pick him up it would only be for this week vs Gold Coast.  After that he has Dogs, Sydney, Richmond and Adelaide.
@pkd73 @DTTALK buddy or Riewoldt?

— Adelaide Crows (@AFL_Mad) July 29, 2014
Hmm… Nick Riewoldt seems popular this week.  However, given this choice I would be taking Buddy Franklin.  He simply has greater consistency and the fact that he is playing in a much better team means that the ball will get to him more often!  Simple really.  So yes, Buddy is the way to go here.
@pkd73 is it too late to bring in Sam Mitchell after his 97 last week? #AskDunny

— Tim Wilson (@tjwilso) July 31, 2014
Good question.  Many thought that he would rocket up in price last week, however in AFL Fantasy he actually dipped a little still.  In RDT he only rose a touch.  So this means that he is still very affordable in both competitions.  He is $439,269 in AFL Fantasy and $428,500 in RDT.  Given that he is available in the backlines and is averaging 90.44 I still think he is a must have in your defence, he is the 8th highest average, but you can discount Tom Logan who has played just the two games.  So really 7th.  His Mid eligibility also gives you plenty of options.  So given he is at Aurora this week I am expecting a 100+ score from him so he should be going up in price given his BE of 54.
Things to Remember
Trades Stick – As I mentioned earlier, trades will stick today so be careful with them!!
No Guts No Glory – If you are fighting for a spot in your final 8, don't leave anything in the tank this week, go all out.  You need a win!!
Rocky Rocky Rocky – If you don't have him then you could be in a bit of trouble.  I think he will go nuts after receiving his Pig Status this week from Calvin
Planning – Make sure you are planning ahead for the finals and make sure that any moves you make have an eye on the future.
Go for it!  Get your team sorted and make sure that you are on board for the finals.  Hopefully you are in the top 4, if not, don't despair, unlike real footy it is certainly possible to win the flag from outside the 4!!  Also now that we have the round 23 fixture sorted out you can come along to the Richmond Hotel at 100 Swan St and either sit with me and watch the Power v Dockers or sit with Warnie and Roy and watch the Bombers v Blues as we have a few beers!  Hit the facebook page and RSVP to the event.  Until next week and Finals Fever have a great weekend and may all your players ton up!