Jeppa's Juniors – Round 18
Jeppa's back and primed to give us more rookie analysis. As usual, all the relevant 'juniors' are covered as well as Jeppa's own trade strategy on the eve of this season defining round. With finals around the corner, this is a must read!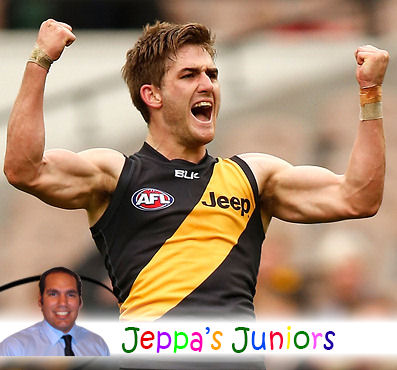 Is it me or has this season flown by? We have Round 19 on our doorstep and Fantasy finals are just a week away! At this point, we should all be relatively satisfied with our starting 18 but in doing so, some may be a little thin in the reserves stakes. Let me remind you how bad a late out can sting especially in finals so please make it your priority to have all positions covered. It's a no brainer.
Those coaches desperate for cheap, adequate back up…you're in luck! A couple of rookie priced players have come from nowhere and performed extremely well in Round 18. Take note below…
Three-Or-More Gamers
WORTHY ROOKIE RESERVES
Other than Stefan Martin (Ruc/Fwd. $474,154, 54 be AF & $481,100, 50 be DT), no other 2014 rookie should be starting on your field. Furthermore, there are only a handful of 'juniors' that I'd consider decent bench options…
Defenders:
Kade Kolodjashnij (Def. $337,780, 62 be AF. $331,600, 56 be DT) – Yes, he's injured but the kid can play. 'KK' is currently 4th favourite for the Rising Star and has averaged 18 possessions, 5 marks, 2 tackles and 71 Fantasy points this season.
Maverick Weller (Def. $340,591, 66 be AF. $344,900, 72 be DT) – Has cemented a spot in the Saints 22 and is in decent form playing through the midfield. Should score above 70 each week.
Midfielders:
Dom Tyson (Mid. $433,902, 66 be AF. $427,500, 55 be DT) – A select few may still have one of the most improved players in the AFL. Tyson scored 130 in Round 18, which is obviously handy as an M9.
Anthony Miles (Mid. $447,168, 83 be AF & $439,200, 79 be DT) – Gun. Miles hasn't taken a backwards step since getting an opportunity in Round 12. Sleep easy if you have him as your back up mid.
Rucks:
Cameron Wood (Ruc. $283,986, 26 be AF & $163,500 DT) – See below.
Ben Brown (Ruc/Fwd. $174,323, 1 be AF & $161,600, -33 be DT) – Handy DPP switch with Stefan Martin. Brown should return to the Roos senior line up this week.
Forwards:
Zac Merrett(Fwd. $333,350, 47 be AF. $342,200, 45 be DT) – Took a while to get going this season but there is no doubting his class. He's more than capable of scoring 90+ and has averaged 85 from his past three matches.
Lewis Taylor(Fwd/Mid. $366,868, 84 be AF. $367,300, 101 be DT) – Has been in great form over the past month and he continues to play a big on-field role. Should average above 70.
Two Gamers
There's not much to cheer about from the two gamers at the minute. Luke Thompson (Def. $156,144, 5 be AF & $119,200, -29 be DT) is probably the best option but he's one bad game away from being dropped with Ben Rutten playing well in the SANFL. If you can afford to throw away your D8 position then you could trade in Thompson since he is the cheapest defender currently playing. 
Luke Tapscott (Fwd. $235,735, 49 be AF & $258,800, 64 be DT) returned to AFL ranks in Round 18 but didn't produce a four-quarter effort. Tapscott was great in patches and hard at the opposition but he just doesn't find enough of the ball. A career Fantasy average of 50 is enough to suggest that he should be avoided.
Dean Towers (Fwd/Mid. $163,587, 36 be AF & $119,200, 12 be DT) can play, he's just not getting the opportunities he would likely get if he was at another club. In the blockbuster against the Hawks last Saturday night, Towers scored a very impressive 30 Fantasy points in just a quarter of footy and he did not look out of place at any moment. Given Towers job security issues, I wouldn't trade him in.
One Gamers
In wet and rainy conditions, utility Jack Crisp (Mid. $211,989, -2 be AF & $238,400 DT) was in the thick of the action against the Suns. Playing between half forward and a wing, he had 12 kicks, 8 handballs, 3 marks, 7 tackles, 1 goal, 97 Fantasy points and most importantly, was one of the Lions best on the night. Looking ahead, Crisp will continue to play a role for Brisbane but don't expect scores in the 90's every week, I suspect he'll average close to 72. Don't hesitate picking him up in Fantasy this week!
Cameron Wood (Ruc. $283,986, 26 be AF & $163,500 DT) is the last player I expected to make an impression at this stage of the season. After being thrown a lifeline by Carlton in last year's draft, Wood has been fantastic in the VFL all year and he held his own against Todd Goldstein in Round 18. He finished with 10 possessions, 7 marks, 3 tackles, 26 hitouts, 1 goal, 94 Fantasy points and impressed me that much that I would back him in as an R3 for Dreamteam. Unfortunately, Wood is too expensive in Fantasy for my liking.
Notable mentions to Sam Blease, 52 (Fwd. $169,511, 19 be AF & $173,700 DT), Louis Herbert, 33 (Fwd. $112,551, 14 be AF & $124,500 DT) and Alex Woodward, 8 (Mid. $102,020, 30 be AF & $119,200 DT). I cant see these three making worthy contributions in the final rounds of the season so stay away.
Keep Your Eye On
Don't be surprised if Fremantle rookie Jacob Ballard (Mid. $115,200, 39 be AF & $98,500 DT) gets a gig this Thursday night. The big bodied midfielder has been flying for Peel in the WAFL over the past month and after Freo's poor performance against the Saints, Ross the Boss is likely to swing the axe. Ballard isn't blessed with a whole lot of skill but he's a tackling machine and pretty handy at the clearances. Plays similar to Matty Boyd.
Liam McBean (Fwd. $154,300, 52 be AF & $119,200 DT) is Richmond's likely replacement for Ty Vickery. The tall forward has kicked 11 goals from his last three VFL games and can pinch hit in the ruck when required. McBean wont be a huge scorer but you never know.
The previously mentioned Trent Dumont (Mid. $184,300, 63 be AF & $112,800 DT), Orazio Fantasia (Fwd. $135,500, 46 be AF & $112,800 DT) and Jared Jansen (Mid. $168,000, 47 be AF & $112,800 DT) have all continued their good VFL form and one could debut this week. Of the three, I like Jansen the most…he's a hard working inside midfielder that would compliment Geelong's best side so watch this space.
Jeppa's Trade Strategy
FANTASY
Round 18 Score – 2,387
Remaining Salary – $7,760
Planned Trades – I brought in Dal Santo a couple of weeks ago with the plan to eventually use him as a back up defender. Thus, the obvious choice is to trade Weller up to a midfielder, switching Nicky Dal to my D7 position. To maximum funds, I can rite off the M10 spot and trade Hallahan down to Alex Woodward giving me a total spend of $537,833. I'm short of JPK and Barlow hence why I'll opt for a well-rested Brent Harvey.
Pro's – Dal Santo is a handy defender back up and my forward line will be much stronger with Harvey in it.
Con's – I miss out on Sam Mitchell but he'll still be relatively cheap next week.
DREAMTEAM
Round 18 Score – 2,238
Remaining Salary – $164,400
Trades Left – 2
Planned Trades – None. Two trades are a must the week before DT finals!
Pro's – Having trades allows me to cover possible injuries, suspensions, etc. There is nothing worse than playing a man down in finals.
Con's – Trading in Rockliff is my priority and he'll likely go up by $40,000 this week but it's all about the bigger picture.
What trades would you make?
Got a question? Leave a reply or ask me on Twitter @JeppaDT