The Friday Scramble: Round 18 Part 2
Second half of the split round is here and with only 4 games there isn't a great deal to scramble for except for any VC loop holing action you might have tried. But like me you may have a heap of your players yet to come this week.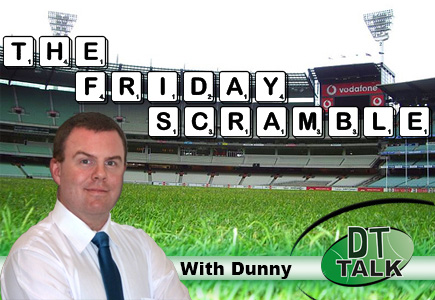 Well after that allegedly boring first weekend of 5 games we find the second week.  No longer will people look at a weekend like that and suggest that it will all be too easy and boring.  Anyway, the main thing that we all care about is the amount of points our guys earnt!
Did you try and LoopHole anyone?  There were some great options for your VC loophole and some that probably didn't quite pay off for you, but we will have a look at them shortly.
There are also some very important things to remember for this week in regards to trading etc also.  But all in all not much to talk about this week with only 4 games left in the round.  However, there are a lot of DT teams out there that have a lot of players left to go this weekend.
Anyway, enough dribble from me, let's have a look at this weekend's DT.
Did you Loophole?
Now our old mate Calvin has had an inordinate amount of queries about his patented Loop Hole.  His overriding piece of advice is that if you don't understand how it works don't try and use it.  But anyway, I will try and summarise a few things here for you and look at those guys that you would have picked.
If you have a good VC score and you want to use it then the most important things you need to consider are….
Make sure that you have a Non Playing Player that has NOT played yet that you can move onto your field;
If you have that Non Playing Player on the field make sure you have your regular field player on the bench with the Emergency on him.
Emergecny Warning…..   If you have decided to loophole and let's say your only non playing player is in the midfield.  You move him onto the field but you ALREADY had the E on say Cameron Shenton on the bench.  If you move someone like Pendles to the bench and put the E on them, you will then have two players with the E on the bench.  If this is the case then you get the LOWER of the two scores of your two E's on the one line.  Hopefully you haven't got an E on that line you are planning to use.
Who did you pick?
Take these scores….
 Nick Riewoldt – 164.  I am sure that if you still have Nick in your team that you wouldn't have VC'd him with the thought of McPharlin on him.  Anyway, well done if you did.
Stevie Johnson – 145.  Now this is a realistic situation.  He was a popular choice and didn't let us down that is for sure.  Well done on picking him.
Joel Selwood – 140.  Joel has hit a bit of form of late, and beat up on the young Giants.  Lock that score in.
Jake Carlisle – 165.  After last week I can see why you may take a flier on Jake for the VC.  A ballsy move but a good one.  Lock it in as he may not score this many points for the rest of the year combined.
Jack Macrae – 129.  Another great effort from this young fella after he was berated by the coach a few weeks ago.  I wouldn't be surprised if a few of you had him VC'd as a unique.
Dom Tyson – 130.  Not in many teams anymore and I seriously doubt you were on him as a VC.  You would have more likely used him as an Emergency loophole.
Kade Simpson -120.  Did you really VC Kade?  You must be related to him.  Anyway, if you did then yes 120 is enough.
Jarrad Waite – 135.  Now you are just taking the p155.  If you even have him in your team you must be his best mate or related to him.  Plus you must have known that he would come in as a late inclusion!   Nonetheless.  Yes take the score.
Rhys Stanley – 135.  See Jarrad Waite minus the late inclusion part.
Wow there were some great scores there.  I only had 3 of those guys and didn't have VC anywhere near any of them!
Forget about it with these guys and find a new captain….
Nathan Fyfe – 99.  Disappointing was the theme of the day for the Dockers.  Fyfe simply joined in.
Michael Barlow – 97.  This is where my VC sat and it goes without saying I am looking at a new captain this week.
Brent Harvey – 89.  He has had a great year and I thought he could go big against the Blues.  Clearly I was wrong.
Marc Murphy – 88.  North don't tend to tag and I thought Murph may have a good game accumulating in the midfield, but he just couldn't get the points even though they won.
Brendon Goddard – 62.  Yuk!  A horrible score from Brendon.  I had him pegged for about 120 last week.
So there should be plenty of you making use of the Captain Loophole this week as there would have been plenty of guys on the two Cats Joel and Stevie.  Well done and just make sure before you go and move things around that you are in a position to do so safely.  Make sure your read Calvin's Article this week for his best advice for a captain from this week's games.  My picks would be Tom Rockliff and Josh P Kennedy.
Lockouts and Reversible Trades.
As we discussed last week there are different lockouts for this round.  However in summary now that we are in the second weekend things are effectively as per normal.  AFL Fantasy and Real Dreamteam both have full and final lockouts at the start of Friday Night's game.  Supercoach continues its rolling lockout as per normal.  Remember that Friday Lockout and final subs will be a bit later as the game is in Perth.  So lockout will be around 8:30pm EST with subs at 7pm EST.
Reversible trades are a NO GO in both Supercoach and Real Dreamteam this week.  However I am advised that as long as your trade in AFL Fantasy didn't include someone that has already played that you can reverse those trades still this week.
Trades
Remember also that if you traded last week, those trades count for this week too.  It wasn't two per week, it is two per round and since this is part of the same round, then you don't get any more trades to use no matter how bad your team is and how many trades you need to fix it!
 Things To Remember
Only 4 Games, but you still need to check your teams for any changes you may need to make.
See info on Lockouts and Trades above.
Only 2 weeks (1 and a half rounds really) before DT Finals start, so if you aren't in the top 8 then no point saving your run anymore, you may need to start taking some risks.
If you plan to come to the DTTalk CatchUp in R23 jump on Facebook and RSVP so Warnie knows how many people are coming along.
So a short one from me today, hope your team had a cracking start to the round and you are on your way to glory already this week.  I'll be back again next week with a look at the full round of games before the DT Finals start up, hard to believe we are nearly there again this season.  Catch you all soon!