Thanks Maxy!
A big DT Talk shoutout to Nick Maxwell who is retiring from AFL. He has been so good to us and he loves his AFL Fantasy. Quality bloke… and don't forget he's a Premiership captain and All-Australian.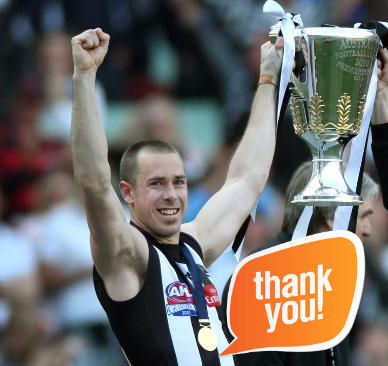 It's not a popular opinion for a lot of people… whether it's because he's from Collingwood, he's just a battler or for some here, not a Fantasy star… but we love Nick Maxwell and wish him all the best in retirement.
Maxy has been great to us here at DT Talk. He's appeared on our show a few times (see below), in person and on the phone, gave up his time to help us shoot the pilot to The Fan Show and gained us changeroom access, got Swanny along for a pre-season video this year and set him up with our stubby holders a couple of years ago. Maxy has also done a lot of admirable things behind the scenes for us. Given some of our special school students gifts from the club, sent messages of support for our football teams we've coaches, taken our students on guided tours of the Westpac Centre… the list goes on.
Huge thanks from us at DT Talk for everything you've done for us, Maxy. Legend!