Daniel's Dilemma: Swan to seek pastures new?
In Daniel's Dilemma this week, it's another DT god that faces the chopping block as Daniel delivers some fascinating stats and tips in replacing the Pies superstar midfielder. A must read for all concerning!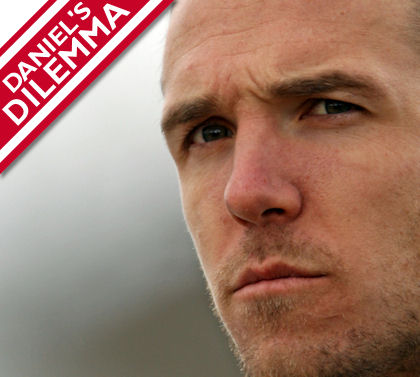 Welcome back to Daniel's Dilemma! Another week, another dilemma and it's the DT pig, Dane Swan who is on the chopping block for 43,330 coaches this week as he scored a pathetic 57. This is lowest he has ever recorded in an AFL season fixture since Round 16, 2007 against Essendon where he scored 52.
This week saw some huge scores, with these big numbers produced from none other than Jake Carlisle, who scored a mammoth 163 points as Essendon blew away the Pies by 64 points. This effort though, was topped by young Jack Macrae who was a revelation for Fantasy teams at the beginning of the year. Macrae recorded a whopping 168, 4 points shy of Rockliff's 172, the biggest score of the year so far! Macrae may not be subject to many teams at present, but the Western Bulldogs midfielder is a star for the future.
In other news from the previous weekend, Richmond shocked the AFL community by toppling Port Adelaide at Etihad Stadium by 20 points. This adds further concern for Port, as they continue their losing streak after a blistering start to the season.
Richmond's win though is not the only shock of the round: Dane Swan's measly score has coaches rallying to trade the star out ahead of Round 18.
After surgery on both his wrists throughout pre-season and rumours that Swan would spend more time in the forward line, it was inevitable that he would start the season off slowly.
Unfortunately, coaches were made to wait a month before Swan started to deliver some decent scores that had us keeping the faith. However, this run didn't last long before the inconsistency gradually grew back to the point that had us pressing the trade button.
Some of us coaches kept him throughout this time, though Swan can now find himself back on the market after a disappointing 57 against Essendon this week.
Combo of heel + wrist injuries & lack of mid-sized fwd option without Jamie Elliott factors behind D.Swan playing 63% fwd yday. 2014 avg 33%

— Mitch Cleary (@cleary_mitch) July 14, 2014
Pies say Dane Swan sore with not only heel but also foot soreness. Only hopeful he plays against Adelaide post-bye. A banged-up super star

— Jon Ralph (@RalphyHeraldSun) July 15, 2014
In the last 5 games, Swan has averaged 87.2 and his price has dropped $153,660 since the start of the season.
Swan is now priced at $482,950 and you may have a lazy $148,131 to upgrade to Rockliff if unowned, which at first glance seems the obvious choice, but I can assure the obvious choice may not be the recommended one in this case.
Loading ...
We all know Rockliff is in tremendous form and is an easy captain choice week in week out, though he is not becoming anymore unique as he has nearly $40,000 owners to date. In this article, I will make known the other targets that you may want to acquire instead of Rockliff and will bring forth some interesting stats that will keep you guessing all the way to lockout about your Swan replacement.
The top 5 highest averaging midfield players so far this season are Tom Rockliff ($631,081), Gary Ablett ($613,638), Steve Johnson ($511,812), Josh P. Kennedy ($569,702) and Scott Pendlebury ($563,564). Only some of these mentioned though, are a real bang for your buck and could have you staking a late claim for a finals spot or a place in the top 1,000.
Beat the heat with Kennedy
Why should we get him in?
Josh Kennedy has been brilliant this season playing as an inside midfielder for the Swans. He picks up countless '+3' around stoppages and is best known for his high amount of clearances.
He has been in great form as of late, averaging 120.67 points over the last 3 rounds. Kennedy has also averaged 30.2 disposals this year and was arguably best on ground against Carlton last weekend.
In the next 3 games, Kennedy plays his favourite 2 teams in Hawthorn and Essendon.
Since 2012, Kennedy has averaged 118.5 points against Hawthorn and 117.3 against the Bombers. To complete the 3 week bracket, Kennedy plays Port Adelaide where he only averages 93.3.
If you decide to bring in Kennedy for Swan, which seems to be a popular choice, it would set you back $86,752.
Buyer Beware!
In his last 13 games, Kennedy has dropped under triple figures only twice. This is a result of Kennedy's poor form in matches that are played throughout the day.
Interestingly, Kennedy has only averaged 98.4 during the day. To put this in perspective, when playing afternoon footy, Kennedy plays at a standard similar to Lenny Hayes which may not be disastrous but it' important to select the best possible replacement for Swan.
Luckily, Kennedy only plays twice during the day in the last six rounds of the year. Sydney plays St.Kilda in Round 21 at 1:45pm (SCG) and in Round 22 play Western Bulldogs at 3:20pm (Etihad Stadium).
Verdict: Must be number 1 on your list behind Rockliff. Outstanding form and seems unstoppable.
Click here for Josh P Kennedy's profile on DT Live.
Steamrolling Johnson
Why should we get him in?
Steve Johnson is one of the best midfielders in the competition. Known for his trickery and touch of brilliance, he becomes almost a must in Fantasy terms every year.
So far this season, Johnson has averaged 15.4 kicks and 27.3 disposals. If you still don't own Johnson he should be seriously considered as a replacement for Swan.
After a great start to the season which included a massive 169 versus West Coast, Johnson's momentum was brought to a halt after a stubborn Crowley tag in Round 9. As a result, Johnson was involved in many off the ball incidents that landed the Cats man in trouble with the tribunal. He served a one week ban and for 5 weeks after, seemed to be terribly inconsistent.
As of late, we have seen Johnson return to career best footy, recording back to back 130's against Melbourne and Western Bulldogs.
This shouldn't be overlooked as generally when Johnson begins to pick up form, he produces big scores week after week until confronted by a tough tag.
In the last 3 seasons, with 4 games remaining, Johnson has averaged over 105. This was especially the case last year when he averaged 117 heading into finals time. This suggests Stevie J likes to turn it on when the stakes become higher.
Buyer Beware!
In Geelong's next 3 games they come up against GWS, North Melbourne and Fremantle. Since 2012 against all of the above mentioned opposition Johnson has struggled to score well bar GWS.
Johnson has averaged 125.1 against Western Sydney, but has only played them twice. His biggest score was a huge 151 in 2012 where he recorded 25 disposals and 5 goals in a day out for the Cats.
When playing North Melbourne Johnson has averaged 86.0, scoring 112 and 60 against them since 2012. The alarm bells may be ringing for this statistic, but North Melbourne managed to defeat Geelong by 17 the day Johnson scored a measly 60 against the Kangaroos.
Johnson seems to have the most trouble playing against Fremantle, mainly because of the attention he attracts from Crowley. In two games Johnson has played against Fremantle since 2012, he scored 68 and 56.
Another reason to be careful about selecting Johnson is that he tends to start games very slowly and this can be proven by his scores of 96 and 77 in his last 5 games.
Verdict: We all know what Johnson can do on his day, whether he can consistently produce this coming into the end of the year is unknown. Purchase with risk and be careful when Geelong come up against Fremantle in Round 20. His end of year form though is too hard to ignore.
 Click here for Steve Johnson's profile on DT Live.
Breaking Barlow
Why should we get him in?
Michael Barlow started the season like a house on fire, complete with huge scores and tantalising midfield displays. Unfortunately for owners, Barlow toppled to injury in Round 3 sidelining him for a number of weeks.
It took Barlow 3 weeks after injury to return to some decent form notching up 4 consecutive tons, placing him firmly on many watch list's around the Fantasy community.
At $553,675 and 19.68% ownership Barlow is still definitely worth picking up.
Recently, he has averaged 106.33 in his last 3 games and seems to be a guarantee in the midfield of some coaches' teams.
Buyer Beware!
However, some below par scores has coaches questioning whether Barlow is the real deal and does this have an affect on whether he should replace Swan in our Fantasy teams?
After digging around and trying to comprehend why Barlow hasn't been as consistent as we first thought I've crunched some numbers and came up with the predicament.
Barlow loves to play in Melbourne. In the 3 games that he has played in Victoria, he has average a whopping 123.5 compared to the 87.28 points that he averages at Paterson Stadium.
He has played 7 games at home and has recorded some big numbers, but overall has been less than convincing otherwise.
In his last six games, Barlow plays at Paterson Stadium 3 times, once in Melbourne, once at the Gabba and once at Simmons Stadium.
In his next 3 games, Barlow comes across St.Kilda, Carlton and Geelong.
Since 2012, Barlow has played 3 games against St.Kilda and has averaged 92. This match is at Etihad Stadium also, so get him in and enjoy the ride!
Against Carlton, he has played 2 games and has averaged an eye catching 105.5 and finally when playing Geelong, he has played 3 games averaging 92.3.
Verdict: Barlow is a hard case to crack as his knee injury has affected most of his output this season. His average of 106.33 suggests that he cam finish the season strong, but dodgy scores at home keep me reluctant. Keep an eye on him as he should go big this week!
Click here for Michael Barlow's profile on DT Live.
Special Mentions
Trent Cotchin ($540,630): In Cotchin's last 10 games he has only dropped under the magical 100 mark 3 times and has seemingly shook of the early season criticism that coaches were handing him due to his inconsistency. In those 10 games he recorded a season high 138 and has West Coast, GWS and Essendon up next. Since 2012, he has averaged a whopping 114.6 against the Bombers. (DT LIVE PROFILE)
Matt Priddis ($558,225): Bar a disappointing 83 last weekend, Priddis went an amazing 7 games consecutively without dropping below 100. He has gone beneath the radar totally this year with only 5.98% ownership. In total he has averaged 106.19 this year and could be a huge smokey for your side! West Coast has Richmond, Adelaide and Collingwood approaching. Since 2012, Priddis has averaged 94.5 against Richmond, 102.6 against Adelaide and 103.8 versus Collingwood! (DT LIVE PROFILE)
It is important to weigh up your options and do your own little bit of research when looking for a replacement for any player who has either been inured or out of from. Make sure you have competent reasons why you're getting rid of a certain player before doing so, as rage trading or any other form of trading without thinking can prove detrimental to your team!
For readers that are more the visual type, I have included a graph to compare the above mentioned players to each other. Please feel free to add data and share with other readers any interesting facts.
Loading ...
Interesting Fact: When Geelong play Fremantle at Perth and Johnson becomes tagged by Crowley, Joel Selwood averages an incredible 126 in the last two games this situation has occurred.
ROY'S TRADE TALK – ROUND 18: Click here to read his article on AFL.com.au.