The Weekend Wash-Up
If this is any sign of what life without Gary will be like, I quit for the rest of the season. That may happen anyway, but that's an entirely different story. Not only will we pushing through the events of the weekend, we will learn a good lesson in team management.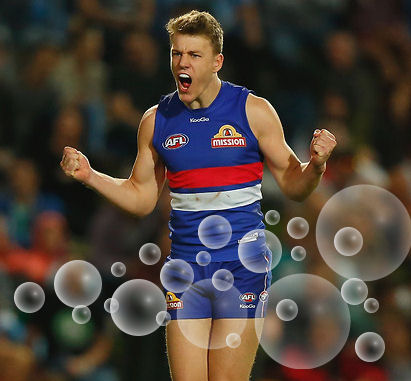 If this is any sign of what life without Gary will be like, I quit for the rest of the season. That may happen anyway, but that's an entirely different story. Not only will we pushing through the events of the weekend, we will learn a good lesson in team management. It's time to take a look at the weekend wash-up.
The Legends
Johnson (130) – He's back alright, one of the weekends few highlights. VERDICT: No questions asked, get him in. He's too dangerous.
McVeigh (124) – After being nothing but consistent all season, he's starting to repay us the big scores we expected. Pity we all have him! VERDICT: Done his job.
Dangerfield (132) – Let's be honest here, this was more than owed. However it's the exact reason why it was risky to trade him out, he's just too good! VERDICT: Could make or break finals campaigns. I say persist.
Armitage (153) – Regardless of his irrelevance, his 112 point second half deserves a mention. Huge!
Goldstein (130) – Fantastic effort from the big man, if only he could put together some consistency. Jacobs and Mumford still my 2 picks. We all now how Todd has fared during final series before. VERDICT: I'd avoid.
Wright (115) – I'm almost certain he will average 50-60 for the rest of the season, but on the back of 79 and 115 his price is in for a massive increase. VERDICT: Possible cash grab.
Macrae (168) – I hope I'm not the only one frothing at the mouth thinking of this guys future. He put McCarthy in his place after being told he was hunting too much footy, so he just went and put up 40+. Can't argue with that. Take a moment to consider the fact he's averaging 106 for the season, including that vest last week. Why did we trade him again? Hats off to those who held. VERDICT: Superstar.
Kennedy (130) – JPK was clearly the best option to replace Ablett, and he proved that in a dominant display. Sometimes there's a reason why there is an obvious choice. VERDICT: Pure class, must have for the finals in my opinion.
Jack (119) – I won't go overboard after last weeks horror show, but this was the perfect way to bounce back. He's affordable now, although the forward line may not be the most pressing issue for most. VERDICT: Will be a great POD for the next few weeks, but it won't last.
Martin (113) – I'm not often speechless in dream team, but I cannot believe what he is doing. It's remarkable, and far beyond what anyone could have expected. He's pumping out uber premo scores! By far the best ruck selection at the moment, I never thought I'd see the day where I said that about Stefan Martin. VERDICT: This year's golden stubby winner all voting is off!
Stanton (150) – When things are going well for the Dons Stanton seems unstoppable. Unfortunately this doesn't seem to happen enough to trust him, he could become a great POD for the finals with the Dons in some cracking form. VERDICT: Consider, he comes at basement price. Just remember he also comes with the name Brent Stanton.
Carslise (163) – Finally I have to pump up "Buckets" (I have no idea what that's meant to mean) for his monster performance. He's not relevant, but 19 clunks and 26 disposals for a key forward deserves a mention!
The Losers
Swan (57) – It's a dark day for the most loyal Dream teamers. It's time to say goodbye to a champion. His 2012 season will never be forgotten, I'm not sure we'll ever see anything like it ever again. Just for those who have forgotten, Swanny averaged 133.6 for a season. A SEASON! This included a whopping six games with 40+ disposals. He only played 18. His only score under the ton was when he got substituted at 3 quarter time injured (He was on 95). This included five 160+ scores, and his average for the last 5 rounds was 150. I could go on forever, Viva la Pig! VERDICT: The time has come to part ways, it's been a great ride.
Duncan (65) – Back to earth with a thud, what was Mitch doing! If it wasn't for his second quarter revival, things could have been a lot uglier. One would have been forgiven for thinking he was the sub the way things were going! VERDICT: He was never going to be consistent, borderline top 6 forward. I said not to chase him!
Shenton (27) – This was the DT gods taking the liberty to piss on us without the courtesy to call it rain. He would have been covering for a lot of Rockliff owners, and his vested score was not appreciated in the slightest. If this was meant to be a joke, it wasn't funny. VERDICT: There's not much to choose from in his price bracket, hopefully a decent junior comes along soon!
Bennell (55) – Not ideal, Harley. Getting him was always risky, and unfortunately it didn't pay off this week. However I do see the merit in getting him, he is capable of some huge scores and he could win you a crucial league match. VERDICT: if you have gambled on him, back yourself in.
Hanley (67) – Not the best start for any new Hanley owners, however I wouldn't panic. He should bounce straight back next week. VERDICT: Back him in.
Ebert (55) – Patience had run thin here a long time ago, now it's just turned to rage. How can he possibly be so pathetic?! He doesn't get tagged, no excuses… VERDICT: Never again list surely!
Pendlebury (84) – This hurts to bag out a true champion, but when the chips were down captaincy wise we needed our next best leader to step up. He did anything but that, registering his lowest score for the year. We expect this time of thing from guys like SJ, but this cut deep Pendles. VERDICT: Who do we turn to now? Step up the undisciplined but unchallenged Ablett successor, Rocky!
This Game Sh*ts Me
*Novel incoming* Breathe Matt, breathe. Where do I begin. Here's a little story about a numb skull and his beloved Fantasy team. I blacked out from about 7:51pm on Friday arvo, and have only returned to give you guys a lesson in how not to play Dream team. So I jetted off to Bali this week, no complaints there. However there was one aspect I didn't really consider, and that was the speed of the internet. Realistically I should have got my sh*t together on Thursday night, but I settled on Friday at 5pm. Surely 50 minutes would be enough, right? It would be enough for something, i.e The complete and utter devastation of my team resulting in the crushing of my dreams and hopes. Perhaps slightly melodramatic. Why you ask? I had taken the liberty to put Liberatore and Dal Santo into my team, replacing Ablett and Suckers. Rocky went to the bench and Shenton was going to cover, SJ getting the armband. All seemed pretty simple, until I wanted to play around with some trades. The page loaded slowly, but load it did. Of course it did. By 5:15 I had reversed my trades and went about pursuing some alternative trade options. Suddenly the site wouldn't load. No big deal I thought, I'll just refresh the page. Still nothing. The clocked rolled past 5:30 and I refused to panic. It wasn't until my internet froze at 5:40 that I figured tits were about to hit the fan. It was at this moment Matthew knew, he f**ked up. To be honest, the rest was a blur. All I remember from there was the refusal to accept what was happening, and the determination to get the trades done. Watching to clock count down from 5:49 to 5:50 was the longest 60 seconds of my life, but it went by in an instant. There I was, stuck on the trades page, with lockout now underway. After some weird pacing up and down and refusing the urge to hurl my laptop out the window, I checked who my captain would be. In all the confusion I could have simply switched the big C without a problem. I didn't. I'm sure I don't need to tell you that my captain was Ablett and Rockliff would vice captain my chargers into battle from the stands. WHY'D YOU DO IT ROCKY? Sorry, getting carried away. Basically this was the biggest possible f**k up you could imagine, and it's not only cost me roughly 300 points, but my season and dignity. Where I go from here, I'm not sure. What I do know is that Fantasy is a cruel game, and you've got to be ahead of the ball to survive in such an intense landscape. That's all just a load of bs, just don't be special like me and do your trades early. And that's why this game sh*ts me.
It was actually pretty hard to justify 5 nominees this week, but here they are:
Stanton – Stants scored well, I'm sure his owners will be pleased. Never did this for me. Totally not being bitter. In all seriousness he was huge as Essendon's captain.
Johnson – Those who captained SJ will surely give him the vote, one of the few players to step up!
Macrae – The kid is undeniably a gun, hopefully McCarthy gives him a free reign! He gets my vote.
Kennedy – JPK was huge for those who traded him in for Gaz, a worthy replacement.
Dangerfield – He can single handedly win you league games on his day, I'm sure he got a few over the line
Who will get your vote?
Loading ...
The Other Bits and Pieces
No. Just no. I'm not saying it. Hope you all have a lovely week and enjoy the rest of the season, I'm boarding a flight to Jakarta and leaving the country in disgrace.
If you enjoy seeing me rage and want a punching bag when sh*t goes tits up, follow me on twitter @MattCraigDT. My views are honest, mostly helpful and occasionally entertaining! Hit me up with your weekly Golden Stubby nominations, and mainly what gave you the sh*ts! I value everyone's opinion
I may or may not have scored 1900.