The Friday Scramble: Round 17
What a massive week in the Fantasy world this week! We have had injuries and suspensions that have crippled our teams. On top of all of that we have had some bad news at the selection table with some of our main men and our bench cover missing out this week! Anyway, if there ever was a week to scramble then this will be it!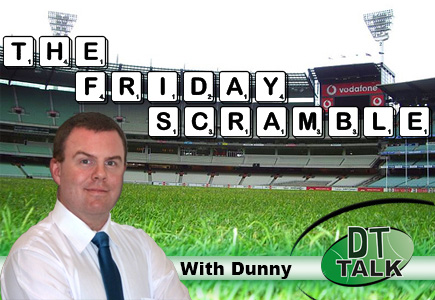 If you aren't scrambling today, then you are just not taking this game seriously enough!  With Gary Ablett now out for the season, Brendon Goddard and Tom Rockiff both out suspended.  Shaun Higgins and Dean Cox dropped along with various other selection changes there is just so much that you have to consider with your teams this week!!
To be honest I am kind of glad that there was a decisive decision made about Gary this week and we weren't left to wonder how many weeks he could be out for and whether or not we trade!  That kind of stuff just messes with your head.
So let's just get stuck straight into it because all the talk all week has been….
What to do with Gary Ablett?
Well we all know the first and most obvious answer to that question which is to trade him out now that we know he is out for the rest of the season.  Gary was averaging 119.1 and priced at $613,638 in AFL Fantasy and $618,800 in RDT.  For me there are two clear things you can do with Gary and I will look at both of them here.
1. Trade him for another Premium straight up.
To be honest this is the obvious option that everyone should look at.  If you haven't got one of the other guys who is averaging over 105 (and is actually playing) then I would be looking at bringing one of them in.  The guys that are in this category would be:
Josh P Kennedy is having a great season averaging 110 and is playing in the top side which means he should be getting plenty of the ball.  The only issue I see with JPK at the moment is any extra attention he gets with Hanneberry out at the moment.  Priced at $569,702 in AFL Fantasy and $565,300 in RDT.
Scott Pendlebury is clearly up there as probably the number one option to replace Gary if you don't have him, but to be honest I reckon just about every reader of DTTalk will have Pendles in their side. Pendles is averaging 11and is $563k in AFL Fantasy and $561k in RDT.  So there is actually about $50k to be made if you go to him.
Tom Rockliff is obviously out this week. So you wouldn't be getting him in AFL Fantasy  If you really want him you could bring in someone else and then just make sure you have the cash to go to him next week.  In RDT if you want him you have two options.  Firstly you hold Gaz on the bench this week and play a bench cover player somehow either straight up or through DPP.  OR you bring him in this week and put him on the bench.  Either way you have to play bench cover.  Personally I would advise against this plan unless you are super in love with Rocky just like Roy is.  I would always go for a guy that is playing this week.
Michael Barlow isn't playing poorly, he is averaging  111 and he is very consistent.  He is priced at $553,675 in AFL Fantasy and $547,900 in RDT.  He is a great option with the run that Fremantle have coming up.
2. Trade him for a fallen Premium or a cheaper midfielder.
This means that you will then be getting in someone that is good enough to play in the mids for you but you will also be banking a significant amount of money that you can then use to upgrade someone else or keep in reserve for a future trade.
Stevie J isn't having the best run and has leaked a fair bit of cash since round 1.  He is now priced at only $511,812 in AFL Fantasy and $505,100 in RDT.  His average is 110.8 but he has only had 2 scores over 100 in his last 6 and there is a lot of rumour that he is carrying an injury and will be rested at some stage.  For those two reasons I would actually be steering clear of Stevie.
Nat Fyfe isn't someone I think of as a fallen premium, but his price of $526,400 in RDT is certainly cheap.  In AFL Fantasy he is $522,429.  His average is only 101.92 which isn't the best, but he has the propensity to go big and that is something that we all look for.
Rory Sloane is a bit of an under rated guy who isn't heavily owned.  He is only in 4.28% of RDT sides.  His price of $508k exactly and his average of 104.47 make him an attractive option if you ask me!  All of the attention at Adelaide goes to Dangerfield and this can leave Sloane to run free and score!
Trent Cotchin is the last guy I will mention here.  He has had an average season to date but he is a little more popular being in 17% of RDT sides.  He has an average of 105 and will cost you $547,600 RDT dollars.  His last 4 have been 100, 138, 118 and 110 which tells me that he has turned his season around from the up and down start to the season.
So there you have a few guys that I have had a bit of a look at.  The direction that you take will heavily depend on your situation, particularly with respect to the amount of money that you have left, and the number of trades in the limited trade versions of the game.
To do your research and analysis I would heavily recommend Chad's DTLive website and the new Data View that he has built for us.  Check it out HERE.  I simply did a sort on the average column and then it will show you everything you need to know!
#ASKDUNNY
So this week I asked you for non Ablett questions as I knew that I would certainly be writing about that topic already!!  Here are a couple of the questions this week.
@pkd73 Worthwhile holding Sandi or trade and move SMartin from Fwd into Ruck and pickup a Fwd? #Askdunny #AFLFantasy

— Troy Foote (@tdfoote76) July 10, 2014
Sandi has been struggling a bit of late compared to his great start to the season.  He is averaging 91 but has had only 1 ton in his last 8 games with the last two being 75 and 73.  I like Martin, and with Leuenberger being injured in the NEAFL last week (or suffering a setback at least) Martin will be a good option for a few weeks yet.  However, I am a little concerned when Berger finally gets back.  At this stage though, ride the Martin train I say.
https://twitter.com/ThomasBennetts/statuses/487110678604304385
I think the thing that saves us a bit with Beamer is that he is owned by just about every team in the comp (well every serious one at least).  Yes he has had a shocking last month with a late out and only one score over 100 in his last 5.  To be honest I am worried that he has an injury of some description and as such he is a bit of a risk.  The other option is that he is getting the attention that was previously going to Swanny and also over this period there have been 3 weeks without Sidebottom.  So his success is certainly catching up with him.  In RDT and Supercoach I think you simply have to stick by him, you can't afford to be luxury trading in those games.  But in AFL Fantasy you could certainly sideswap him.  However, beware, he is just as likely to pick it up again and go on a tear without you having the cash to get him back.
@pkd73 When I finally stop having to cover injuries & suspensions, Zaharakis or Mitch Duncan as Mid/Fwd upgrade?

— Andy (@Suburbia3121) July 10, 2014
As a forward Zaharakis is expensive, but he is averaging just a touch under 100 and he is on fire at the moment with only 2 in his last 7 under 115.  I think he is a great pick and is ranked 5th of all forwards.  Mitch Duncan is ranked 9th and averages 95.  He seems to be more consistent around the 100's whereas Zaka had a really slow start to the year with only 1 100 (and it was exactly 100) in his first 8 before he went on the ripping tear he is currently on.  So on form I think you have to go Zaka as he has the propensity to go big more than Duncan does.
@pkd73 #AskDunny with all the carnage this week, am I better off playing Shenton in midfield or McGoven in the forward line

— Thomas Cotter-Gilles (@TCotterGilles) July 10, 2014
Both of these guys are playing away this week, but I am a little more worried about Shenton in Tassie against North than I am about McGovern in Brisbane against the Lions.  So I think I would have to sway in favour of McGovern on this one, but to be honest I see both of these guys as a bit of a raffle.
Quick Selection News
Check the team lineups carefully as there was a lot of relevancy this week in the ins and outs.  Outs include Jed Bews, Billy Longer (only really relevant in draft leagues), Jack Steven, some guy called Gary Ablett, Tom Rockliff, Brendon Goddard, Shaun Higgins!, Dean Cox (with Soreness).  This could mean there are some teams out there that are going to be playing short if they have more than 2 of these guys and no little bench cover.
However on the positive side we regain Will Langford, Nic Naitanui, James Kelly, Lenny Hayes, Matthew Pavlich and Ben McEvoy.  I know that not all of these guys are relevant in AFL Fantasy or RDT, but they would be in many draft leagues!
Things to Remember
Did I just say Shaun Higgins out? Yes he is out, we all knew it would happen didn't we!  Not injury though, just dropped!  If you haven't dumped him yourself yet, then it is high time you did so!
Don't blow all your trades in RDT and SC. This last week has shown us just how vulnerable we can all be to injury and suspension, particularly when they all hit in the same week!
Don't believe all the hype on a Friday Many people try and guess who will be out, but really teams can't rest everyone.  Having said that, Geelong play Melbourne this week, so those guys with a niggle may be a little risky.  I would check with Roy's Rumour Mill first though, he is always on the ball!
Captains don't get easier with Gaz out!  Make sure you check out Calvin's Captains from earlier in the week.
Wow what a week in Fantasy Footy we have had this week.  SO many things to consider.  I would be not rushing into your decisions this week and making sure that the decisions you make are the best ones for you in the long term, particularly in RDT and SC.  Hopefully we don't get any late outs with all the carnage we have already experienced this week as I am sure there are a lot of teams out there (read mine) with little to no bench cover thanks to the pricing structures this year.  Best of luck and catch you all in the twittersphere over the weekend @pkd73.