Jeppa's Juniors – Round 16
It's time for another installment of the legendary Jeppa's Juniors. With some juicy options available, see what the rookie guru has to say and the outlook ahead. There's a lot at stake this week and cashcows should never be ignored. Blaine Johnson gives it the thumbs up!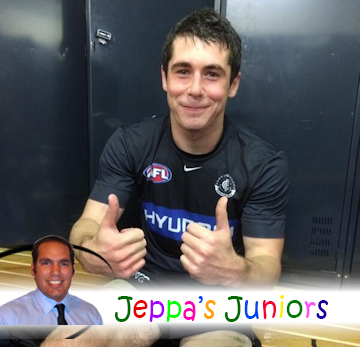 They say a week is a long time in footy and after Round 16's shenanigans the same can definitely be said for Fantasy and Dreamteam. No doubt the story of the week is the injury to Gary Ablett Jnr. The greatest Fantasy player of all time is out for approximately 4 weeks (TBC) and given it is the business end of the season, we have no choice but to trade him out. If the injury to Ablett wasn't bad enough, both Rockliff and Goddard are suspended this week.
So who do we turn to? Pendles, Stevie J and Barlow are the obvious choices however; a couple of strategic trades at this point can see you get a leg up against your opponents. For Fantasy, my plan is to trade Ablett and cash in on the newly promoted DPP Mitch Duncan. With my second trade, McGovern to Blaine Johnson sees my bank balance at just under $300,000 and ready for a double upgrade next weekend.The downside of these trades means I'll have to start Shenton on the field and put Rocky on the bench. As far as Dreamteam goes, my trades are scarce thus I'll need to make a healthy profit from trading Ablett. Picking up the ultra consistent Rory Sloane nets me over $100,000!
Three-Or-More Gamers
KEEPERS
Anthony Miles (Mid. $418,884, 49 be AF & $413,000, 56 be DT) is not slowing down one bit. Richmond's prized recruit maintained his excellent output with 24 possessions and 95 Fantasy points against the Lions last weekend. His role amongst the Richmond midfield continues to be strong and with the challenges that exist for coaches this upcoming round, a bargain buy like Miles could be very handy! Another youngster dominating on the field is Marcus Bontempelli (Mid. $364,128, 25 be AF. $373,300, 27 be DT). The might of Geelong did not scare the boy from Bendigo and by game's end he had an impressive 13 kicks, 8 handballs, 2 marks, 10 tackles, 2 goals and 116 Fantasy points to his name. Bonts is no doubt a future champion of our game!
It's easy to take Stefan Martin (Ruc/Fwd. $407,255, 32 be AF & $420,000, 39 be DT) for granted. From his five games this season, he's averaged a remarkable 104 Fantasy points which is currently the highest of any ruckman and forward! Whether it is in the air or on the ground, Martin is doing it all and with Leuenberger's Achilles injury flaring up last weekend (source) there is no threat to his scoring potential in the short term.
Martin's teammate Lewis Taylor (Fwd/Mid. $367,566, 31 be AF. $373,100, 33 be DT) is also in a purple patch of form. After scoring 73 last weekend, Taylor has averaged 80 from his past five matches and he'll be a handful for the Eagles this weekend. Zak Merrett, 98 (Fwd. $314,782, 70 be AF & $293,400, 53 be DT) and Ben Kennedy, 82 (Fwd. $204,664, 18 be AF & $226,100, 9 be DT) are two more young half forwards playing excellent football. Merrett was one of Essendon's best against premiership fancies Port Adelaide and Kennedy is finally getting an opportunity to show his worth to the Collingwood faithful. Unfortunately, both Merrett and Kennedy are susceptible to the green vest.
Maverick Weller (Def. $320,698, 33 be AF. $340,600, 57 be DT) has found his niche as a tagger for the Saints and he put in another excellent performance against the Blues. Not only did Weller keep Bryce Gibbs to just 14 possessions, he had 22 touches of his own, scored 72 Fantasy points and was in the bests for St Kilda on the day.
There were plenty of surprise performances from the lesser likes in Round 16. Zac Williams, 100 (Mid. $286,166, 30 be AF. $305,200, 39 be DT), Simon White, 98 (Def. $232,219, 18 be AF & $231,300, 10 be DT), Sam Day, 96 (Fwd/Def. $246,679, 26 be AF & $238,500, 7 be DT), Brodie Martin, 90 (Def. $285,761, 21 be AF. $298,800, 25 be DT), Darcy Gardiner, 81 (Def. $206,231, 13 be AF. $199,500, -4 be DT) and Ben Brown, 67 (Ruc/Fwd. $151,172, 7 be AF. $137,000, 6 be DT) all had the highest Fantasy scores of their careers and are earning great money as a result. If you own any of these players then keep them for the short term but other than Brown (only for his DPP), I wouldn't trade any in this week. Inconsistent Fantasy scoring players are not what you need at this stage of the season!
DON'T PANIC
Jeremy McGovern's (Fwd. $278,481, 65 be AF. $274,500, 71 be DT) was up against it last Sunday against the Swans. In wet and slippery conditions, the key forward struggled to get his hands on the wet ball and was subsequently subbed in the third quarter after scoring just 18 Fantasy points. With Kennedy out suspended, McGovern is still important to the Eagles set up and against the Lions this weekend he should score well.
Considering that Ben Ross (Mid. $127,713, 5 be AF & $118,500, -2 be DT) wasn't even meant to play last Friday night, he did well to score an unexpected 51 Fantasy points. After Brad Hill injured himself in the warm up, he got the call up but was given the green vest. Sewell then pulled a hammy late in the first quarter and Ross needed to step up. He was far from spectacular but he should hold his spot this weekend and with a breakeven of 5 in Fantasy and -2 in Dreamteam, there is no reason to panic. I wouldn't trade him in though, just hold him if you already own him.
Other players worth keeping include Ryan Schoenmakers, 57 (Def. $290,766, 39 be AF. $302,300, 52 be DT), Cameron Shenton, 56 (Fwd/Mid. $280,351, 45 be AF. $281,400, 38 be DT), Shane Kersten, 52 (Fwd. $183,227, 3 be AF & $165,900, 8 be DT), Claye Beams, 52 (Mid. $281,312, 53 be AF & $279,000, 37 be DT), Angus Litherland, 52 (Def. $235,303, 27 be AF & $244,300, 31 be DT) and Darren Minchington, 48 (Fwd. $195,159, 25 be AF & $205,200, 34 be DT). These youngsters aren't scoring big but they're still earning steady coin.
TRADE, TRADE, TRADE
If I haven't categorised a player from Round 16 under 'Keepers' or 'Don't Panic' then trade them out as soon as you can but when appropriate!
Two Gamers
Thank the DT Gods for Blaine Johnson (Fwd. $131,454, -12 be AF & $98,500, -41 be DT)! Carlton's new unsung hero was on fire last weekend and a breath of fresh air in AFL Fantasy ranks. He finished with 15 quality possessions and took 9 marks as a secondary lead up forward. Clean hands, his booming right foot kick and strong tackling are Johnson's best traits and I hold no fear for his job security over the next month. He had 77 Fantasy points in Round 16 (40 in the third quarter alone) and is easily this week's number one downgrade option for both Fantasy and Dreamteam. Trade him in!
Mitch Honeychurch (Fwd/Mid. $151,830, 0 be AF & $112,800, -33 be DT) is one tough cookie. Against Geelong's mature bodies, I thought his 68kg frame would shy away from the rough stuff but to his credit, his forward pressure was superb and he laid 7 tackles for the match. Honeychurch has managed to avoid the green vest in both his games this season but has only provided returns of 41 and 59. Unless you're desperate for a cheap dual position mid/forward, I'd stay away. No vest for Jesse Lonergan (Mid. $211,894, 38 be AF & $248,300, 58 be DT) this week but he still couldn't capitalise with a big score. In one of the best games this season, the Ablett-less Suns held on for a famous victory and Lonergan played his part. He finished with 13 possessions, 3 marks, 2 tackles and 48 Fantasy points which is quite uninspiring for a player at his price. Pass.
As a rule of thumb, coaches must avoid young key defenders like Daniel McStay (Def. $184,592, 27 be AF & $112,800, -15 be DT). McStay had a reasonable 59 Fantasy points against the Tigers in Round 16 but that's as good as it's going to get. I'd also avoid Ash McGrath, 23 (Fwd. $204,462, 61 be AF & $241,200, 90 be DT), Brad Hartman, 18 (Fwd. $132,314, 13 be AF & $119,200, -6 be DT), Dom Barry, 9 (Mid. $105,403, 24 be AF & $119,200, 45 be DT) and Sam Dunell, 3 (Mid. $197,030, 67 be AF & $255,700, 108 be DT). Green vests and job security issues are the problem with these players.
One Gamers
Anthony Morabito's (Mid. $197,030, 45 be AF & $119,200 DT) much publicised return to senior football is one of the stories of the season and from a Fantasy/Dreamteam point of view there is plenty to consider. As predicted, Morabito started in the green vest but came on at the half way mark of third quarter. He played predominately on a wing/forward and as expected, had plenty of nervous moments including missing a goal from point blank range. Fortunately, he finished with 31 Fantasy points from just 37% game time, which is definitely something to work with. Colin Sylvia's poor form suggests Morabito's spot is safe for the short term however, I expect another green vest this weekend. Stay away from Morabito for now but pencil in a downgrade in Round 18.
On debut, key forwards Michael Apeness, 28 (Ruc/Fwd. $199,507, 49 be AF & $132,800 DT) and Jack Redpath, 25 (Fwd. $109,066, 19 be AF & $119,200 DT) made small contributions on the field as did the green vested Brett O'Hanlon, 33 (Fwd. $133,932, 21 be AF & $141,500 DT). Stay well away from these youngsters.
Keep Your Eye On
After North's big win last Friday night it is unlikely that they'll make any changes however if they opt to rest a midfielder of two against the Saints then Trent Dumont (Mid. $184,300, 63 be AF & $112,800 DT) may get a run. He's been named as an emergency in two of the last three rounds and after 26 possessions and 10 tackles in the VFL last weekend he's definitely close to selection.
Young Orazio Fantasia (Fwd. $135,500, 47 be AF & $112,800 DT) was a traveling emergency for the Bombers in Round 16. The speedy forward applies plenty of pressure, is an efficient user of the football and has been in great VFL form. Expect him to get a game soon.
Lastly, Zac O'Brien (Mid. $168,138, 6 be AF. $150,200, -13 be DT) and Cameron Ellis-Yolmen (Mid. $104,532, 25 be AF & $119,200 DT) have been carving it up in the reserves, which could see them earn a recall this week.
Got a question? Ask me on Twitter @JeppaDT