The Weekend Wash-Up – Round 16
This round won't be remembered for its exciting footy, nor its average Dream team scores. It will be remembered for the single image of Bald Jesus coming off the ground with his shoulder popping out.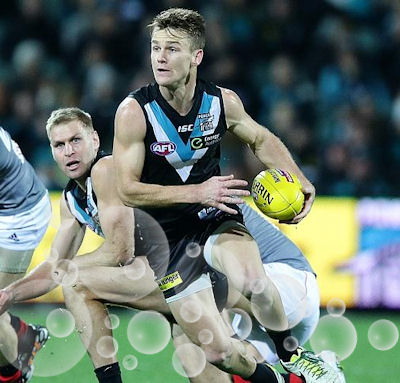 This round won't be remembered for its exciting footy, nor its average Dream team scores. It will be remembered for the single image of Bald Jesus coming off the ground with his shoulder popping out. Never have I seen a more graphic image, you don't just lose one Gary, you lose two. Today we mourn the loss of our favourite son, tomorrow we consider what to do with him! It's time to take a look at the weekend wash-up.
The Legends
Greenwood (131) – He has been huge since round 6, going under 100 just twice and averaging a whopping 116 in that time. With Gazza out for the foreseeable future everyone is on the hunt for the 8th best mid, and with some fantastic fixtures coming North's way Greenwood must be high on the list. VERDICT: He's in my team as things stand, Liberatore and JPK will have something to say about it.
Martin (115) – It's about time we gave Dusty the recognition he's deserved, he has been unbelievable this season. Hopefully we all have him. VERDICT: Legend.
Sloane (143) – Sloane has been super consistent all season, but has lacked that big score. It was only the second time he's past 113 this season, but you wouldn't put a massive run home out of the question. VERDICT: Consider, but surely better options out there.
Swallow (116) – I was pulled up for not giving Swallow the recognition he deserves last week, so here it is. Predicting a breakout into the midfield is one thing, increasing your average by 28 points to 97 is another. Not only has he scored well with 6 tons, he hasn't gone under 70 once. Consistency. He's been a beast, lucky they can't take away DPP! VERDICT: Say no more, keeper.
Zaharakis (118) – He certainly looks the pick of the new DPP additions. His form has been superb recently, and he's only benefiting from Watson's injury. 6 tons in his last 7 games, 5 of them being 118+. Now that he's a forward, it's a no brainer. VERDICT: Definitely look to get on board.
Barlow (134) – Mr Dream Team was at it again, some had been complaining at his recent form. You can't please everyone, a 5 round average of 111 and consistency like no other gives those without him an easy Ablett replacement. VERDICT: Almost the perfect DT specimen.
Rockliff (137) – Here is the perfect DT specimen. The man is a fantasy king, and isn't without a shot at the brownlow if he comes home anything like he did last season (Actually he is, I totally knew he was suspended the whole time). VERDICT: Surely the go to captain now.
Parker (125) – Parker is as tough a nut as any, the wet conditions suited him perfectly. He had another 33 touches and 2 goals, putting those getting carried away with Buddy firmly back in line. VERDICT: Must have.
McVeigh (119) – It's about time McVeigh did something other than score 90, so this was a welcome change. Having someone as reliable as McVeigh in the most volatile position is gold. VERDICT: If you don't have him, make him your number 1 defensive priority.
Johnson (131) – I've shown a lot of faith in SJ expecting a return to form, so this was great to see. 14 tackles in tough conditions is all we can ask, huge effort. VERDICT: Still a gun, won't get any cheaper than this.
Bartel (118) – Speaking of tackles, the +4 king is here. Bartel finished the game with 15 tackles, losing 1 after some late adjustments. On another day Jimmy could have scored 70, but on another day it wouldn't have been raining. The man was made for those conditions. VERDICT: Upgraded to him this week and there's no better feeling.
Duncan (115) – Finally it's the man who's picked up a huge jump in ownership thanks to his DPP addition, and he didn't let his new owners down, 10 tackles shows he doesn't just rely on finding the pill. VERDICT: Certainly on the watchlist, whether he is worth chasing is another question. I won't be doing so.
The Losers
Ablett (67) – I'm not going to talk about this for long as it makes me physically ill. TAKE A LITTLE CARE MACAFFER. Sickening. No surprises that statistics have shown a spike in house fires this week, self harm gone wrong. VERDICT: The conundrum of the week is who do we trade to. I'm left contemplating Libba, JPK and Greenwood. Greenwood has the lead at the moment.
Birchall (30) – What is Birch playing at? This score is worse than disgusting, it's disgraceful. He may as well hold up the red flag, no tag needed here. VERDICT: Spud.
Suckling (69) – The less said here the better. Sucking should be gone, feel free to let the door hit him on the way out. Ok so that's a little harsh, he's been fantastic. Unfortunately no armchair rides can be afforded at this stage of the season. VERDICT: G.A.W.N.
Zorko (74) – If anyone thought he was going to come back strong after the bye, they thought wrong. VERDICT: Get rid.
Dangerfield (60) – Ok, this has me concerned now. He looks battered and bruised, whatever it is he's not playing well. Not only is he not reaching the ton, he's scoring extremely poorly at the same time. 4 scores under 80 in his last 5 games has the alarm bells going crazy, he couldn't even get it done against his favourite team! VERDICT: If you have the luxury, pick up one of the new DPP additions.
Prestia (77) – His owners have piped down over the past couple of rounds, he's in need of a big one next week. With Ablett gone he is straight into line for the number 1 tag, which concerns me. VERDICT: Bringing him in seems far too risky.
Swan (82) – Eh. That's all I can muster. The Great dane is dead, he hasn't even passed 120 since Round 6. Don't cling onto the past. It's been a great ride. VERDICT: If you get the luxury, trade. He's in danger of dropping his season average under 100 for the first time since 2005.
Langdon (56) – If you're still hanging onto him, I think there's better options at D7. He's bleeding cash. VERDICT: Trade if you get the luxury.
Lobbe (72) – There was plenty of hope a couple of weeks ago that he could challenge for R2, that hope has faded. VERDICT: 81, 73 and 72 has him bleeding cash once again, swap him to Mummy or Jacobs.
Heppell (74) – Tags are going to become more of a worry for Heppell these days, especially without Watson. Beat that in mind. VERDICT: Risky pick.
Sandilands (73) – I reckon now is the time to trade the big man, Jacobs and Mummy look to be the top 2 rucks to have for the rest of the season. VERDICT: Trade when you get the chance.
Montagna (30) – What the hell was that? Let's swiftly move on. VERDICT: A constant DT disappointment. So much potential…
Simpson (70) – This is more of what I expected from Simpson all season, let's hope he can pump out a few more huge 140's. VERDICT: He's an absolute steal if you don't have him yet, still a top 6 defender.
McGovern (18) – I suppose the conditions didn't suit him, but this was a real thud back to Earth for the young Eagles gun. Now is the time to make the call on his future, I reckon he's a solid F7. VERDICT: Hold.
Jack (61) – This hurts! Many of us had an eye on him after his incredible consistency recently, so when he became a forward it looked a no brainer. Suddenly he pulls this out?! His owners will hope he can return to his consistent tons, non-owners like me will enjoy watching his price plummet. VERDICT: Certainly a top forward and a priority to have for the remainder of the season.
This Game Sh*ts Me
Let's be honest, having Ablett as captain screwed a lot of us over. But two things sh*t me. Firstly it's the fact that I' haven't had Rockliff as captain for 2 weeks since the turn of the bye. One was when he scored 172, the other was when Gary scores 67. I've lost a total of 130 points over the last 3 weeks with my captaincy choices, you can just bet something will go tits up next week. Secondly, a quick shout out to the geniuses who didn't have Ablett captain this week. Pipe the f**k down. And that's why this game sh*ts me.
Here are this weeks nominations for the coveted stubby:
Rockliff – He was heroic for those who had him captain, a lazy 3 round average of 144 isn't too bad either. Anyone untaggable (New word) deserves a vote! He also averages 125. Massive doesn't cut it.
Sloane – Anyone who has him as a POD has a no brainer this week, he gets your vote. A performance that will have decided many league match-ups.
Greenwood – Levi has been sensational all season, his massive ceiling must bring him into consideration. Another BOG performance is surely worthy of a debut stubby.
Barlow – Mr Dream Team is always in contention for a stubby, yet he hasn't won one this season. This could be the week to change it after a whopping 134 with 29 touches, 7 marks and 9 tackles. An all-round performance.
Martin – Lastly Dusty is worthy of a nomination for his supreme consistency. 7 tons in his last 8 games, 6 of those 110+. Huge.
Who will get your vote?
Loading ...
The Other Bits and Pieces
Personally I had solid week with 2228, that's with Ablett captain. Finally my trades are starting to pay off, the spuds are almost flushed out. Leagues are beginning to get to the pointy end of the season, make sure you're nailing every decision! Feel free to post your queries in the comments, of course you can also vent away as always!
If you enjoy seeing me rage and want a punching bag when sh*t goes tits up, follow me on twitter @MattCraigDT. My views are honest, mostly helpful and occasionally entertaining! Hit me up with your weekly Golden Stubby nominations, and mainly what gave you the sh*ts! I value everyone's opinion