The Friday Scramble: Round 16
After a big scoring week for most last week, can we continue? We have also had price changes and some selection twists. To me this has all the hallmarks of a great week for Scrambling!!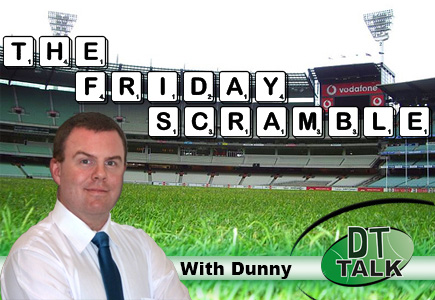 Scoring seems to be all over the place this year.  We have a low week then a high week, did you score ok last week?  Are you winning your league matchups?  I hope you are.  As we move closer to the end of the season and finals time (only a few weeks away now) you need to position yourself in the 8 or better yet in the top 4.
Whilst we had some great overall scores, we did see a few premiums underperform for us like Libba who was tagged by Viney.  But gee there were some fantastic scores too Gary Ablett had 157 and Dyson Heppell who seems to be loving it without Jobe in the team with his 152.
But enough of this score talk….. something happened yesterday that once again changes the game.  In AFL Fantasy we saw more position changes occur.
Positional Changes
In AFL Fantasy this year as you know we have the positional reviews that take place during the year and here is our second round of these changes.
Here you can see those guys that have had an extra eligibility added.  It seems as though there has been a run on ruckmen having forward added to them, and of course the inevitable midfielders having either forward or back added.  Let's have a look at a couple of the more relevant guys to us.
Nick Dal Santo – With an average of 91.3 he is not the kind of guy you would rush into your midfield, but as a defender, that is a far more attractive and at $432k, the price is right if you ask me!
Nic Naitanui – The inevitable Forward eligibility has been added to quite a few ruckmen, With Nic Nat picking up this eligibility he can be very handy as you can use Stefan Martin to swing him around if you need to.
Dean Cox – Whilst the big fella has picked up Forward also, he isn't someone I am as excited about.  His 88 average isn't up there with the best forwards, but if you are struggling for cash and have him, you could get out another player to get in a ruck, and stash Coxy up forward.  But in all honesty, the risk of him being "managed" further has been mentioned and as a result, I would probably stay clear.
Dale Thomas – Do you still have Dale Thomas?  Really? Well if you do he can now be a forward, but his average of 75 means that I would probably steer well clear of him.
Jarman Impey – Picks up the Defensive eligibility, and rightly so as he plays in defence every week.  He isn't someone I would bring in, but if you have him on your bench up forward, you may want to swing him to the backlines for bench cover.  That is about it though.
Kieren Jack – Yes, Yes and Yes again.  An average of 101 is more than enough for you to get this guy in your forward line.  His price is up there with the more expensive forwards, but don't hesitate if you have the cash.  The guy is a jet and will continue to score well.
David Zaharakis – Well personally I hope he doesn't score well this week, but after that he can go for it!  His average of 98 isn't as good as Jack, who is a similar price, but he is still a solid scorer who I would have no hesitation in bringing into my forward line.
Selection News
Sam Mitchell finally comes back.  I am sure no one kept him, but don't jump on him to trade him in as his price will plummet over the next couple of weeks as his BE is somewhere in the 200 range at the moment.  If he was your first pick in an Ultimate Footy league (like he was for me in the DT Shiva) then you will be celebrating.  Hopefully you didn't trade him to someone else in recent weeks!  If you had the man he came in for, Cyril Rioli then trade him out.  8 or so weeks is what we are hearing, and given our season only has about that many weeks left we can't afford to be keeping him.
Ricky Henderson is named for the Crows, not all that exciting on his own as we wouldn't have him and wouldn't get him before he plays, but what his return means for Matthew Jaensch who is in a heap of teams is the larger concern!  Jaensch has been playing the role that Ricky has had in the past and his points could suffer (not sure they could be worse than he has been of late, but you never know).
Tom Langdon back is a good thing for those that held him for future bench cover, he will drop in price thanks to his low score in his last game, but if you plan to keep him for bench cover for the rest of the year (which is what I would probably do if I still had him now in the limited trade games) then that wont' bother you at all.  Another defender making things hard this week is Michael Hibberd.  His departure will be a big loss for a number of teams.  I haven't seen much on how long he will be out for and he isn't on the official AFL injury list which doesn't help.  For now, trade him in AFL Fantasy, but keep him in the limited trade versions.
Lastly, Ryan Griffen returns for the Doggies on Sunday.  I must say I am surprised to see him back so soon after his issues at Adelaide Oval a couple of weeks ago, I thought he would be out for 2-3.  However, I won't be expecting much from him this week, and at this stage he is just in a squad, so he may still be an out when teams are finalized tonight.
#AskDunny
@pkd73 M8 Jelwood to Rockliff or F6 Dahlhaus to KJack? #AskDunny

— Billy (@crumpetjack) July 2, 2014
For me I keep Selwood and trade out Dahlhaus to K Jack.  I did see in the comments last week that a couple of people thought I was crazy advising to keep Joel last week.  I for one am glad I did, his score was very nice!  I just think that you are going to get more value out of that second trade than the first one.
https://twitter.com/gdavidb7/statuses/484217810437304320
For me here I am going to go with Pendles nearly every time.  Lately Stevie J has been getting himself tagged and he just doesn't seem to be handling it well, whereas Pendles gets tagged and he just shrugs it off and gets himself a nice score.  Of course to do this you are trading out Dane Swan and normally I would have a go at you for this, but he simply isn't delivering this year.
@WarnieDT @pkd73 should I go @chadwingard20 or Anthony Miles in @AFLFantasy?

— Chamara Dias (@chams_d07) July 3, 2014
Good question this one.  Chad Wingard is averaging only 78 and Anthony Miles is averaging 101.  Chad's average over the same time that Miles has been playing is 84.  Their prices are about the same.  Now if I had to pick one, I probably go with Wingard to be honest.  I think his job security is unquestionable whereas Miles may have it a bit tougher to keep his spot.  I hear what you are all saying, Miles is a jet.  However, the fact remains that it took so long for him to get a game whereas Wingard is a walk up in Port's best 22.  In addition, Wingard has been spending more time at centre bounces this last few weeks than he had earlier in the year which leads me to think he is about to turn it around.  However, this is a tough call and I can certainly understand why you would go with Miles.
Things To Remember
Gary Ablett will get Tagged – We already know that Macaffer will be going to Gary, so just beware when you are thinking Captains, however, it is at Metricon and he loves it there.  But of course you have all consulted the Irish Pirate Calvin in his weekly article haven't you!
Big Congrats to Anthony Morabito – who gets up for his first game in 3 years, well done and I hope you have a great game.
Save those trades – in RDT and Supercoach.  There are still 8 weeks to go and you don't want to run out of trades before the finals.
Another big week in Fantasy this week, and I hope that it translates to the scoreboard for you all on the weekend.  Thanks to everyone that pitches in answering questions and helping people out in the comments below.  Sorry that I can't answer too many of them due to work and also my internet at work doesn't really allow me to answer too many before I start either, so thanks again for helping each other out, it is what we are all about.
Warnie has tweeted a bit as have we all that Round 23 and the 30th of August is the date for the Annual DTTalk catch up somewhere in Melbourne.  Put it in the diary if you are in town that weekend and come along and have a beer with us to celebrate another year and for some of us a DT Premiership!