New DPPs ahead of round 16
Kieren Jack, Nick Dal Santo, David Zaharakis, Mitch Duncan and a few new RUC/FWDs lead the latest player position adjustment where 18 players have gained DPP. See the list now.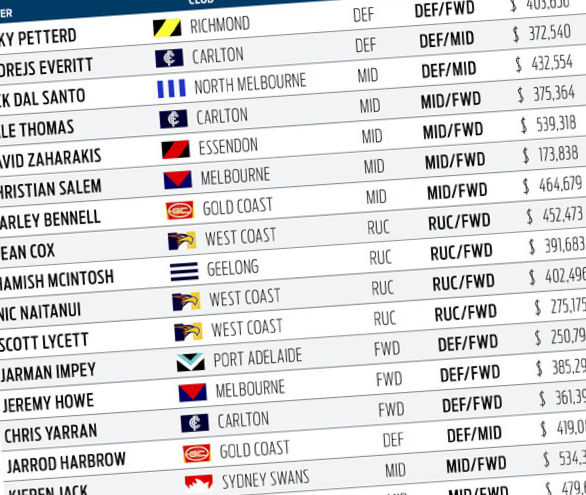 A further 18 players have been awarded Dual Position Status, that is, had a position added. Click here to read the full article from Roy over at AFL.com.au.
Discuss the new DPPs in the comments.
| Player | Club | Current position | Changing to | Price  |
| --- | --- | --- | --- | --- |
| Petterd, Ricky | Richmond | DEF | DEF/FWD | $   403,656 |
| Everitt, Andrejs | Carlton | DEF | DEF/MID | $   372,540 |
| Dal Santo, Nick | North Melbourne | MID | DEF/MID | $   432,554 |
| Thomas, Dale | Carlton | MID | MID/FWD | $   375,364 |
| Zaharakis, David | Essendon | MID | MID/FWD | $   539,318 |
| Salem,Christian | Melbourne | MID | MID/FWD | $   173,838 |
| Bennell, Harley | Gold Coast | MID | MID/FWD | $   464,679 |
| Cox, Dean | West Coast | RUC | RUC/FWD | $   452,473 |
| McIntosh, Hamish | Geelong | RUC | RUC/FWD | $   391,683 |
| Naitanui, Nic | West Coast | RUC | RUC/FWD | $   402,496 |
| Lycett, Scott | West Coast | RUC | RUC/FWD | $   275,175 |
| Impey, Jarman | Port Adelaide | FWD | DEF/FWD | $   250,797 |
| Howe, Jeremy | Melbourne | FWD | DEF/FWD | $   385,299 |
| Yarran, Chris | Carlton | FWD | DEF/FWD | $   361,394 |
| Harbrow, Jarrod | Gold Coast | DEF | DEF/MID | $   419,088 |
| Jack, Kieren | Sydney Swans | MID | MID/FWD | $   534,325 |
| Duncan, Mitch | Geelong | MID | MID/FWD | $   479,657 |
| Ryder, Paddy | Essendon | RUC | RUC/FWD | $   425,846 |