Jeppa's Juniors – Round 15
There are big decisions to make on the rooks currently available and the best options are far from obvious. In a time of need, Jeppa looks at the facts and stats and gives us his opinion on whom to pick up. Don't make any trades without reading this first!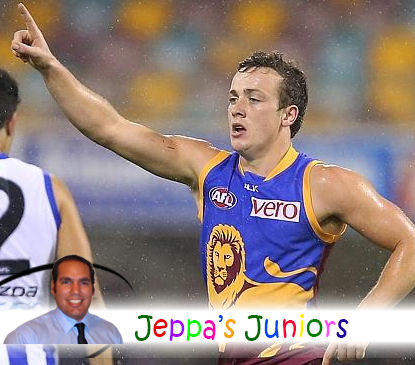 What a massive week of Fantasy. Scores were well above average in Round 15 and many of us were walking around with the Jonno Brown strut. I was very pleased with a Fantasy score of 2,493, which was a new personal best. Ablett (C), Heppell, Jelwood, Cotch, Pendles, Rocky and Buddy all gave me 120+ scores so I was incredibly fortunate and yes, I bought a lotto ticket the next day. My Dreamteam finished with 2,273 and that included a donut due to Langdon's late omission but it serves me right for having insufficient backup so let that be a reminder to you all.
As it stands, there aint a lot to cheer about from the rookie front. The highest score from both the two and one gamers this week was 53 and that came from the Crows stand-in full back! To generate cash quickly, coaches may consider spending big on established rookies in Stefan Martin, Jeremy McGovern, Anthony Miles, etc. because the outlook looks bleak. Let's take a look at what we've got to work with…
Three-Or-More Gamers
KEEPERS
At this stage of the season, it is all about the new rookies coming through but James Aish (Mid. $363,260, 41 be AF. $353,300, 33 be DT) deserves a mention after his phenomenal Round 15 performance. Only 9,638 Fantasy coaches and 2,537 Dreamteam coaches reaped the rewards of his huge 140 Fantasy score which came from 23 possessions, 9 marks, 9 tackles and 2 goals. Well done to those that kept him! Another young Lion cub, Lewis Taylor (Fwd/Mid. $348,887, 31 be AF. $354,200, 32 be DT) also impressed. The popular dual position, forward/midfielder played out of his skin and finished with 115 Fantasy points. For a first year player, Taylor's work rate has to be commended and he picks up plenty of uncontested possessions as a result. His owners will love the cash injection coming their way!
Anthony Miles (Mid. $389,535, 28 be AF & $376,200, 14 be DT) continues to average 25+ possessions per game and looks very settled in his midfield role for the Tigers. He scored a very respectable 93 Fantasy points against the Saints and with low breakevens, his value will continue to increase over the coming weeks. It's hard to believe that Jon Ceglar (Ruc. $339,910, 35 be AF & $349,600, 41 be DT) is currently being selected ahead of McEvoy. Big boy was an emergency for the Hawks last weekend and Ceglar's on field performances may keep McEvoy on the sidelines for a while longer. The young ruckman had 14 possessions, 3 marks, 1 tackle, 37 hitouts, 1 goal and 94 Fantasy points against the Suns and was one of the Hawks' best players
Another round, another ton from Stefan Martin (Ruc/Fwd. $365,782, 1 be AF & $376,100, 0 be DT). Against a proven ruckman in Todd Goldstein, Martin had 20 touches, 6 marks, 3 tackles, 36 hitouts, 113 Fantasy points and was an important player for the Lions in their narrow win. It's a no brainer to hold Martin and against the Tigers this weekend, I back him in for another big score. Marcus Bontempelli (Mid. $327,958, 32 be AF. $340,000, 43 be DT) was another match winner from the weekend. In his 8th career game, he kicked the goal of the year to get the Dogs over the line, not to mention another major that tied the game just prior. Bonts finished with 78 Fantasy points at the final siren and there's a little value left in him yet.
With Mitch Brown injured, Jeremy McGovern's (Fwd. $276,921, 16 be AF. $282,600, 38 be DT) job security just went up a notch. He had another great game up forward for the Eagles scoring 73 however, it is very likely that he'll be playing as a key defender over the next month. Expect his scores to dip a little as a result but he will still earn his coaches plenty.
Saints pair Maverick Weller (Def. $296,640, 17 be AF. $315,400, 17 be DT) and Cameron Shenton (Fwd/Mid. $272,534, 39 be AF. $273,300, 39 be DT) continue to be serviceable after both scoring 73 Fantasy points. Both are playing key roles for the Saints so they should produce 65+ scores each week. Another young Saint, Billy Longer (Ruc. $294,421, 35 be AF. $295,900, 22 be DT) reached new heights after his 92 Fantasy points on the weekend. No offence to Longer but big Ivan paid him no respect hence why he got off the leash.
DON'T PANIC
Jack Martin (Mid. $226,086, 51 be AF. $211,700, 16 be DT) and his light frame shied away from the hardened bodies of the Hawks midfielders on a wet and rainy day in Launceston and who can blame him. He had just 7 possessions and 33 Fantasy points at the final siren but hopefully it's a once off. Healthy breakevens means it's still feasible to hold him.
Ryan Schoenmakers, 70 (Def. $279,897, 33 be AF. $274,400, -4 be DT) and Angus Litherland, 52 (Def. $220,942, 29 be AF & $224,700, 19 be DT) are a couple of players providing steady earnings. I'd keep them for the time being.
TRADE, TRADE, TRADE
If I haven't categorised a player from Round 15 under 'Keepers' or 'Don't Panic' then trade them out as soon as you can but when appropriate!
Let me point out that Patrick Ambrose, 53 (Fwd. $290,437, 52 be AF. $288,300, 53 be DT) has served his purpose and it's time to upgrade/cash in. He has almost peaked in value so if you are keen on someone else then do not hesitate to cut him loose.
Two Gamers
Unfortunately, Shane Kersten's (Fwd. $158,406, -6 be AF & $119,200, -52 be DT) performance last Friday night was not up to the standard required. He started like a house on fire with 28 Fantasy points to quarter time but could only add another 10 to his tally (didn't touch the footy in the third) before being subbed off in the last. Looking ahead, I still feel Kersten is important to Geelong's structure thus he should hold his spot. The Cats play the Dogs, Dees, Giants and Kangaroos over the next month so 60+ scores from Kersten should be forthcoming. Don't be shy to pick him up as an F8 in both Fantasy and Dreamteam! Trust me.
Zak Jones (Def. $213,327, 40 be AF & $142,800, -4 be DT) is an interesting prospect. Playing off half back, the output was bleak at half time with a score of 11 but he improved and finished with a sound 42 Fantasy points at the final siren. I have no doubt that the potential is there with Jones but in just his second game, he is still adjusting to the pace of AFL. With Rhyce Shaw and Hannebery expected to return in 2 weeks from ankle injuries, I would avoid Jones in Dreamteam but for those desperate for a short term Fantasy defender downgrade, he is an option.
Darren Minchington (Fwd. $185,337, 26 be AF & $194,500, 25 be DT) started in green last weekend but played very well in his limited time on ground. He had 5 kicks, 1 handball, 2 marks, 1 tackles, 2 excellent goals and 39 Fantasy points in a quarter and a half which will see him named in the Saints 22 again next week. As a goal kicking small forward, Minchington is suited to the green vest and given his price I'd look at other options. Ben Brown (Ruc/Fwd. $135,460, 30 be AF & $112,800, 13 be DT) struggled in wet and greasy conditions at the GABBA on Saturday night and managed just 8 Fantasy points before being subbed off in the third quarter. Brown could get dropped this week but as an R4 he still provides value as a DPP swap with the inform Stefan Martin.
One Gamers
Mitch Honeychurch (Fwd/Mid. $132,787, 15 be AF & $112,800 DT) had just 8 possessions, 4 tackles, 1 goal and 42 Fantasy points on debut but he did avoid both the green and red vest. Looking ahead, I'd be lying if I said I wasn't nervous about his job security especially with the Dogs playing so many mid, forwards (Hrovat, Hunter, Dahlhaus & Honeychurch) but McCartney has previously backed his youngsters for a few weeks. Looking at him in action against the Dees, it appears Honeychurch won't be a huge scorer so unless you are desperate for a dual position forward/midfielder, I'd look elsewhere.
Even though he didn't play a large role last Sunday night, I have high hopes for Blaine Johnson (Fwd. $107,470, 21 be AF & $98,500 DT). Like many debutants this season, Johnson started in the green vest but he did manage to score 22 Fantasy points from 32% game time. His forward pressure and booming right foot kick are excellent traits to have and Malthouse seems to love him. It's hard to ignore Johnson at his current price but I'll likely to wait another week before picking him up.
Jesse Lonergan (Mid. $208,687, 42 be AF & $248,300 DT) was a strong body at the contest for the Suns and against last year's premiers he had 10 possessions (5 clearances), 5 tackles and 41 Fantasy points in just over a quarter. Lonergan's job security is excellent but he is pricey for a player likely to average less than 70. With no obvious choices this week, you could do a lot worse than trading in Lonergan.
Luke Thompson (Def. $138,788, 7 be AF & $119,200 DT) was a late inclusion for the Showdown on Sunday and scored a respectable 53 Fantasy points all while keeping the dangerous Angus Monfries goalless. As good as he was, I doubt he'll hold his spot with Rutten expected to return this week. For the time being, I'd also stay away from Ash McGrath, 30 (Fwd. $216,705, 53 be AF & $241,200 DT), Daniel McStay, 23 (Def. $178,377, 45 be AF & $112,800 DT), Dom Barry, 17 (Mid. $105,403, 24 be AF & $119,200 DT) and Max Warren, 13 (Def. $103,688, 27 be AF & $119,200 DT). All four were far from convincing on the weekend.
Keep Your Eye On
The previously mentioned Alex Woodward (Mid. $115,200, 40 be AF & $119,200 DT), Anthony Morabito (Mid. $215,100, 75 be AF & $119,200 DT) and Jarrad Jansen (Mid. $168,000, 59 be AF & $112,800 DT) are all close to be named again this weekend. Of the three, I like Morabito long term but hold off picking him up this week because he'll likely cop the green vest if he plays.
Don't be surprised if Michael Apeness (Ruc/Fwd. $219,500, 77 be AF & $132,800 DT) debuts this weekend. The tall South Australian is your typical key forward that can pinch hit in the ruck when required. Zac Clarke and Pavlich aren't at 100% and even though Ross the Boss says they're both fine, I suspect one will be spared the journey to Darwin. Apeness had 18 possessions, 7 marks, 4 tackles, 2 goals and 101 Fantasy points in the WAFL last weekend and he's a dual position, ruck/forward. Job security is however a concern for Apeness down the track.
Note that Zac O'Brien (Mid. $168,138, 6 be AF. $150,200, -12 be DT), Nic Graham (Mid. $195,582, 24 be AF. $196,700, 14 be DT) and Brad Hartman (Fwd. $122,963, -4 be AF. $119,200 DT) are all in contention to return to AFL ranks this week so don't rule out picking them up. O'Brien would offer a bit if he gets another opportunity, fingers crossed because he is still on my Dreamteam bench!
Got a question? Ask me on Twitter @JeppaDT