The Weekend Wash-Up – Round 15
After a week off to cool my rage, I'm returning in a somewhat similar mood with very similar results. Those being sh*t.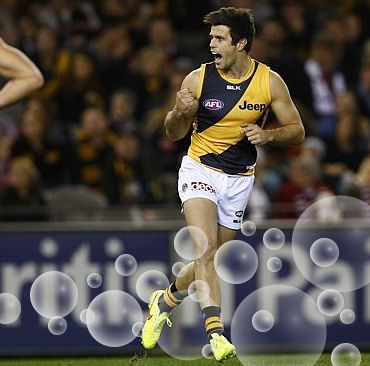 After a week off to cool my rage, I'm returning in a somewhat similar mood with very similar results. Those being sh*t. It was the Rocky show last week, but Gazza stole back the limelight with an epic performance against the Premiers. Even though there was some great highlights, we've still had to deal with some pathetic spuds. Strap yourselves in, it's time to take a look at the weekend wash-up.
The Legends
Ablett (157) – It's clear that we can get too clever with our captaincy decisions, there is only one man no matter what the team or the weather. VERDICT: The king.
Selwood (133) – This really just summarizes my season. After a full month of playing up forward, most finally lose patience. Of course once he gets traded he's suddenly back in the mids, probably ready to punch out a 120 average from here on. VERDICT: See what his role is next week.
Heppell (152) – What a season he's having! With an average of over 110 and a massive ceiling, there's no reason he shouldn't be a top 8 mid. His consistency is brilliant, I see nothing wrong with getting him. VERDICT:  Gun.
Hodge (122) – There's been a couple of times this season that I've considered getting Hodge, and each time he's gone onto post a shocker or been a late withdrawal. Be warned, he's a very risky selection. VERDICT: Prone to resting. I'd avoid.
Cotchin (138) – Three consecutive tons may be pointing to a turnaround in form with Cotch, although it just seems like he's always one week away from disaster. I don't reckon he's a top 8 mid, but if you're after a differential then he could be worth a punt. VERDICT: A risky one, he has averaged 110 before though.
Ellis (115) – This makes it 6 tons on the trot, what a legend! He's averaged 107 since Round 4, but it may be time for him to move on soon now that he's over 500k. VERDICT: He shouldn't overstay his welcome.
Fyfe (125) – Don't worry, he's still not relevant as far as top 8 mids go. However he is a future brownlow medalist, a match winner in its purest form. VERDICT: That suspension may come back to haunt him.
Hanley (133) – When he's not being tagged, he's a superstar. I don't think you can ignore players on the off chance they may get tagged, he's coming in for me. VERDICT: Top 6 defender.
Aish (140) – It's of little relevance, but that doesn't take away from the brilliance of his effort. He doubled his season average with 25 disposals, 9 marks and 9 tackles to go with 2 goals.
Martin (113) – A couple of weeks ago I refused to have Stefan Martin on my field, now he's saving my team from embarrassment. Nobody could have seen these kind of scores coming, just make sure you have him. Not bad for an F6. VERDICT: You get one out of the blue every year, just go with it.
Kennedy (136) – He's easily in the competition's top bracket of midfielders, try to grab him ASAP. VERDICT: Not much more I can say about him, gun.
Franklin (120) – All the doubters have been silenced, he's a freak show. Buddy has come to life, don't be one to miss the boat. VERDICT: One score under 98 in his last 6 games says it all, get him in.
Jacobs (119) – Sauce Jacobs! Best 219th draft pick ever! I'm not sure how much more I can milk that, but those with him in fantasy will be absolutely loving his reliable output. VERDICT: Out of nowhere he has become the AFL's best ruckman, get on board.
Sidebottom (147) – What a way to repay your team after a 3 week suspension, he's definitely a shout as a differential. VERDICT: I like the idea of bringing him in.
Pendlebury (128) – With most of the comps premier midfielders struggling with breaking the tag, Pendles continues to show them how its done. Legend. VERDICT: Must have!
The Losers
Jaensch (55) – Let's get down to the real business, there was a large chunk of popular players putting up pathetic scores and I'm sure most were already on the chopping block. Jaensch's time must be up after that dreadful score. VERDICT: Trade time.
Suckling (65) – Another who was on the trade block for many teams, but just snuck through. This score hurts, why he goes missing in such comfortable wins without a tag is forever beyond me. VERDICT: Another onto the trade block.
Birchall (50) – Same sh*t different name. This time Birch got the red vest! One of the most reliable defenders in the comp has gone tits up. VERDICT: ANOTHER for the trade block. I'd love a bonus trade or three.
Mumford (62) – You have to back him in to bounce back, but this score was poor from Mummy. I had high hopes for him going up against his old side on the back of a 130, it wasn't to be. I was watching his score turnover, the only problem was it went the wrong way. VERDICT: I have him ahead of Sandi. This was an outlier.
Riewoldt (64) – He looks cooked, it's as simple as that. No need to go any further. VERDICT: Stop living in the past, surely everyone has dumped him by now.
Naitinui (61) – There was no co-incidence that his downfall coincided with the return of Cox. He's had a great price rise, now move him on to Jacobs or Mummy. VERDICT: Once again, don't let him overstay his welcome.
Liberatore (57) –  Too much of a good thing is never a good thing. Three consecutive 140's against the Dees meant only one thing, with Griffen out they were coming for him. When Cross was named out you had every reason to be positive, but Viney seemed to pose Libba even more of a problem. Lucky he still laid 9 tackles. VERDICT: His record without Griffen is horrific, but give him another chance.
Wingard (40) – Unfortunately the Chad incredible ability to impact a game has meant that all the defensive attention goes towards him, and it worked well for the Crows. You can expect to see more of this as he learns to overcome the extra attention, just don't own him for this learning curve. VERDICT: Cut your losses.
Chapman (56) – Finally Chappy was another popular pick to piss on the grave that is my Dream Team. Why. So much for chasing the highest averaging player. VERDICT: This hurt. If you have the luxury trade, get rid.
This Game Sh*ts Me
An AFL season goes for 23 rounds, involving 22 games for each team. It has been this way for over 50 years. Why is it then, that we suddenly feel the need to be SO OVER PROTECTIVE OF OUR STARS. I've gone early there, let me explain. Chris Scott, I'm talking to you. Not that you will ever hear this, or care for us poor fantasy coaches, but at least care for your teams prospects. Geelong are in no position to be playing their best midfielders up forward, but that's exactly what they've been doing. I traded in Selwood after a 138, only to be pissed on with 5 nightmare scores while he played mainly forward, I finally snapped last week and traded him to guess who. Steve Johnson. At least SJ has gone to the least amount of centre bounces all year in the past 2 rounds… It's glass bloody half empty at my club, and these kind of situations that are uncontrollable are not needed. Step up your game Scotty, get SJ back into the mids!
Here are the 5 nominees for the Stubby this week:
Ablett – He would have won a lot of league matches with that monster, 45 disposals and 2 goals can only be done by one man. Freak.
Heppell – If you're one of the lucky few to own this guy as a POD, pat yourself on the back, then give him the vote.
S.Martin – Averaging over 100 for a 200k player, if he doesn't win the stubby this week then I might have to retire it, or at least name it the "Stefan Martin" award.
Jacobs – He's been huge all year, if anyone is deserving of a nice cold stubby it's this bloke.
Franklin – Finally Buddy is proving to be a great POD in a lot of leagues, with plenty of other forward options struggling. Another 5 goals and 120 is what we're coming to expect from him.
Who will get your vote?
Loading ...
The Other Bits and Pieces
More mediocrity here, I ended up with a 2204. This seasons crawling to an end for me, but there is positives to take into next year. I simply love the new Fantasy rules, this season can be written off as a learning curve! Feel free to rage away in the comments, I'm here to help (and understand).
If you enjoy seeing me rage and want a punching bag when sh*t goes tits up, follow me on twitter @MattCraigDT. My views are honest, mostly helpful and occasionally entertaining! Hit me up with your weekly Golden Stubby nominations, and mainly what gave you the sh*ts! I value everyone's opinion