Jeppa's Juniors – Round 14
It's the end of Round 14 and there are still plenty of rookies we need to think about going forward. Remember, no team is perfect and improvements can always be made so check out Jeppa's analysis on the best downgrade options available this week as well as his own trade strategy.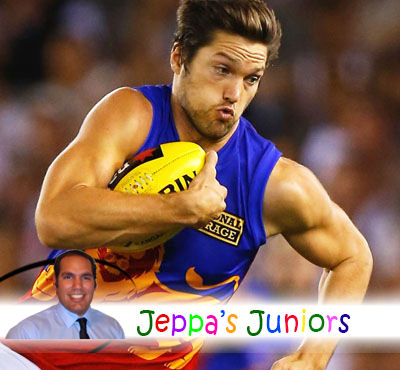 We are almost two thirds through season 2014 and Fantasy/Dreamteam is getting very interesting. Coaches should be very close to fielding 22 'premium' players in both formats and beginning to consider adequate bench players to cover for those unexpected late outs!
As far as the rooks go, we have been blessed with the arrival of Stefan Martin and Anthony Miles. Both have averaged 100+ from their three games this season and it doesn't appear as if they will slow down anytime soon. Newcomer Shane Kersten looks very promising and there are a few waiting in the wings. Let's get into it shall we…
Three-Or-More Gamers
KEEPERS
Just a reminder that from here on in, it's all about the new rooks coming through the AFL Fantasy ranks. Youngsters in Dom Tyson, 91 (Mid. $449,357, 96 be AF. $435,000, 75 be DT), Kade Kolodjashnij, 90 (Def. $346,903, 70 be AF. $337,300, 77 be DT), Jared Polec, 71 (Mid. $383,624, 87 be AF. $367,600, 64 be DT), etc. should all have been upgraded by now, or warming your benches as temporary backup. I will however, give a quick shout out to Jack Billings (Fwd/Mid. $315,774, 36 be AF. $299,300, -5 be DT) who almost single-handedly got the Saints over the line against West Coast. He was absolutely superb and the best player on the ground in my opinion after racking up 25 possessions, 8 marks, 2 tackles, 3 goals and 119 Fantasy points. If you own Billings, hold him for now.
Stefan Martin (Ruc/Fwd. $311,493, -15 be AF & $315,600, -23 be DT) take a bow. Playing against Sandilands, I didn't think he'd come close to a ton but he proved me wrong and scored 111, which is a mammoth effort considering Brisbane got absolutely smashed. Martin is quite agile for a ruckman and his tackle and possession numbers are quite high as a result. If you don't have him, make sure you trade him in this week!
Another must have is Anthony Miles (Mid. $351,789, 4 be AF & $321,200, -31 be DT). He's averaged 25.7 possessions, 2.7 marks, 6 tackles, 1 goal and 103 Fantasy points from his three games this season and been named in the bests for the Tigers in all of them. With 117 Fantasy points last weekend, Miles has proved his worth and given his role he should average a minimum of 80 from here on in. At his price, he is a cheap back up midfielder that can score big!
If you're desperate for a cheap defender then consider Maverick Weller (Def. $271,347, 14 be AF. $276,700, -14 be DT). He's by no means a polished user of the football but he has found a lot of it in recent weeks. Back to back scores of 81 and 98 is appealing however, he comes at a price. Given his inconsistency, I'd only consider him for Fantasy.
Less popular picks in Ryan Schoenmakers, 98 (Def. $266,612, 39 be AF. $252,300, 20 be DT), Matthew Spangher, 89 (Fwd. $313,205, 30 be AF. $324,700, 41 be DT), Marcus Bontempelli, 82 (Mid. $301,519, 16 be AF. $310,100, 11 be DT) and Jon Ceglar, 73 (Ruc. $314,666, 35 be AF. $321,400, 30 be DT) continue to perform well. Great scores and earnings means owners should hold these four for the time being.
DON'T PANIC
Those not scoring big but still earning decent coin at the minute include Sam Gray, 71 (Mid. $226,870, 18 be AF. $201,100, -10 be DT), Patrick Ambrose, 66 (Fwd. $284,897, 41 be AF. $279,100, 32 be DT), Jeremy McGovern, 58 (Fwd. $244,751, -3 be AF. $247,700, -6 be DT), Zac O'Brien, 56 (Mid. $168,138, 7 be AF. $150,200, -13 be DT), Cameron Shenton, 51 (Fwd/Mid. $258,956, 41 be AF. $258,800, 40 be DT) and Tom Cutler, 21 (Def. $218,962, 45 be AF. $211,200, 44 be DT). Keep!
TRADE, TRADE, TRADE
If I haven't categorised a player from Round 14 under 'Keepers' or 'Don't Panic' then trade them out as soon as you can but when appropriate!
Two Gamers
The Suns, Jack Martin (Mid. $230,748, 45 be AF. $217,800, 47 be DT) was a surprise inclusion against the Cats and it's fair to assume that he is rated highly by McKenna given his instant return into AFL ranks after missing over 3 months of footy! No green vest, no NEAFL warm-up, no worries. Martin had 15 possessions, 3 marks, 6 tackles, 1 goal and 77 Fantasy points in a polished display and there is plenty of improvement to come. He's a little expensive for the likely return that he will provide his owners so be careful.
Ben Ross (Mid. $113,687, 21 be AF & $98,500, 7 be DT) wore green for a second consecutive week but did score 21 Fantasy points from just 25% game time. Ross is playing the role required for his team but that won't help potential Dreamteam and Fantasy owners. Yes he's cheap but I'd still wait and see what he can do from a full game before trading him in. In the same game, Tim Broomhead (Fwd. $158,215, 40 be AF & $119,200, 23 be DT) also started in the green vest but he didn't live up to expectations after scoring just 31 Fantasy points in just over a half of footy. I suspect that Broomhead will be dropped for the inform Ben Kennedy this Thursday night.
Stay well away from Mark Austin, 53 (Def. $180,932, 27 be AF & $213,000, 46 be DT), Elliott Kavanagh, 49 (Mid. $202,188, 46 be AF & $237,400, 73 be DT) and Nathan Wilson, 11 (Fwd. $139,577, 35 be AF & $184,400, 61 be DT). Poor job security and average scores are reasons why these players should be avoided.
One Gamers
Praise the DT Gods; we have a perfect forward downgrade. Shane Kersten (Fwd. $133,785, -20 be AF & $119,200 DT) is a strongly built youngster who has gained plenty from three preseasons at Geelong. He is the same height and weight as Jack Darling and they're not too dissimilar in the way they play. Kersten works very hard on the lead and with continuous quality ball coming from the Geelong mids, he'll be kicking plenty of goals in the second half of the season. On debut, against Gold Coast, he had 10 possessions, 7 marks, 4 tackles, 3 snags and 85 Fantasy points with plenty of improvement to come. Don't miss the boat!
Young Darren Minchington (Fwd. $177,960, 22 be AF & $194,500 DT) is a small forward who was upgraded to the Saints senior list prior to the commencement of Round 14. His numbers haven't been huge in the VFL and against the Eagles last weekend, he faded in and out of the match to finish with just 52 Fantasy points. Ultimately, he's not worth picking up with Shane Kersten lurking.
Ben Brown (Ruc/Fwd. $137,059, 12 be AF & $112,800 DT) is an interesting prospect. As a dual position Ruck/Forward there is value trading him in to switch with the in form Stefan Martin. At the minute, I like Stefan Martin as a sixth forward with Jacobs and Sandi holding the two ruck spots but down the track Martin should be a R3. Owning a cheap Ben Brown means one is able to switch Martin between R3 and F7 where necessary (very handy in Dreamteam with limited trades). As a bonus, Brown looks to have decent job security with Currie and Tarrant both injured and Majak Daw out of touch. Consider.
Zak Jones (Def. $211,356, 38 be AF & $142,800 DT) wore green on debut and failed to impress me during his time on the ground. Nerves got the better of him and he had a few fumbles but like his brother, Zak loves the rough stuff and he can definitely lay a fierce tackle. I doubt Jones will hold his spot in the short term so I'd stay away at this point.
Keep Your Eye On
Anthony Morabito (Mid. $215,100, 76 be AF & $119,200 DT) is in great WAFL form. He had 23 kicks, 5 handballs, 3 marks, 2 tackles, 2 goals and 111 Fantasy points last weekend in a best on ground display. The hype around Perth is that Morabito will play in the Derby this week but as the sub. Watch him closely because if he performs well, albeit in limited game time, then I see him holding his spot.
Jarrad Jansen (Mid. $168,000, 59 be AF & $112,800 DT) is a prototype of the modern day midfielder. He's 192cm, 93kgs (Fyfe is 190 & 88) and a likely inclusion for Geelong this week after some solid VFL form. Last weekend against decent opposition in Werribee, Jansen had 23 possessions, 5 marks, 8 tackles and 100 Fantasy points. He loves the contested ball and is a big tackler, which adds to Geelong's midfield potency. I'm a big fan!
Remember Jesse Lonergan (Mid. $224,400, 79 be AF & $248,300 DT)? This powerfully built midfielder and former No. 13 draft pick has recovered from his latest broken hand and he's gaining fitness and form in the NEAFL. Lonergan is loved by many at the Suns so expect him to suit up soon. He won't be a massive scorer but he's an option nonetheless.
The previously mentioned Mitch Honeychurch (Fwd/Mid. $135,500, 48 be AF & $112,800 DT), Blaine Johnson (Fwd. $115,200, 41 be AF & $98,500 DT) and Tim Membrey (Fwd. $124,400, 44 be AF & $119,200 DT) were named, as emergencies for their respective clubs in Round 14 and all were solid in the reserves after just missing selection. Expect Honeychurch to replace the suspended Daniel Giansiracusa this week but it's likely that he'll cop the green vest.
Jeppa's Trade Strategy
FANTASY
Round 14 Score – 2168
Remaining Salary – $21,804
Planned Trades – I may have another injury to cover this week if Hibberd doesn't recover from a shin complaint by Friday night. If he doesn't play, I'll be forced to upgrade Will Langford to a premium defender, sit Hibberd on my bench and put the 'E' on Litherland. As an outside pick, I like Nick Malceski especially with Sydney's draw over the next few weeks. If Hibberd does play (I'll know prior to lockout) then my ideal trade this week would be to offload Roughead via DPP to the most inform play of the comp, Tom Rockliff. To generate the cash for my upgrade I'll be trading Ambrose to Shane Kersten.
DREAMTEAM
I'm not going to lie; my Dreamteam is a little embarrassing. I have made so many knee jerk trades this season and am now feeling the heat.
Round 14 Score – 2183
Remaining Salary – $121,800
Planned Trades – With only 6 trades left, I am very reluctant to make any adjustment this week but I've got a problem in my backline with Hibberd and Langdon both in serious doubt. With Collingwood having an 8 day break, Langdon is likely to play (source) thus I'm considering Ambrose to Shane Kersten and Langford to Jimmy Bartel. If Hibberd and Langdon are both named then I'll think about Cameron to Mitch Honeychurch (namely for his DPP) and Ambrose to Sam Jacobs via DPP. I'm not going to sleep easy however, with only 4 trades for the remaining 9 rounds!
What trades would you make?
Got a question? Ask me on Twitter @JeppaDT.