Giants give fantasy fans something to think about
The Giants have won two games on the trot and fantasy fans are enjoying what they have been dishing up.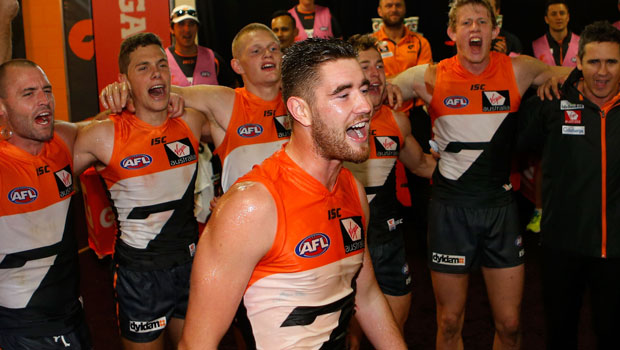 The GWS Giants may have only just caught everyone's attention following their stunning victory over the Brisbane Lions but make no mistake, though: there has been plenty of fantasy fans following the new franchise's fortunes. As well as surprising a number of those who bet with bet 365, the Giants victory over fellow strugglers Brisbane highlighted the exciting players coming through the ranks at GWS that could possibly be worth looking at for fantasy football fans.
Many fans expected the Giants to be more of a force in the AFL this season due to the work that Stephen Silvagni, Gubby Allan, Leon Cameron and many others have been doing over the past couple of years. That hard work is now coming to fruition, opening the doors for many fantasy fans looking to pick up some A-grade talent to turn the club into one genuine interest to fantasy fans.
Nobody was going to envy being in the shadow of a rampant Gold Coast, led by the consistently brilliant Gary Ablett. The 30-year old has long been a favourite of fantasy fans, and with an average of 118.8 per game, Ablett has once again been a very intelligent selection in fantasy team. With an average still yet to drop below 112 since joining Gold Coast, Ablett has led by example and played a key role in the likes of Dion Prestia, David Swallow, Jaeger O'Meara and Harley Bennell all coming through and cementing themselves in the Suns first team.
While Gold Coast have been building their squad for longer than the Giants, GWS were forced to put together a group of free agents who were extremely short of experience. Giants skipper Callan Ward has at times single-handily led the club through the past three seasons, averaging 97.3, 94.1 and 104.7 points over the past three years. But while Ward's determination and work-rate has been admirable, the Giants were well aware they needed to uncover some players capable of relieving the work-load of their captain and showing this isn't a one-man team.
The GWS midfield has finally started to live up to its obvious potential. Adam Treloar, a 17-year-old selection, has announced his arrival with the club. With that rare ability of being strong on the inside, defensively sound and with sensational disposal skills, Treloar has been added a versatile and dangerous midfield threat to the team, capable of influencing all phases of the game and bringing some real maturity to the midfield despite his tender years.
After averaging 24 disposals amongst his 89.0 points in2013, Treloar he has dramatically improved those figures this season, increasing those stats to 27.9 and 108.9 respectively. Fellow 17-year old selection Dylan Shiel is another youngster to have begun to establish himself with GWS. The teenager has been getting fitter week upon week, averaging an eye-catching 105.3 in four games since the bye and convincing some fantasy fans he is worth a punt and putting in their teams over the next few weeks.